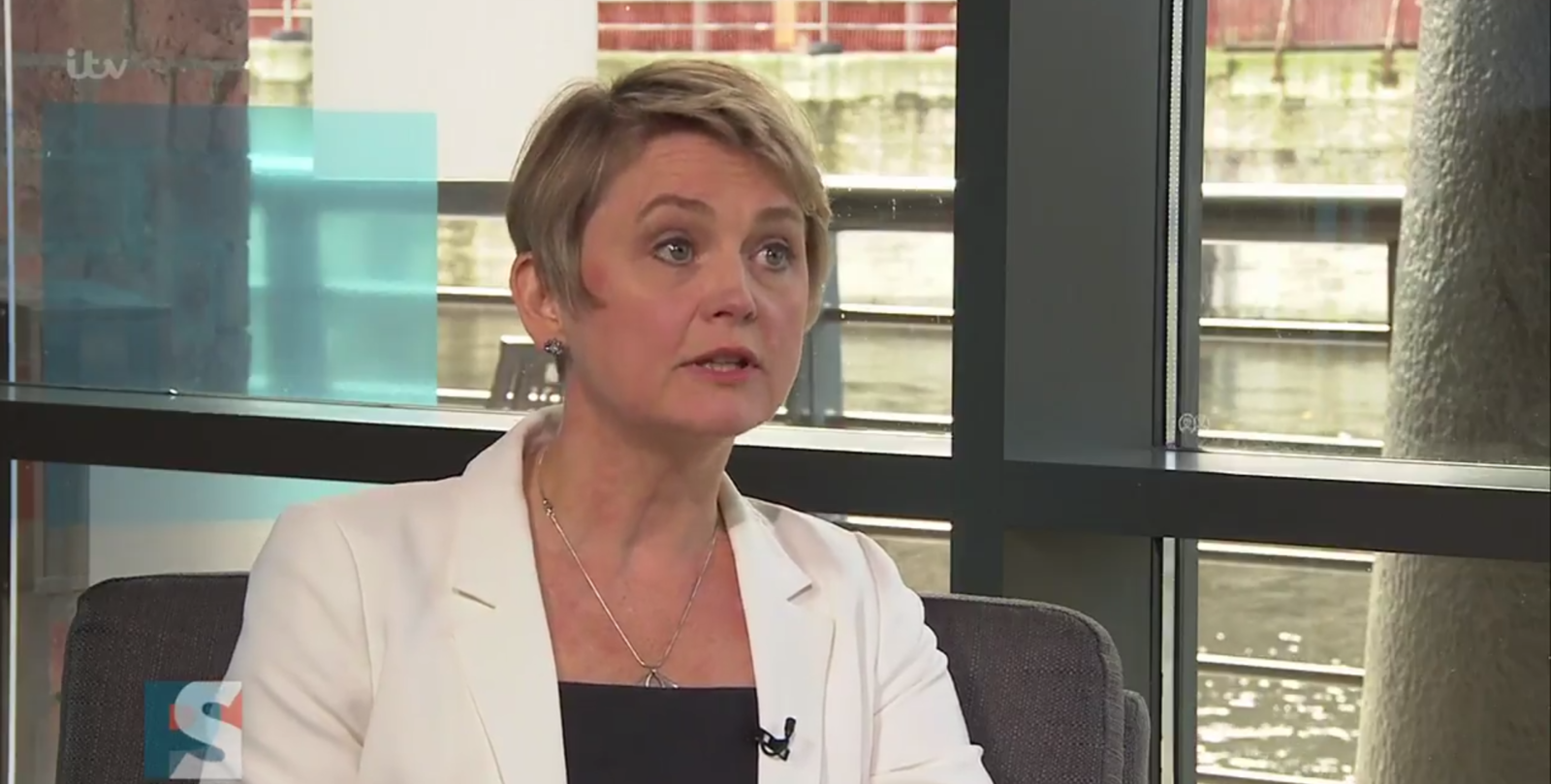 Yvette Cooper has called on John McDonnell to apologise for comments he reportedly made about former Tory MP Esther McVey being "lynched".
The former home secretary told ITV's Peston on Sunday show it was "not OK, it's really, really not OK" for politicians to use such language.
McDonnell denies making the comment in 2014, and says he was repeating something that had been shouted at a public meeting.
Appearing on the same show, the shadow chancellor refused to apologise for the remark, and also defended labelling former minister McVey as a "stain on humanity" during a parliamentary debate in March 2015, when Ed Miliband was Labour leader.
"He should absolutely have apologised," Cooper said. "The idea of saying a woman MP, as Esther was at the time, should be lynched is just wrong."
In his appearance on Peston on Sunday, McDonnell said his comments towards McVey, who lost her seat at the 2015 general election, reflected his anger about changes to disability benefit McVey was overseeing.
"Sometimes you need to express honest anger, and that was about what the last government was doing to people with disabilities," he said.

"It was appalling, to be frank, and sometimes it is better to be honest with people about how you feel.
"At times, in parliament in particular, it means using strong language, but actually if it reflects your honest views, I think it's better to be honest than it is to be deceptive."
McVey was also a guest on the same programme and was watching as McDonnell refused to apologise for his comments.
The former Wirral West MP condemned the comments and blamed him for a continued culture of abuse towards MPs.
"This is a man who links violence with politics. This is a man who talks through threats and intimidation and bullying. He doesn't just talk about it, he whips up that culture," she said.

"He has complete disdain for MPs who don't agree with him, whether it's in his own party or whether it's in other parties. He has to think about his actions."
The row comes as former Labour leadership candidate Cooper warned of a rise in bullying, hate crimes, and abuse from within the Labour party.
Earlier this summer, a report by Labour's National Executive Committee highlighted several instances of abuse among party members. It "listed cases reported to them of party members publicly calling each other scum, dyke, zio, paki. (I cannot believe I have just written that sentence.)," Cooper wrote in the Telegraph on Sunday.
She also spoke of violent threats she and many other female MPs regularly receive via social media.

Following Corbyn's re-election as leader on Saturday, he pledged to fight for greater unity in the party. Cooper said that it was "time for strong leadership" on fighting abuse within Labour if this is to be achieved.
"I'm calling on Jeremy and John McDonnell this week to back party staff when they try to tackle abuse," she said.