Associated Press photographer Burhan Ozbilici thought he would be photographing a "routine" opening at an art gallery in Ankara on Monday at which Russia's ambassador to Turkey, Andrey Karlov, introduced an exhibit of photographs of his home country.
Instead, the images Ozbilici captured, which showed the moment Karlov was assassinated by a man identified as Mevlut Mert Altintas, a Turkish policeman, are far from ordinary.
"The event seemed routine, the opening of an exhibit of photographs of Russia," Ozbilici told Associated Press in the event's aftermath. "So when a man in a dark suit and tie pulled out a gun, I was stunned and thought it was a theatrical flourish."
But after hearing what he believed to be eight gunshots, "pandemonium erupted," Ozbilici recalled.
"People screamed, hid behind columns and under tables and lay on the floor. I composed myself enough to shoot pictures."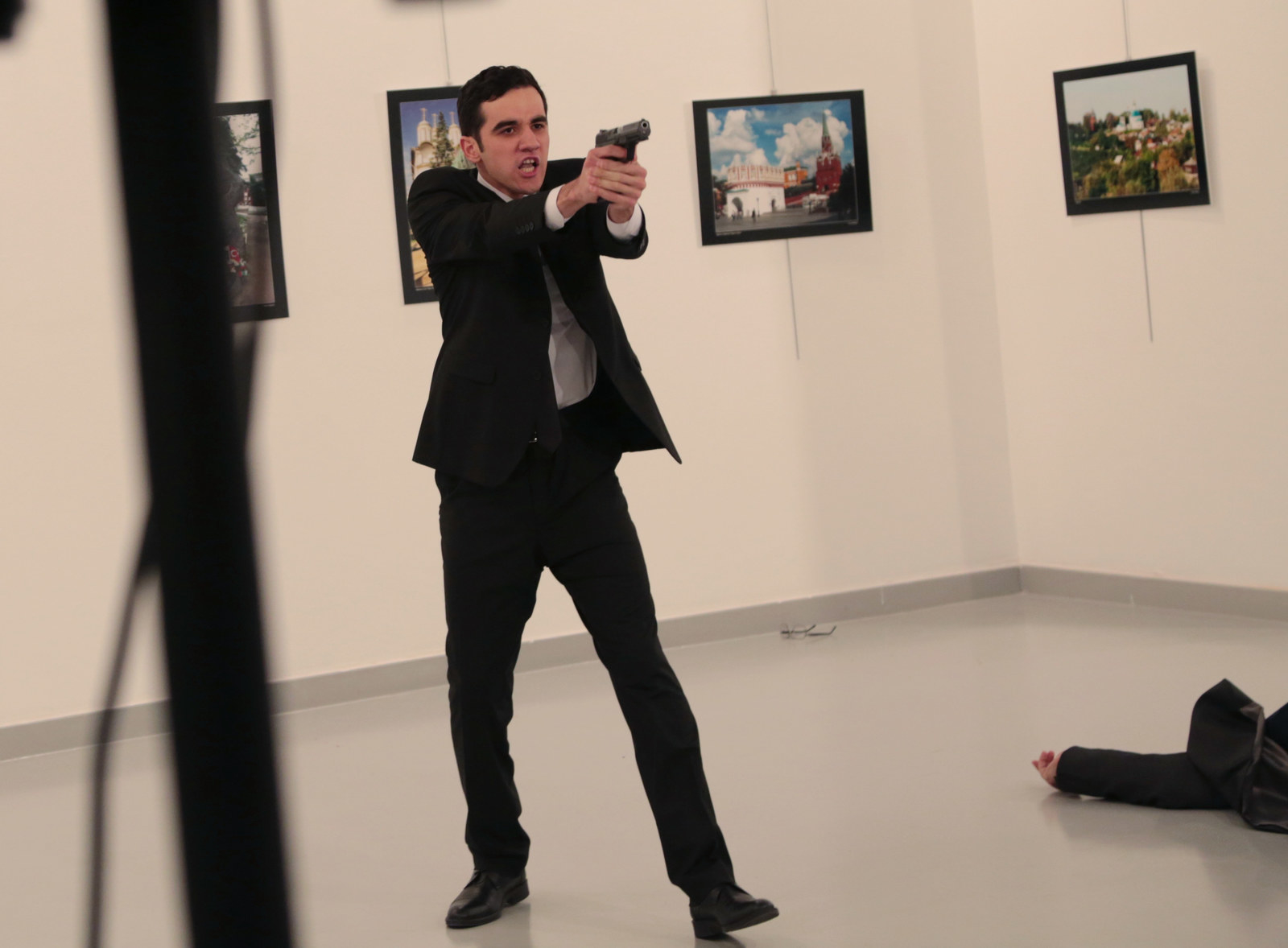 "I was afraid and confused, but found partial cover behind a wall and did my job: taking photographs," Ozbilici continued.
He said the atmosphere had originally been subdued, as Karlov spoke softly about the exhibition, titled From Kaliningrad to Kamchatka, From the Eyes of Travelers, which features photographs of Russia's westernmost Baltic region to the Kamchatka Peninsula.
"I remember thinking how calm and humble he seemed," Ozbilici said.
Following the gunshots, audience members panicked as the ambassador lay on the floor.
"I couldn't see any blood around him; I think he may have been shot in the back," Ozbilici said.
"It took me a few seconds to realize what had happened: A man had died in front of me; a life had disappeared before my eyes."

Ozbilici was initially unsure of the gunman's motives, considering that he could be a Chechen militant.
In video footage of the incident that emerged shortly afterwards, the gunman can be heard saying: "Don't forget Aleppo! Don't forget Syria! Until they are safe, you will not taste safety!" Russia recently helped the Syrian regime of Bashar al-Assad drive out rebels from Aleppo in a bloody battle that has created a humanitarian crisis.

Ozbilici said he felt fearful as the gunman agitatedly circled the ambassador's body and smashed some pictures but considered it his duty as a journalist to capture the incident.

"This is what I was thinking: 'I'm here. Even if I get hit and injured, or killed, I'm a journalist. I have to do my work. I could run away without making any photos... But I wouldn't have a proper answer if people later ask me: 'Why didn't you take pictures?'"
"I even thought about friends and colleagues who have died while taking photographs in conflict zones over the years," he added.
The powerful images of a "coolly calculated assassination" by a young, neat-haired man wearing a dark suit and tie quickly went viral on Monday evening.

The photographs have already been described as showing a defining moment in history.

Following the attack, Maria Zakharova, a Russian Foreign Ministry spokeswoman, initially confirmed the death and told reporters, "We consider this a terrorist act."

"The killers will be punished," she added.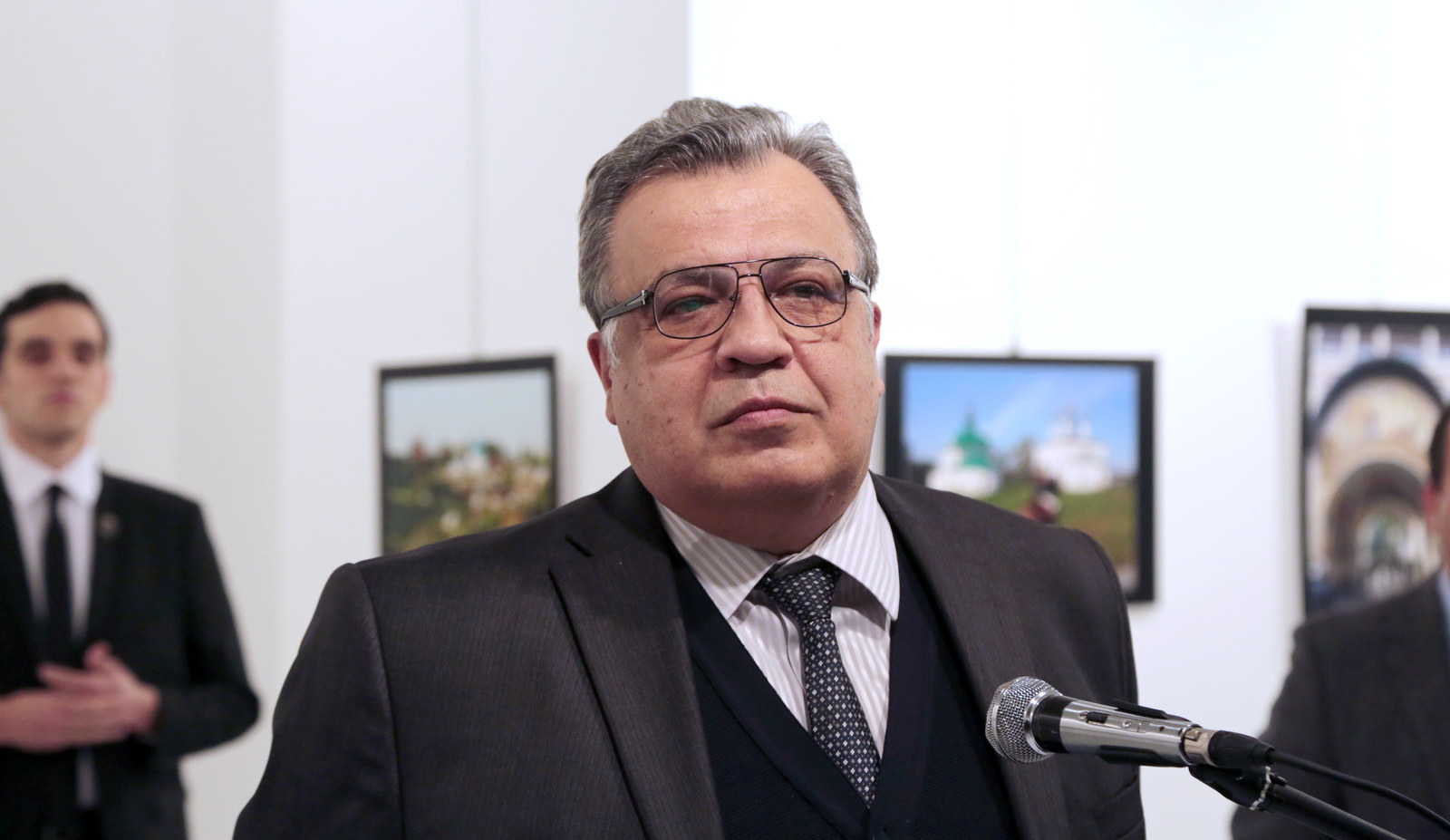 Editing his photos at the office later on, Ozbilici said he was "shocked to see that the shooter was actually standing behind the ambassador as he spoke. Like a friend, or a bodyguard."