Vigil For 8-Year-Old Inspires Displays Of Patriotism
American flags in one hand and candles in the other. Martin Richard died Monday while watching the Boston Marathon with his family.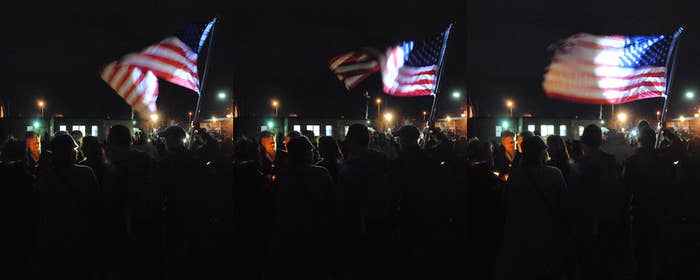 BOSTON — Just before 8 p.m., hundreds of voices joined in singing "God Bless America." It was Tuesday night, almost 24 hours after 8-year-old Martin Richard was identified as one of the three deceased following the Boston Marathon explosions.
The third-grader reportedly died while eating ice cream on Boylston Street. His mother and 6-year-old sister were hospitalized with serious injuries. His father sustained a minor leg injury, and his older brother was unharmed, at least physically.
Richard's mourners gathered at Garvey Park, a sunken grassy field off the Southeast Expressway. There were people from Dorchester, his neighborhood, and Roxbury and Brookline and South Boston, but also people from Texas and Illinois and Rhode Island. They sang "God Bless America" slow and low. Hundreds of miniature American flags were raised in the air, right next to candles for Richard. The vigil had become as much about patriotism as it was about grief.
When the song ended, the flags and candles were lowered. Children who were hushed earlier by their parents sprinted from the crowd to find each other, stomping up the park's hills and then rolling back down them.
"They don't understand yet," one mother said while watching her son play. "It's OK for now."
The crowd began to break apart, but one massive flag remained teetering in the air, lit up with a flashlight. It belonged to Joe Conway, owner of Savin Scoop, a local ice cream shop. Richard and his Little League teammates were frequent customers.
"I brought [the flag] because it's a symbol of 'We stick together,'" Conway said. "Everybody wants to be here for the family this evening, but not everybody could be here, and having the flag brings everybody here."
On Monday, Conway was standing near the marathon finish line — not far from Richard's family — when the bombs detonated. He ran from Copley Square toward the mall, stopping to help security guards put up fences around a few trash barrels. He knew then that the explosions were some kind of terrorist act.
"It was heartbreaking," Conway said. "And to find out people were hurt and to find out that you know them, it was absolutely devastating to our neighborhood."
By 8:15, half the vigil had gone home, but Conway was still holding up his flag. The 10-pound pole dug into his shoulder. The fabric whipped at his Red Sox hat.
"What happens next? We will recover. We will recover. We will recover," he said. "We will have vigils like this for the next people, we will have a lot, but we will recover."