BuzzFeed News has discovered it's incredibly easy to steal other people's vote in the Labour leadership election because so many people are sharing pictures of their ballot on social media.
Hundreds of thousands of voting forms for the Labour leadership contest, dominated by Jeremy Corbyn, have started to arrive on doorsteps as the leadership poll gets underway.
Although all ballot papers are printed on paper and delivered by post, supporters are encouraged to vote online to save the party money rather than return the form in the pre-paid envelope.
In order to vote online all you need is to visit labour.org.uk/ballot2015 and enter the two separate codes that are printed prominently at the top of every ballot paper.
The problem is, hundreds of people are giddily opening their mail and immediately sharing a picture of their ballot online.
It took BuzzFeed News five minutes searching on Twitter and Instagram to take control of multiple votes in the Labour leadership election, gaining full access to the party's online voting system and potentially depriving Labour supporters of the right to back their preferred candidate.
It also gives strangers the ability to steal a vote in the deputy leadership election, plus the Labour mayoral nomination if they live in London.
This is the latest issue to hit the leadership vote, which has already been hit by accusations of entryism by the far-left, along with concerns that there has not been sufficient vetting of individuals attempting to infiltrate the system from rival parties, while one MP has said a legal challenge to the result is almost inevitable. As a result thousands of people have already been banned from voting by the Labour party.
All that's required is one of the hundreds of Facebook, Twitter, or Instagram pictures of ballot papers that have already been uploaded and clearly show the two security codes.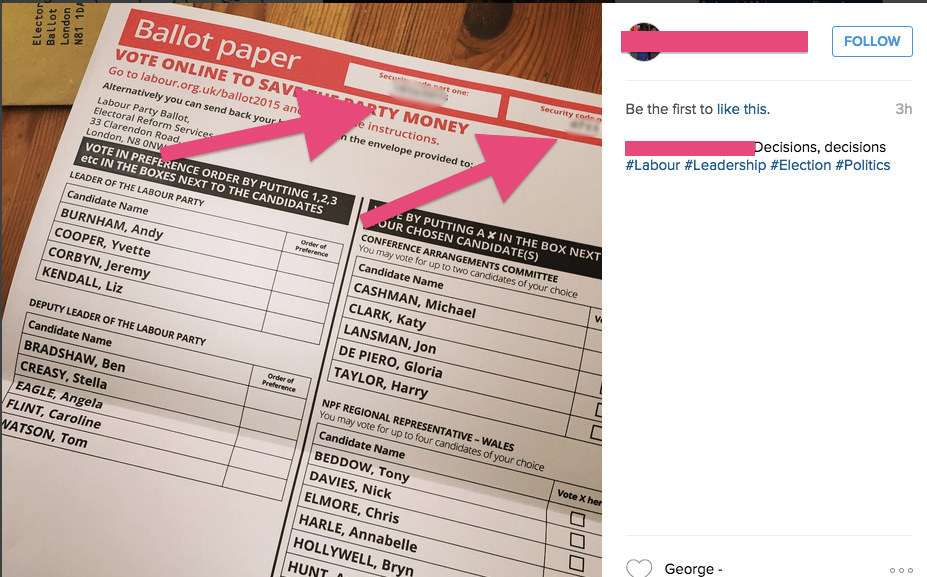 Simply take "Security code part one" and "Security code part two" from the top right of the form.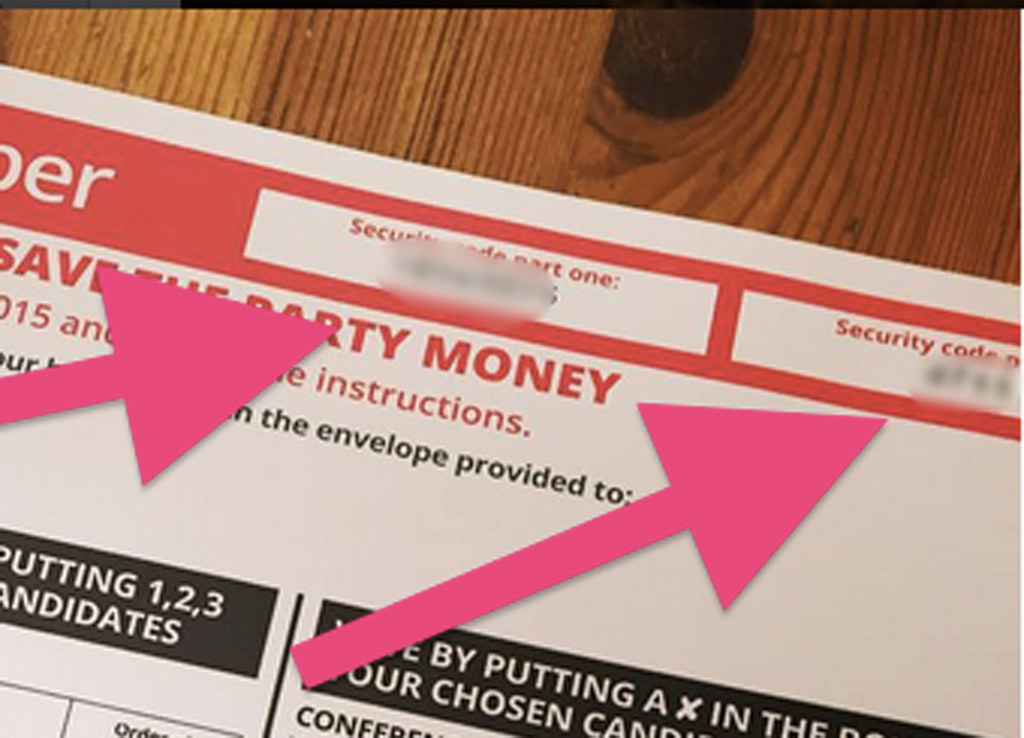 ...enter them into the Labour website...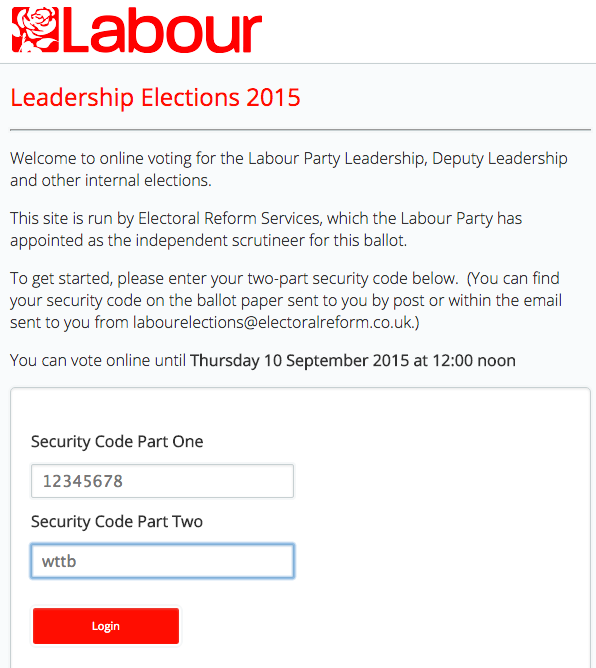 And you now have complete control of a stranger's vote.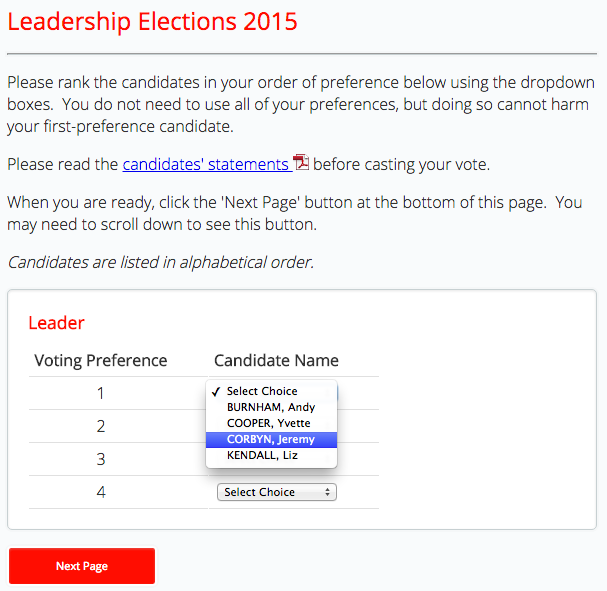 BuzzFeed News was able to take control of three different individuals' votes within five minutes just by using the standard search functions on Twitter and Instagram.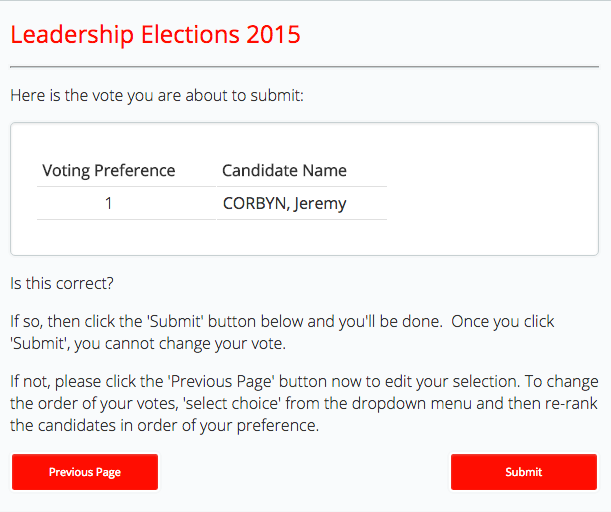 We logged out of the system without casting any votes on behalf of Labour supporters.
Instead we reset the preferences, immediately warned the users involved, and waited for them to remove the photos before publishing this article.
But with hundreds of thousands of people yet to receive their ballots – and potentially upload pictures to social media – this is just the start.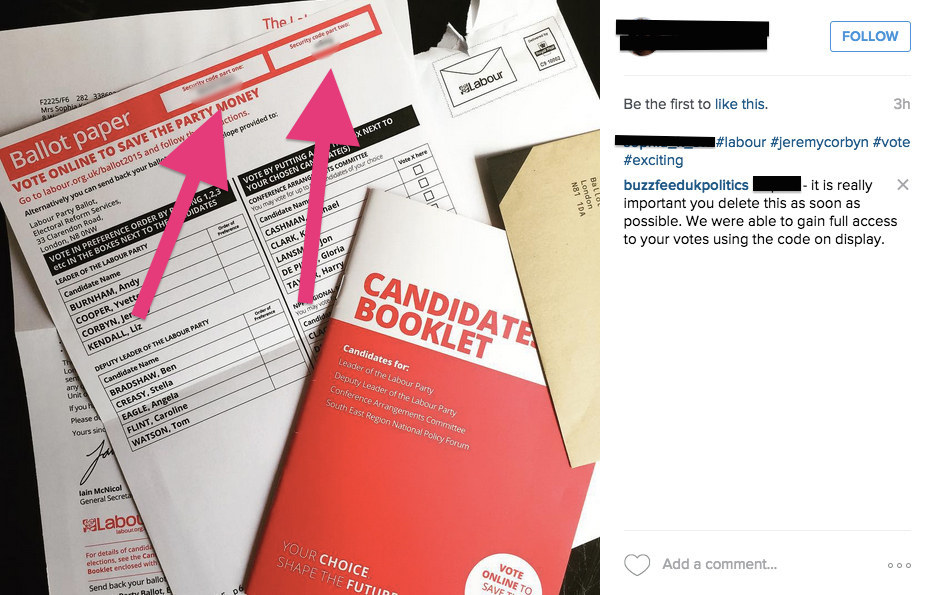 So if you're a Labour supporter, don't share your ballot paper online. Unless you want to lose your vote to a stranger.