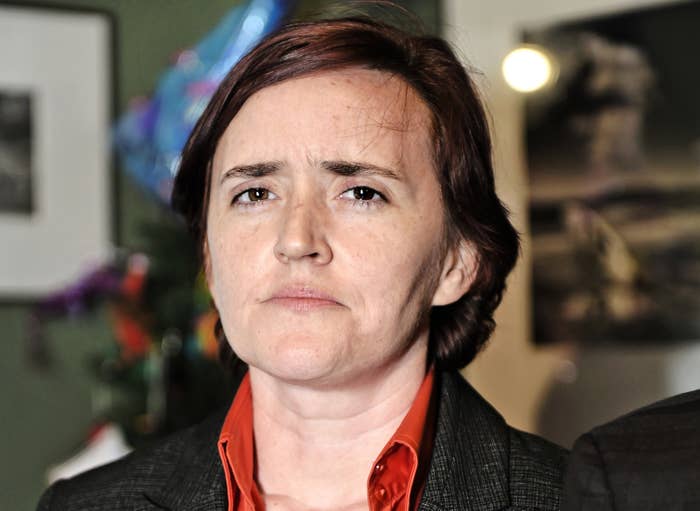 UKIP officials could exclude an anti-Islam campaigner from the party's leadership ballot on the basis that she would fail to meet the standards set out in the party's code of conduct, two party sources have told BuzzFeed News.

Anne Marie Waters, who has described Islam as "evil" and is backed by former English Defence League leader Tommy Robinson and Islamophobic Dutch politician Geert Wilders, was banned from standing for UKIP in June's general election amid concerns about how her views would reflect on the party.
Despite this, she has launched a bid to take over as leader following Paul Nuttall's departure after the party's dreadful general election result. Her campaign is allegedly backed by an influx of new far-right members, prompting fears among UKIP officials and many of the party's elected politicians that she could send the already Eurosceptic anti-immigration party in a more extreme direction.

Now UKIP officials are considering blocking her from taking part, on the grounds that her views could bring the party into disrepute, although no firm decision has been taken. Any ruling would have to be made on the basis of the result of a vetting process.
"Vetting means ensuring your public comments and statements are in line with the constitution of the party," said one UKIP source. "There's a statement of principles of the party and one might ask whether all the candidates who have put themselves forward to meet these."

Waters was shortlisted as the Labour candidate for Brighton Pavilion in 2013 but later shifted to the right and stood as a UKIP candidate while helping to establish the UK branch of the anti-Islam group Pegida. She did not return multiple requests for comment but appeared at a leadership hustings in Newport on Thursday night, where she said she was "not a racist or a neo-fascist".

UKIP treasurer John Bickley, who also sits on the party's national executive committee (NEC), would not directly comment on Waters but emphasised that there was a strict formal vetting process for all candidates to ensure they met the required standards.

"The NEC has to ensure, for the sake of the party, that whoever's on the ballot paper is not going to come back and bite us in short order," he said. "We've had an interesting 12 months in regards to leaders, and we'd like to make sure that this time people on the ballot paper are not going to be a problem for us.
"We have to ensure there are no elephant traps after we elect a new leader."
Excluding Waters from the ballot could add to the chaos around what is the party's third leadership election in 12 months, with as many as 11 largely unknown candidates in the running for the position, including some who are touting endorsements from leading online alt-right figures and one who is pledging to put opposition to transexual rights at the heart of the party's platform.
Former leader Nigel Farage has warned that the party will be "finished" if it goes down an explicitly anti-Islam route, but UKIP has already been in freefall following the EU referendum last year, winning just 500,000 votes in the general election and losing all but one council seat it contested this year. Farage's replacement as leader, Diane James, lasted just 18 days, while Nuttall was dogged by a dispute over whether he had been present at the Hillsborough disaster.
The leadership election is held under first-past-the-post rules, which party insiders cheerfully admit is wholly unsuitable for a contest with a small number of voters and a large number of candidates.
As just 15,000 UKIP members bothered to vote in last November's leadership election, when the party had a higher media profile, the end result is that multiple relatively unknown candidates could split the vote and a winner be declared victorious with just a few thousand votes.
"You could have a winner with 15%," said London assembly member David Kurten, who is standing to be the first nonwhite leader of a major UK political party. "I don't think anyone anticipated a leadership election with perhaps 10 candidates."
Kurten, who is backed by Brexit millionaire Arron Banks' Leave.EU organisation, said UKIP could win voters from the Conservatives as a result of the government's decision "to start pushing gender queer theory on primary schools".

"People don't want their children to be confused by this kind of thing," he said. "I will take UKIP in the direction of standing against the militant transgender activism that's happening at the moment."
The London assembly member touted the backing of leading alt-right figure Paul Joseph Watson as evidence of his support, saying the Infowars contributor liked his criticism of London mayor Sadiq Khan.
On Friday night the party confirmed there were 11 applicants for the leadership election, including Waters and Kurten.
"We are in the process of verifying their information and completing vetting checks in preparation for the next NEC meeting on 11 August. Once the NEC has approved the final list, we will let you know the names of the candidates who will appear on the ballot paper," an emailed statement said.
Whoever takes over as leader will have to deal with a party that is on the cusp of losing almost all its electoral officials, is tanking in the polls, and does not even currently pay a salary to its leader.
Other potential leadership candidates – who each have to pay a £5,000 deposit to stand – include John Rees-Evans, who gained fame after comments about a homosexual donkey raping his horse; Jane Collins MEP, who was successfully sued for libel after claiming Labour MPs knew about child sex abuse; and deputy leader Peter Whittle, who has vowed to fine women who wear burkas in public.
Scottish UKIP leader David Coburn also confirmed to BuzzFeed News he is running for the leadership, stating: "I run Scotland pretty well, I'm popular up there."
He has repeatedly tweeted his Donald Trump-esque slogan "Drain the Swamp Vote Coburn".
Meanwhile, official party declarations and letters seen by BuzzFeed News reveal UKIP is shedding members and losing donors, has radically reduced its staffing levels, faces another expensive leadership contest, and is preparing for an autumn rebrand after it "got pasted" in the general election.

UKIP's previously unreported 2016 accounts reveal that 1 in 7 of party members quit during the year of the EU referendum, with total donation income more than halving to just £1.8 million as the party's pro-Brexit backers moved their money elsewhere.

It's further evidence that a Brexit vote, the party's founding purpose and lifelong aim, might be the single worst thing that has happened to UKIP as a viable political party. The party already stands to lose millions of pounds in EU funding when Britain quits the organisation in March 2019, which could leave it with just a handful of full-time elected politicians in local government.
As a result, interim leader Steve Crowther recently wrote to members asking for money after the party's disastrous showing in the general election.
"We're understandably strapped for cash," he wrote, blaming consecutive national elections and admitting the party now has a "less compelling sales pitch than we've had for the last 23 years".
"We need a bit more cash to help us get things straight over the summer," he said, asking for people to donate a tenner to help get over the fact that UKIP "got pasted" at the ballot box in June as its voters returned to the Conservatives and Labour.
Party chair Paul Oakden signed off UKIP's annual accounts by warning of an "understandable but concerning drop off in the amount being donated to the party".

He also warned that the party had been hit by members "who had joined solely to help get Britain out of the EU" quitting the party in the belief it was "job done", and said the party had enlisted call centres to convince old supporters to remain as members.
The accounts show just how much UKIP has shrunk. While the party spent £3.3 million on an unsuccessful attempt to make a Westminster breakthrough in 2015, in the referendum year the party slashed campaign expenditure to less than £1 million.

The party also reduced its staffing levels from 83 people in the 2015 general election year to just 31 – with a total employment budget cut from £1.2 million to £558,000.
As a result the party is also preparing to rebrand at its party conference in the autumn, which could potentially see it ditch its famously garish yellow pound symbol.
One UKIP insider attempted to put a positive spin on the leadership frontrunners by suggesting they showed the party's increasingly diverse appeal: "We've got two queens, a lesbian, and a black bloke running for leader."