UKIP Believes Fear Of Asian Grooming Gangs Can Help It Win Elections In The North
At the UKIP conference, Nigel Farage and others repeatedly raised the fear of sexual abuse by ethnic minority men in the belief it can help the party defeat Labour.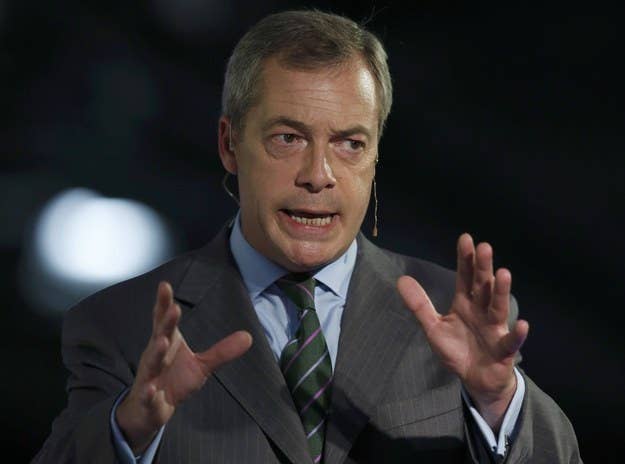 DONCASTER – UKIP is hoping to make an electoral breakthrough in the north of England by blaming Labour councils for allowing Asian men to groom and rape young girls.
Time and time again at UKIP's annual conference, leading members of the party have launched pointed attacks on Labour-run councils in areas such as Rotherham and Rochdale where Asian men have been convicted of sex offences in recent months.
Nigel Farage used his leader's speech to blame Rotherham's Labour councillors for not stopping the abuse of up to 1,400 children over a 16-year period: "They were scared of causing a division within the very multicultural society that they created. They were more fearful of being branded racists than they were of taking on an evil that existed within that town."
The UKIP chief told thousands of delegates at Doncaster racecourse that some "politically correct" individuals would criticise him for politicising child abuse. But, he said, "If this isn't political then what is?"
Farage was preceded on the stage at Doncaster Racecourse by John Bickley, the party's candidate in the Heywood and Middleton by-election, who said Labour "turned a blind eye to the grooming and raping of our children", and attempted to pin some of the blame on the party's leader.
"Ed Miliband's Labour party is morally bankrupt," Bickley added.
Jane Collins MEP, UKIP's candidate for the Rotherham Central constituency, launched a personal attack on Labour politicians in her area, saying they should face criminal charges over the grooming cases. Last night, Labour officials were suggesting the allegations were defamatory.
UKIP officials privately insist they can win oversight of South Yorkshire police in the forthcoming PCC by-election by capitalising on fears of grooming and sexual abuse by Asian men. The party has already made an electoral breakthrough in Rotherham, where the council was previously dominated by Labour.
Labour has previously attacked UKIP for making political capital out of sexual assault cases.