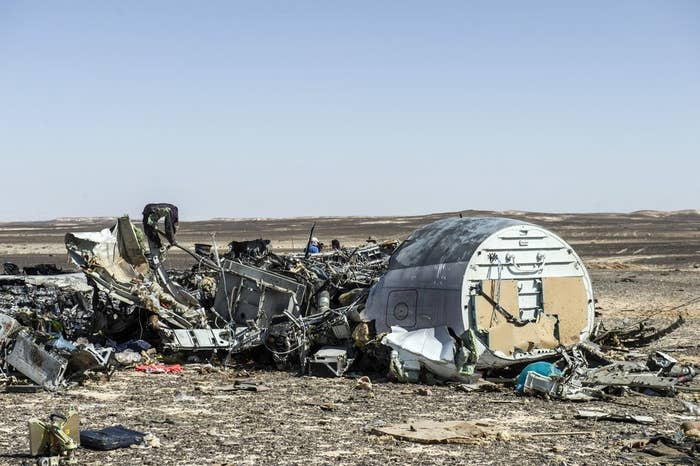 Downing Street believes the Russian passenger jet that crashed in the Egyptian desert last week "may well have been brought down by an explosive device" and has ordered all British flights to the area to be temporarily grounded.
"While the investigation is still ongoing we cannot say categorically why the Russian jet crashed," said a No. 10 spokesperson in a statement on Wednesday. "But as more information has come to light we have become concerned that the plane may well have been brought down by an explosive device."
The Metrojet flight took off from the Egyptian resort of Sharm el-Sheikh for St Petersburg on Saturday morning but crashed shortly after take-off, killing 217 passengers and seven crew. Although the plane disintegrated in mid-air, there has been no conclusive evidence of a terrorist attack. Some ISIS supporters have claimed responsibility.
As a result, the government ordered all flights heading from the resort to the UK to be grounded on Wednesday night: "That will allow time for a team of UK aviation experts, currently travelling to Sharm, to make an assessment of the security arrangements in place at the airport and to identify whether any further action is required. We expect this assessment to be completed tonight.
"We recognise that this information may cause concern for those in Sharm and indeed for those planning to travel to Sharm in the coming days. We have deployed extra consular staff to Sharm who will be on hand at the airport, working with the airlines, to assist British holidaymakers there. For others, either in resorts at Sharm or planning a holiday to Sharm in the coming days, our advice is to contact your airline or tour operator."
David Cameron will chair a meeting of the emergency COBR committee to review the situation and Downing Street has promised further updates following the meeting on Wednesday night.
Downing Street said the prime minister was in touch with Egypt's president, Abdel Fattah al-Sisi, who is due to arrive in the UK for an unrelated official visit on Wednesday night.
"We have been following the investigation closely to make sure that we take any steps necessary to ensure the safety of British citizens on flights from Sharm," said the spokesperson. "That will always be our priority."