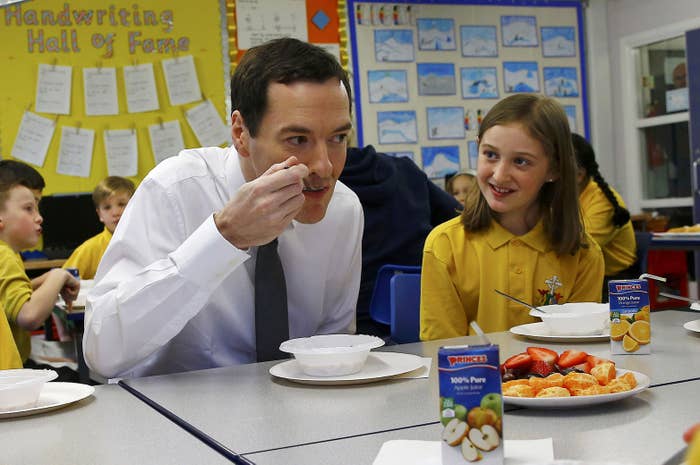 Conservative MPs are in open rebellion against George Osborne over the Budget's proposal to cut disability payments, which, an independent analysis has suggested, could cost 370,000 disabled people with reduced mobility up to £3,500 a year in lost income.
The move to reduce personal independence payments (PIP), which will save £4.4 billion over the cost of this parliament, is being talked about among some backbench Conservative MPs as a potential repeat of last year's tax credits disaster, when the chancellor was forced to abandon his plan to reduce welfare payments for low earners.
Andrew Percy, Tory MP for Brigg and Goole, said the disability cuts would hit "exactly the wrong people". He said he would fight the proposals and insisted he would prefer higher taxes on petrol in order to protect the disabled: "If I can be honest, I'd rather have a penny or two on fuel if it protects PIP."
"The package as a whole goes too far," he told the BBC's World at One. "I think the savings that it makes are not appropriate and i don't think can be justified. I don't think it's acceptable."
Percy said he had written to Osborne "expressing that there is concern from a significant number of colleagues", warning him that the government only has a small majority and could face a rebellion on this issue.
Tory MP Johnny Mercer also said he was concerned that the decision to cut welfare payments was a move in the wrong direction and suggested disability payments were a "lifeline".

Disability minister Justin Tomlinson told BBC News the government was still committed to the plan: "We will still see an increase in the numbers of people using PIP and the amount of money paid out." But in Westminster there are growing doubts over whether Osborne will be able to force the change through the House of Commons given the small Conservative majority.
The proposed cuts would affect PIP payments, which are being phased in for people who need mobility assistance. They range in value from £21.80 to £139.75 a week.
Osborne's proposal to reduce the number of people who qualify for the benefit is expected to eventually save the government £1.3 billion a year. The Institute of Fiscal Studies said that since official estimates show 370,000 people losing out due to the change, this implies an "average loss of £3,500 a year" for each person affected.
Around 290,000 disabled people will lose the payment completely and 80,000 will receive a reduced benefit, according to the Office for Budget Responsibility.
The chancellor insists that the overall amount of money spent on disabled people will still increase, despite the cuts to PIP, but Conservatives MPs are concerned about the impact on those who will lose out completely.

Two Tory MPs contacted by BuzzFeed News said they were particularly worried by the comparison – widely aired on Twitter on the day of the Budget – between the amount saved by cutting the disability budget and the tax breaks promised for higher earners.
One concern raised by Tory MPs is the recent £30-a-week reduction in the employment support allowance for disabled people. Some Conservatives who voted for that proposal believed the disabled individuals hit by that cut would still be able to keep their income relatively high thanks to money provided through the PIP fund. Now that Osborne also wants to reduce the PIP fund, these MPs feel hoodwinked.
As a result of these cuts, several disability groups have already asked Conservative MPs to resign as patrons. Meanwhile, an activist involved in the Conservative Disability Group resigned following Wednesday's Budget and said he could no longer "have any association with a political party that could send disabled people to the wall".
Several Conservatives MPs said they were waiting to see if Osborne will quickly water down the cuts to PIP funding in the coming days before breaking cover and speaking publicly on the issue.

However, Osborne faces a political problem: If he chooses to abandon the cuts to PIP funding he will have to find an extra £1.3 billion of funding – and that will make it even harder for him to him to reach of his target of reducing the deficit.