The final polls before Britons start voting show there is absolutely nothing between the Conservatives and Labour in this general election.
Three of the final polls by the UK's leading market research companies indicate that the major parties are absolutely neck and neck as voters go to the polls.
The Daily Mail/ITV/ComRes poll has the Conservatives on 35% of the vote and Labour on 34%.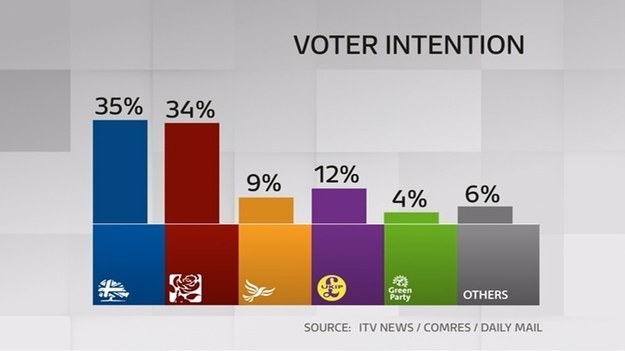 The Mirror/Survation poll has Labour and the Conservatives tied on 33% each.
And the Sun/YouGov poll has both Labour and the Conservatives on 34% support.
This is how polling expert Peter Kellner at YouGov predicts the results will turn out when it comes to seats.
Any coalition needs 323 seats to have a majority in the House of Commons, assuming Sinn Féin hold their existing constituencies in Northern Ireland and don't take their seats.
If Peter Kellner's prediction is correct, there are few likely combinations of parties that could form a government with a working majority.