It was first noticed by McCartney's Labour opponent, Lucy Rigby. And then everyone else had a look.
The betting has already begun on how McCartney will justify this one.
And now McCartney has deleted *all* of his favourites.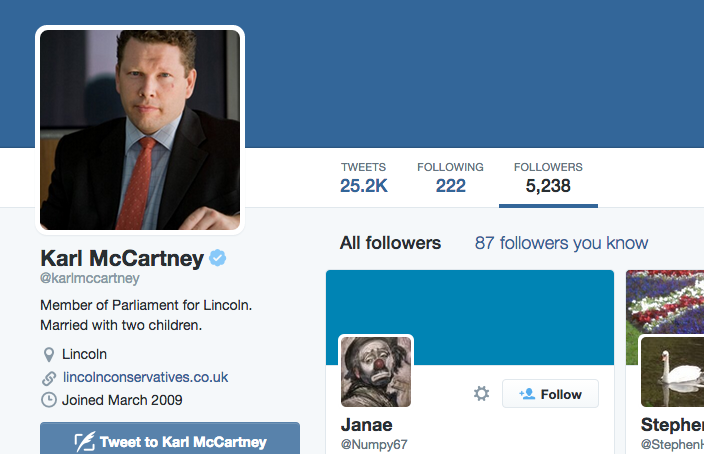 We're sure the chief whip will want a full explanation.
Update: It was a security issue and he has never used the favourite button. (Apart from the 55 times he favourited tweets about politics.)
McCartney has since told ITV News he will be writing to Twitter to complain about "malicious and salacious attempts" to embarrass him, and that he prefers to tweet about "interesting cars". He said:
It was brought to my attention earlier today by a number of people that a Twitter post from Lincoln Labour's Prospective Parliamentary Candidate showed a pornographic tweet and around 50 other random tweets had been 'favourited' on my Twitter account from the past four years.

I have removed all 'favourites' from my account, I have reset my password and those who follow me regularly on Twitter will know that I have never been into the practice of favouriting tweets or images in my 6-7 years on Twitter and stick to posting or retweeting in the main (25k+) including at times images of interesting cars I see whilst out campaigning.

I am writing today to Twitter to express my concern that six months from a General Election the security of Twitter accounts needs to be able to stand up to any malicious and salacious attempts to embarrass the account holder, I will await their reply with interest.