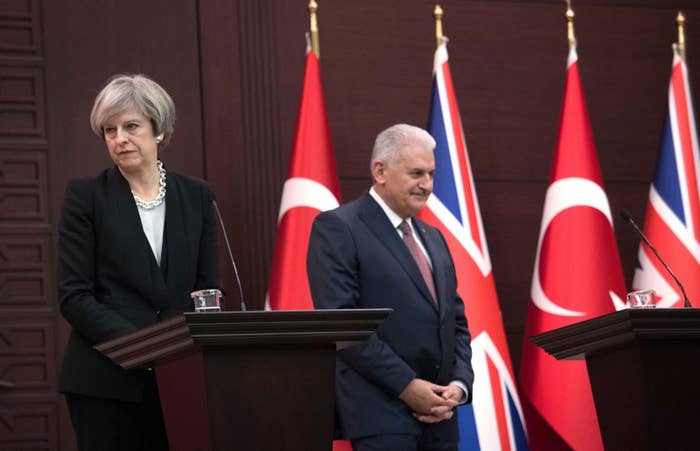 Downing Street has said Theresa May does "not agree" with Donald Trump's executive order halting immigration from seven Muslim countries and stopping refugee arrivals altogether.
A statement issued after the prime minister arrived back in London from her trip to the US and Turkey said: "Immigration policy in the United States is a matter for the government of the United States, just the same as immigration policy for this country should be set by our government.
"But we do not agree with this kind of approach and it is not one we will be taking.
We are studying this new executive order to see what it means and what the legal effects are, and in particular what the consequences are for UK nationals. If there is any impact on UK nationals then clearly we will make representations to the US government about that."
Foreign secretary Boris Johnson went further than the prime minister, writing on Twitter on Sunday lunchtime that any attempts to discriminate based on nationality, as Trump's executive order does, were "divisive and wrong".
In Ankara, where May had flown after meeting with Trump in Washington DC, the prime minister had explicitly refused to criticise the US president over the executive order.

The order, signed hours after May left DC, stopped visas being issued to people from Syria, Iraq, Iran, Sudan, Somalia, Libya and Yemen for 90 days, suspended the country's refugee programme for 120 days, and indefinitely blocked Syrian refugees from entering the US.

At a joint press conference with her Turkish counterpart Binali Yildirim, May repeatedly avoided addressing the issue.
Only after two direct questions and repeated heckles of "What about the US?" from travelling British journalists did the prime minister in any way directly address Trump's executive order: "The United States is responsible for the United States' policy on refugees. The United Kingdom is responsible for the United Kingdom's policy on refugees."
Otherwise she concentrated on what other countries, such as Britain, were doing to help those fleeing conflict: "On the issue of refugees I recognised in the comments I just made, the significant contribution Turkey has just made in hosting 3 million refugees," she said. "The UK has also got a good record in this, as we have developed a number of schemes for resettlement."
"We have also taken the view that we should give significant support to countries where people have been displaced from Syria."
Turkish prime minister Yildirim, whose country has accepted millions of refugees from Syria, was far more effusive. "The refugee issue is a global issue. We have 55 million refugees worldwide at the moment."
"You cannot settle this issue by constructing walls," he added, insisting that "our values, our culture, our tradition taught us" that you should offer help to refugees.
"If there is someone in need you need to give them a helping hand," he said. "This is the most holy thing, this is the most important humanitarian duty that we have.
"Independent of any assistance coming to us we will continue what we have been doing, we will continue accommodating these people, until there is peace."

Writing on Twitter, Labour leader Jeremy Corbyn said May should be ashamed by her stance.
Tory MPs have criticised May for her refusal to condemn Trump, while one even said he was personally unable to travel to the US because he was born in Iraq.
France and Germany have been much more outspoken in expressing discomfort with the US crackdown on immigration from Muslim countries.

At a joint news conference in Paris the countries' foreign ministers admitted some of the president's policies were worrying.
"This can only worry us, but there are many subjects that worry us," said French foreign minister Jean-Marc Ayrault, according to the Reuters news agency.

"Welcoming refugees who flee war and oppression is part of our duty."
Sigmar Gabriel, Germany's new foreign minister, said: "The United States is a country where Christian traditions have an important meaning. Loving your neighbour is a major Christian value, and that includes helping people."
He added: "I think that is what unites us in the West, and I think that is what we want to make clear to the Americans."
French president Francois Hollande, speaking at a summit of southern European leaders in Lisbon, said the Trump administration was encouraging "populism and even extremism".
"We have to stand together in Europe," he said. "What is at stake is populism. The kind of discourse now coming from the United States encourages populism and even extremism."