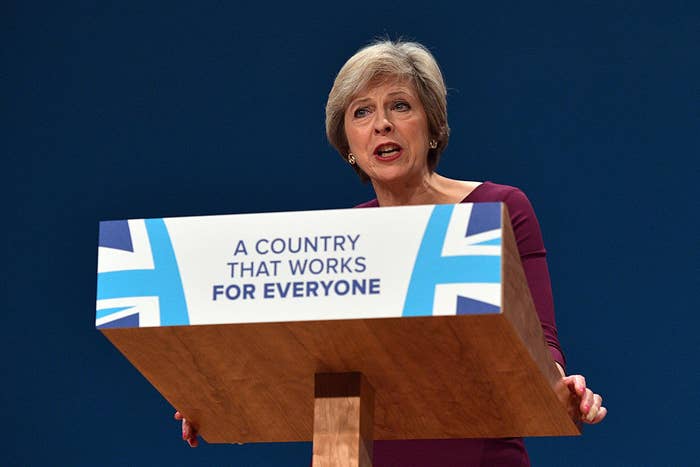 Downing Street has made clear that Theresa May fully supports a controversial proposal by home secretary Amber Rudd to name and shame companies who employ large numbers of foreign workers.
In her closing speech to Conservative party conference on Wednesday, the prime minister outlined a vision for Britain in which she said talent and hard work were more important than where people were born.
The appeared to contrast with Rudd's proposal, announced 24 hours earlier, to make businesses that employ a large number of foreign workers publish these figures.
But after May's speech, a Downing St spokesperson told BuzzFeed News: "The prime minister definitely backs the home secretary."
Rudd's plan has already run into stiff opposition from business leaders, with the British Chambers of Commerce, the Institute of Directors, and the CBI all criticising the idea.
"It is clear that immigration will continue to be a major bone of contention between companies and this government," said Seamus Nevin of the Institute of Directors. "Businesses know that the EU referendum result means change to free movement of workers from the EU, but people were not voting to make the economy weaker. The evidence is clear that migrants are a benefit to the economy."
It has also been attacked by Tory MP Neil Carmichael, who said the "divisive" plan had "no place in 21st century Britain".
The home secretary has already indicated that she could be about to water down the proposal, saying it is "not something that we are definitely going to do" and denied that she was essentially backing a "form of racism".
Instead, Rudd told the BBC that her proposal to publish the data as an attempt would stop companies "getting away" with hiring foreign workers rather than domestic staff and "nudge them into better behaviour".
"We should be able to have a conversation about what skills we want to have in the UK and whether we need to go out of the UK in order to get them to boost our economy," Rudd told the Today programme. "I don't think we should have a situation where we can't talk about it."
The government has also announced other controversial measures around immigration during the party's annual conference in Birmingham, including proposals to stop students coming to the UK for less challenging university courses.
May put controlling immigration at the centre of her conference speech and attacked "politicians and commentators" who dismiss concerns about the numbers of people coming to the UK. "If you're one of those people who lost their job, who stayed in work but on reduced hours, took a pay cut as household bills rocketed, or – and I know a lot of people don't like to admit this – someone who finds themselves out of work or on lower wages because of low-skilled immigration, life simply doesn't seem fair."
Labour leader Jeremy Corbyn criticised the Conservatives' approach to immigration: "Drawing up lists of foreign workers won't stop unscrupulous employers undercutting wages in Britain," he said.
He went on: "Shutting the door to international students won't pay young people's tuition fee debts, and ditching doctors from abroad won't cut NHS waiting lists. The Conservatives will instead foster division and discrimination in our workplaces and communities."