Crushed with existential doubt following a disastrous election campaign and facing up to a desperate need to win back the support of younger voters, the Conservatives have been forced to come up with a new social media strategy at their annual party conference in Manchester.

Unfortunately for their electoral prospects, this involves paying to push candid mobile phone pictures of middle-aged Cabinet Office minister Damian Green holding a piece of paper into the public's Instagram feeds.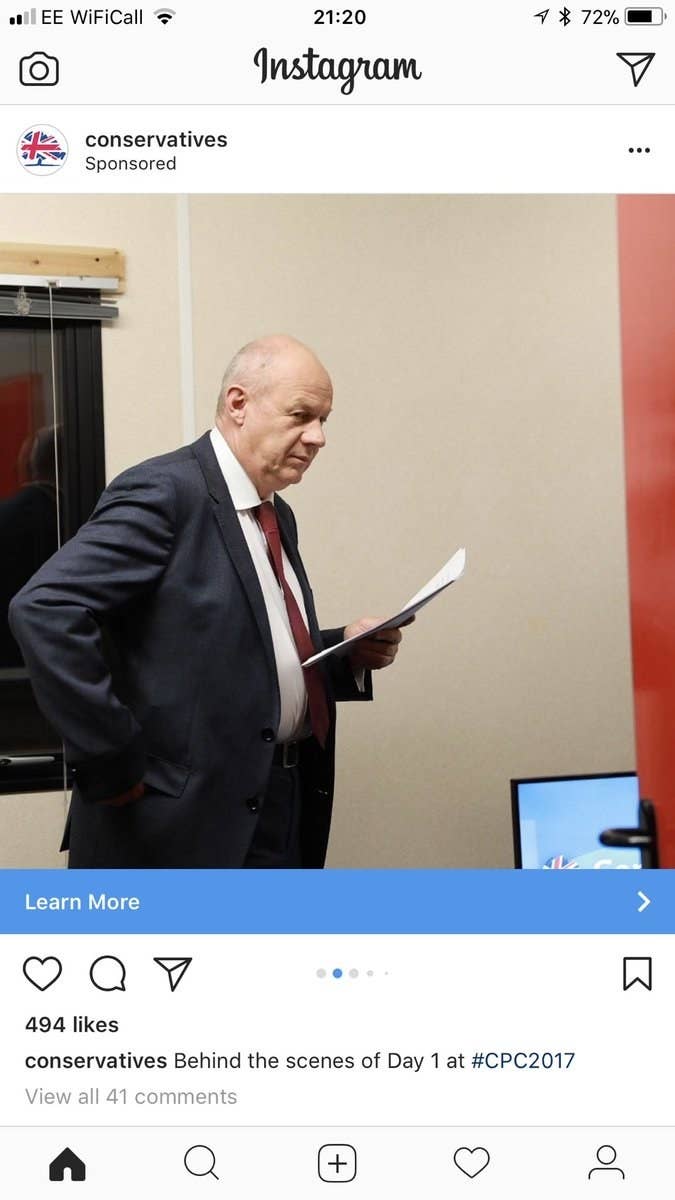 The series of promoted behind-the-scenes pictures – which don't identify the largely white, middle-aged politicians, state what policies the politicians believe in, or generally make any effort to justify their presence on Instagram – point to a wider problem facing a party that still appears utterly bewildered by online campaigning.
The responses from Instagram users who came across the promoted pictures from Tory conference while browsing photos of food and idyllic holidays were, to put it politely, mixed.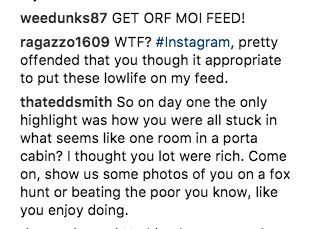 Labour's digital campaign chief Ben Soffa, who helped build many of the online campaign tools that powered Jeremy Corbyn's successful leadership bids and Labour's 2017 general election campaign, allowed himself to gloat, sarcastically praising the Tories' decision to promote such material.
"Tories bossing it on Instagram," he said. "Stunning visuals, clear narrative. Engages well with the platform's young demographic."
Young Tories in Manchester were despairing.
"What tweenager doesn't love exclusive bland backstage content from a conference they've never heard of?" asked Conservative student activist Tom Harwood.

One Tory MP mentioned as a potential leadership candidate took one look at the Instagram and exclaimed: "Just no..."
The extent of the Tories' social media capitulation – at a time when the party is scrabbling to reach any younger voters – is enormous. Theresa May has tweeted four times in the last month. Her Instagram has been updated six times since the general election. Every metric is stacked against the Conservatives: The prime minister has 444,000 fans on Facebook versus Jeremy Corbyn's 1.4 million.
Accounts are barely updated, messaging is mangled, and tweets regularly break the Bad Ratio between replies and retweets.

Journalists, baffled by the party's output, have taken to offering free advice to the party on the basics of formatting online video.
While the Conservatives uploaded pictures of cabinet ministers to Instagram, Labour's account featured user-contributed photos of cats next to a sign carrying party's core message. Unsurprisingly, the latter were much better received.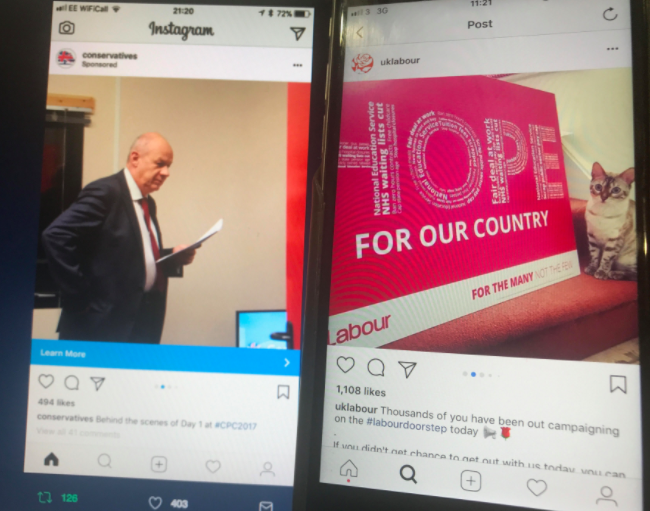 The party seems unable to produce viral content that naturally finds an audience among supporters who share it voluntarily. Analysis by BuzzFeed News has found that virtually nothing positive published in the media about the Tories has gone viral in the last three months.

Talk after talk at Conservative party conference referenced the desire for a magic social media elixir which would allow the party to cut through.
Meanwhile the party's official press account was issuing mangled tweets that suggested Boris Johnson was attacking his own foreign policy from the conference stage. (This, because it may need clarifying, didn't happen.)

It wasn't always this way.

Eleven years ago the Conservatives launched WebCameron, a pioneering attempt to do online politics in an age before smartphones and universal broadband, which involved a full-time photographer and videographer following fresh-faced new party leader David Cameron around in his day-to-day life. The films, which reached a relatively tiny audience in a pre–social media age, showed Cameron relaxing with his family, talking about policies, and producing material that felt at home online.
And it was Labour under Gordon Brown that didn't get the internet, resulting in painfully awkward YouTube videos and mockery in the House of Commons.

Want to watch a Conservative party leader ad-lib a talk about food standards while stroking a cow? This sort of material was being uploaded to the Tory party's YouTube channel, in a tightly-edited two-minute package, way back in 2007. In retrospect it's not radically different in form to the official videos that did so well for Jeremy Corbyn.
A decade on, the same Conservative YouTube channel is being used to dump unedited 20-minute speeches by government ministers that are attracting a few hundred views.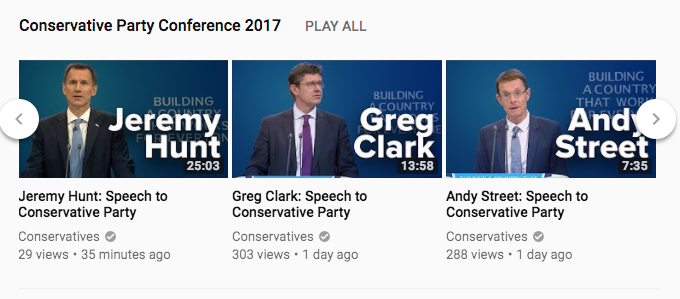 Individuals involved in the party's headquarters have told BuzzFeed News that the online campaign team was reduced and left to wither after the 2015 general election, where the party outwitted Labour by spending big on targeted Facebook advertising in marginal constituencies – then considered a pioneering technique. Insiders say the team was depleted of staff and long-term campaign objectives, leaving it weakened when it came to fighting the 2017 contest.
To make matters worse, Labour caught up on paid advertising, almost matching Tory spending on targeted ads, while benefiting from enormous organic support from the grassroots.
There has been some progress. Improbably, Jacob Rees-Mogg's recently launched whimsy-heavy Instagram featuring scenes of upper-class life has attracted more followers than the official Labour party account.
But ideas remain thin on the ground.
Eric Pickles, the former MP who on Sunday published a postmortem report into the party's disastrous election campaign, dedicated an entire page of the report to the need for a "savvy and continuous" online Tory presence.

"Training in social media campaigning should be delivered to activists as well as professional staff," he said, adding broad goals such as the desire to "produce social media material material that can be shared by professionals and activists", and insisting that "third-party engagement and promotion of our social media is desirable".

Old hands were damning about the current strategy.
"Either they know what to do but don't dare put it in the public domain, or alternatively they have no clue," one senior Conservative campaigner from the Cameron era told BuzzFeed News after reading the relevant section of the report.
Shortly afterwards the Conservatives made another Instagram post: This time it was an overlit picture of defence secretary Michael Fallon sitting in a temporary office.