Yesterday UKIP MEP Steven Woolfe launched the #ShameOnYouSainsburys campaign to protest against the company's decision to fund the pro-EU campaign in the forthcoming referendum.
The meme-esque call to arms urged Woolfe's followers to spread the word that the supermarket giant had – that very day – announced it would fund the Yes campaign for Britain to stay in the EU when a referendum is held on the subject in the next couple of years.
"Retweet and share using #ShameOnYouSainsburys," urged the MEP, one of UKIP's rising stars.
Many of his followers were disgusted by the revelation.
Boycotts were on the way.
Taste the Difference sausages were at risk of being abandoned on the shelves.
This could hit Sainsbury's hard, since pre-election market research suggested the supermarket's shoppers are those most likely to vote UKIP.
Angry UKIP members started to ring up Sainsbury's and complain to its helpline.
(Sainsbury's confirmed to BuzzFeed News that the supermarket had received calls from UKIP members.)
Some speculated that Sainsbury's wanted to boost the UK's population with EU immigrants so it could sell more food.
The only problem for UKIP is that Sainsbury's isn't funding the anti-EU campaign. It seems the confusion came from a recent article in The Times about Lord Sainsbury.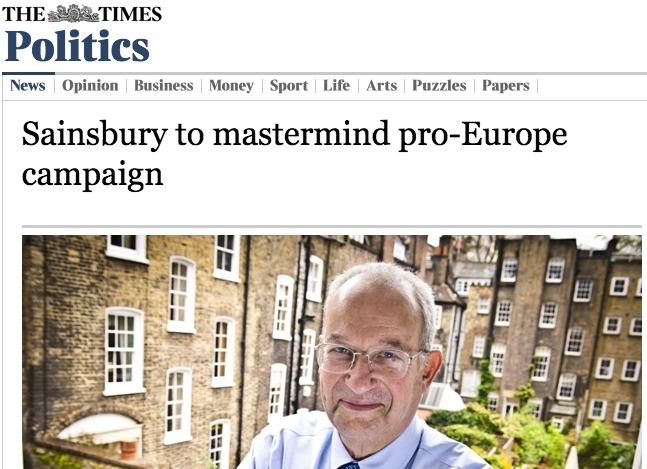 Labour-supporting Lord (David) Sainsbury is the person who's actually being lined up to provide the cash for the pro-EU campaign. He's a very wealthy Labour supporter whose money comes from his family's stake in the supermarket firm but currently has no active involvement in the business.
Other members of the Sainsbury's family – who, again, have no active involvement in the business other than spending the money they made from it – include Lord (John) Sainsbury, who supports the Conservatives.
Basically, there are a lot of wealthy people called Sainsbury, and you can't affect their politics by changing where you buy your carrots.
A Sainsbury's spokesperson told BuzzFeed News:
"It is categorically not true that we're supporting the campaign. We are an apolitical organisation.
"It is our policy not to donate to any political parties or political campaigns. We did not announce that we would donate to the Yes campaign, and this is not something we will be doing now or in the future."
Still, Woolfe successfully spun this response into a victory.
UPDATE: The protest has now spread to Sainsbury's Facebook page, with almost every post about recipes now featuring a number of angry replies from UKIP supporters. Here are a selection.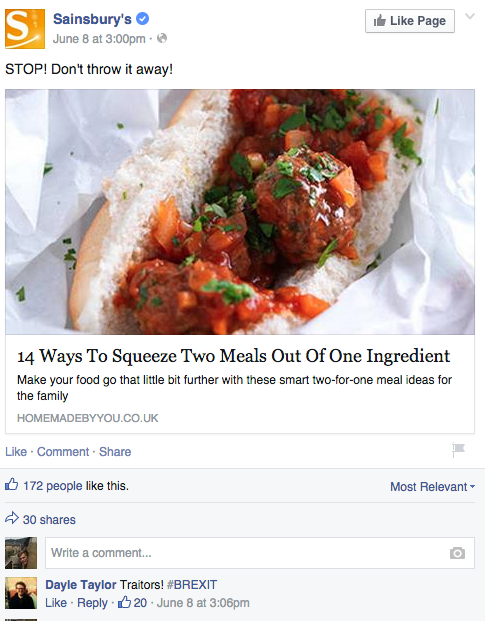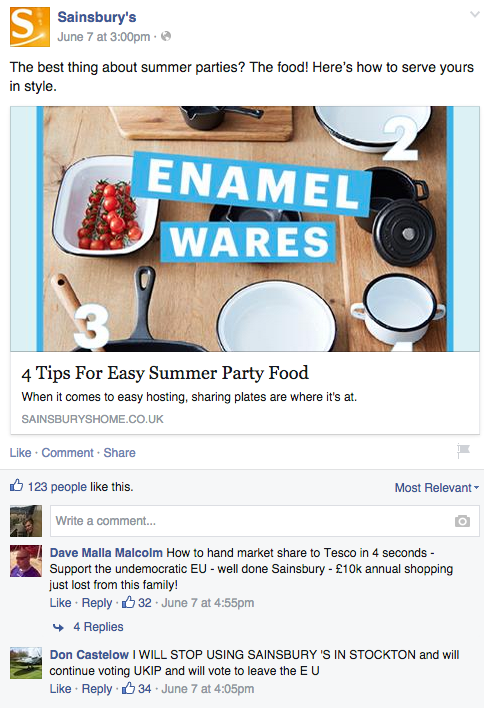 It's going to be a long campaign.
Looks like there are no comments yet.
Be the first to comment!