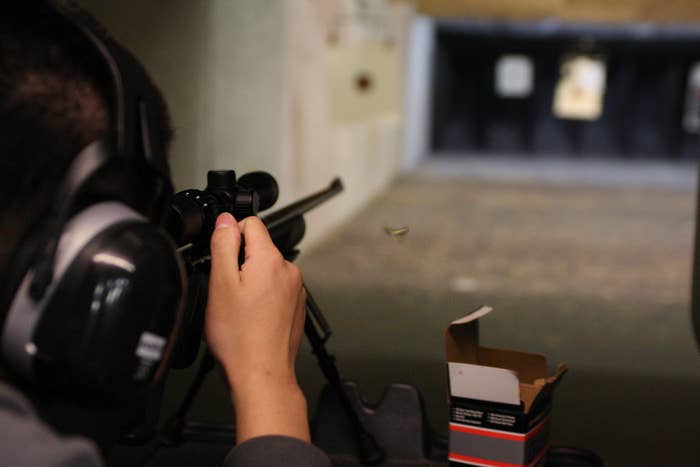 For the last century there has been a shooting range hidden in the bowels of parliament, allowing MPs and peers to keep their guns on the premises and let off steam with a spot of target practice.
But no longer. BuzzFeed News has learned that the range – created during World War I in the belief that shooting guns on the parliamentary estate made politicians into better members of society – will close imminently, ending one of the strangest quirks of Westminster.
Information on the 25-yard range, which is hidden in the basement of the House of Lords, is hard to find although a history of the range says it was founded with the intention of "promoting a stronger sense of citizenship among members".
Simon Hoggart, The Guardian's late parliamentary sketchwriter, said it always had semi-mythical status: "Nobody knew where exactly it was – or why it even existed."
When he eventually located it, he described the bizarre experience of popping down some stairs into a hidden room and blasting at targets within the heart of parliament: "You could borrow a .22-calibre single-shot rifle and ear defenders, and blaze away while an instructor, who was always present, told you to 'squeeze the trigger, don't tug at the bloody thing!'"
Until 1997 it was possible to fire handguns within parliament, but members are currently only allowed to use .22 rifles, which are stored at the range along with live ammunition. The Palace of Westminster Rifle Club, which runs the range, was due to celebrate its 100th anniversary next month but is instead expected to be left without a venue.
As a result, the little-known facility, which has survived repeated attempts to turn it into a creche or swimming pool over previous decades, has finally succumbed to progress.
And the reason for the demise of this feature? New safety regulations.
"House of Lords administration and works committee has agreed to close the rifle range to provide a location for fire safety equipment," an official confirmed.