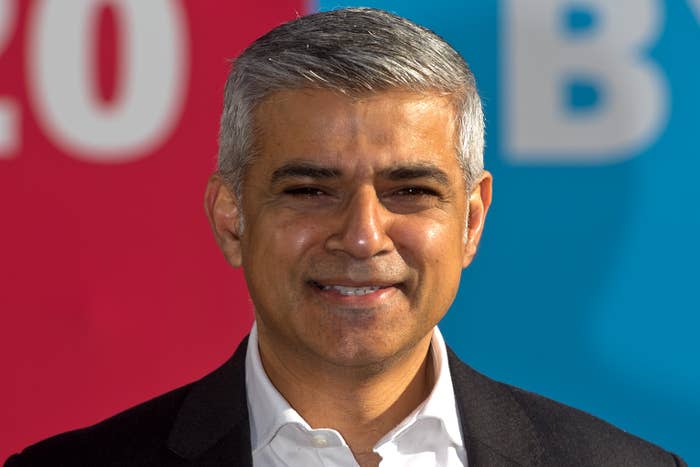 Sadiq Khan has explained his complicated relationship with Jeremy Corbyn through the medium of Michael Jackson lyrics, as the Labour candidate for mayor of London attempted to put distance between himself and his party leader.

Khan said he didn't feel concerned by last week's leaked list, allegedly produced by Corbyn's office, which placed him on a list of Labour MPs considered hostile to the leadership.
"I'm not hostile in any way," Khan told BuzzFeed News. "In the words of Michael Jackson: 'The girl is mine. I'm a lover not a fighter.'"
He added: "I can do my Paul McCartney if you want."
The mayoral candidate was one of a handful of Labour MPs who nominated Corbyn for last year's party leadership contest. This ensured Corbyn scraped on to the ballot paper before securing an overwhelming victory in the ballot of the general membership.
Zac Goldsmith's Conservative mayoral campaign has sought to portray Khan as in the pocket of Corbyn, in the belief it will scare off swing voters in London who dislike the current Labour leadership. However, this potentially backfired when the list appeared to confirm that Corbyn's office view the Labour mayoral candidate with distrust.
Khan took the opportunity at a campaign event on Wednesday to put further distance between himself and Corbyn: "I've always been quite clear when I nominated Jeremy I wasn't going to vote for him. We come from different wings of the party, that's not where I am, and I made it clear during the selection I'm not going to vote for him. He's the leader of the party, he's got a big job to do. If people in his office think I'm hostile then that's a decision for them. Jeremy's not on the ballot paper, nor is Cameron, nor is Boris."
The Labour mayoral candidate, launching his transport policy, which includes a pledge to freeze fares, also promised to campaign to put more women in top jobs at Transport for London.
He also said he would ask the British Transport police to reconsider their decision to scrap a specialist unit dealing with the sexual harassment of women on the capital's transport network, by threatening to reduce their funding: "The numbers of attacks on women has increased in the last few years. Women feel unsafe feeling public transport. We've got to make it safer for them to use."
Outside the venue, a number of unidentified activists wearing Jeremy Corbyn masks held up Conservative posters linking Khan to the Labour leader and claiming the mayoral candidate's transport policy contained a £1.9 billion funding black hole.
However, the presumed Conservative supporters were apparently unable to discuss their policy positions and did not respond to questions, resulting in the uncomfortable sight of silent Jeremy Corbyns staring at passers-by on a south London street. They did not say where they were from, although one was trying very hard to avoid bursting out in laughter.

When asked by BuzzFeed News whether they ever wondered how they ended up wearing Jeremy Corbyn masks and unable to speak on a Brixton street at 9am, they did not reply.