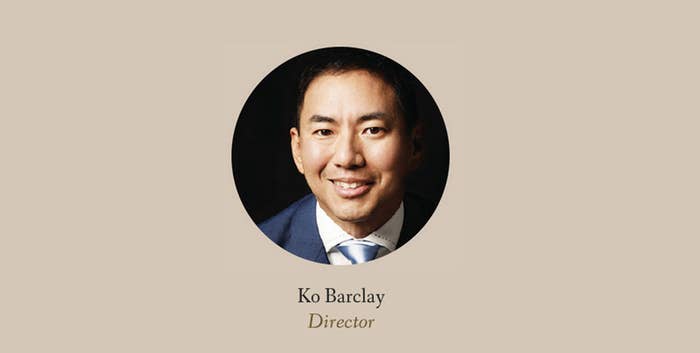 The property developer son of billionaire Daily Telegraph-owner Sir Frederick Barclay has been revealed as one of UKIP's biggest financial backers after giving £80,000 in cash to the party at the end of last year.
Ko Asada Barclay, who runs the Marylebone-based property-development firm Koian, gave the money to Nigel Farage's party at the start of December. His LinkedIn profile describes him as an expert in central London property who understands "tax, risk and investment management".
"I'm pretty much anti-EU and I think there needs to be pressure on the main political parties to align their policies with UKIP," Barclay told BuzzFeed News, saying he was backing Nigel Farage's party in the hope its success could force mainstream parties to adopt a stronger stance against Brussels.
"I want there to be pressure placed on Labour and the Conservatives," he said.
Although UKIP is increasingly trying to attract disaffected left-wing Labour voters, Barclay said he wants politicians to cut taxes: "I'm very much an economic libertarian and I believe you want to lower taxes in order to raise more revenue."
Barclay has previously given one small donation to UKIP, but today's data release shows he has now become one of the party's biggest individual backers. In a series of blogs on his website Barclay called on politicians to reduce taxes on properties.
His father has not given any recordable donation to the party, but The Guardian has previously claimed that Sir Frederick paid for Nigel Farage to have a back operation and hosted the UKIP leader's 50th birthday party. His son said Sir Frederick was not involved his donation to the party.
Accounts published by the Electoral Commission also confirm that Richard Desmond, the owner of the Daily Express and Daily Star newspapers, gave £300,000 to UKIP through his Northern & Shell company at the end of last year. But UKIP's biggest donor remains Bristol-based businessman Arron Banks, who gave £600,000 to Farage's party during the final three months of last year.
Robin Birley, the half-brother of Zac Goldsmith, the Conservative MP for Richmond, also gave £50,000 to the party.
Collectively these four businessmen were responsible for around two-thirds of UKIP's entire £1.5 million income from donations during the last three months of 2014.