Conservative MP Crispin Blunt has told the House of Commons he uses poppers and the drug should not be banned by the government.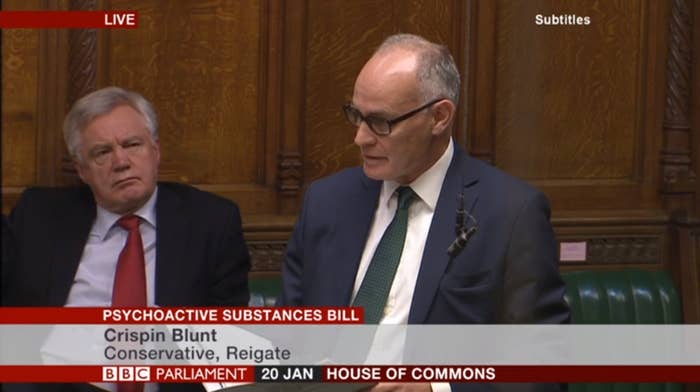 The Conservative MP for Reigate told fellow MPs he was speaking out in the hope of blocking a "really foolish" piece of policy becoming law.
"There are some times when something is proposed which becomes personal to you and you realise the government is about to do something fantastically stupid," said Blunt, who is gay. "In those circumstances one has a duty to speak up."
"I use poppers. I out myself as a popper user and would be directly affected by this legislation, and I am astonished to find it is proposing to be banned – so would very many other gay men."
"It simply serves to bring the whole law into disrepute," the 55-year-old MP added, warning that "respect for the law is going to fly out of the window" if a substance that people have been using for decades is suddenly banned.

"It is manifestly stupid to go down the path we're going."
Poppers is the common name for amyl nitrite, vials of which are easily available to purchase as "room odourisers". They generate a brief high and are used as an aid for anal sex due to the drug's properties as a muscle relaxant.
The government has proposed making the sale of poppers illegal as part of its Psychoactive Substances Bill, which imposes a near-blanket ban on all substances that have an affect on the brain, with exemptions for popular drugs such as alcohol and tobacco.
Experts have previously said the broad definition of "psychoactive substance" used in the legislation could theoretically "ban the smell of a bacon sandwich".

Blunt was supported by fellow Conservative MP David Davis, who said he had spent "the morning reading about [poppers] on the web" and concluded they were not harmful but was concerned about the risk of blackmail to public figures who take poppers if they are made illegal.

Labour's Keith Vaz also urged the government to accept poppers do not pose a risk and should not be banned, and said the government had accepted they were "beneficial in enabling anal sex".
Another Conservative MP, Michael Fabricant, said he had also tried poppers but his "bottom remains intact".
The law will be voted on this evening and Labour is backing an amendment that would ensure poppers would remain legal. Shadow minister Lyn Brown said the drug should be "treated like nicotine, alcohol, and caffeine" and "fewer harms are likely to occur" if it remains legal.

However, she admitted she had little knowledge of poppers and had previously thought they were "little things with string you have at parties".