Andy Burnham Chosen As Labour's Candidate For Mayor Of Greater Manchester
The politician is now the clear favourite to be elected mayor when the election is held in May 2017.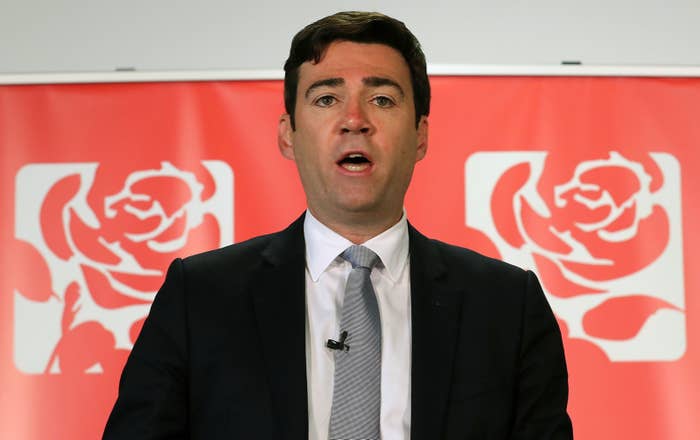 Andy Burnham has won the battle to become Labour's nominee for mayor of Greater Manchester, making him the clear favourite to be elected to the position, which would end his career in Westminster politics.

The shadow home secretary won more than half the votes in a contest of local Labour party members, beating interim mayor Tony Lloyd and Bury South MP Ivan Lewis.
Mayor of Greater Manchester is a new position created as part of a devolution deal with local councils; it will have devolved power over issues such as policing and the local NHS.
Given the strong level of Labour support in the region, Burnham is now the clear favourite to be elected to the job in May 2017.
His team said he would step down as shadow home secretary in advance of the contest, and he is expected to quit as MP for Leigh, prompting a by-election, if he wins next year's public vote.
Burnham said that as mayor he would demand Theresa May stuck to George Osborne's promise of a "northern powerhouse". "Today I have a clear message for the prime minister," he said. "You and your party were elected on a series of promises to the north of England and I will not let you walk away from them.
"You promised us a powerhouse and now you must give us the tools and investment to build it."

Burnham, who finished second in last year's Labour leadership election behind Jeremy Corbyn, said afterwards that he would not pick a side in this year's contest. He is one of very few shadow cabinet members who did not resign during July's Labour coup.
Meanwhile, the Labour nomination for the West Midlands mayor contest – covering Birmingham and surrounding towns and cities – went to Labour MEP Siôn Simon, a close ally of deputy leader Tom Watson.
Simon, who was an MP until the 2010 general election, won 71% of the vote in a head-to-head contest with local councillor Steve Bedser.