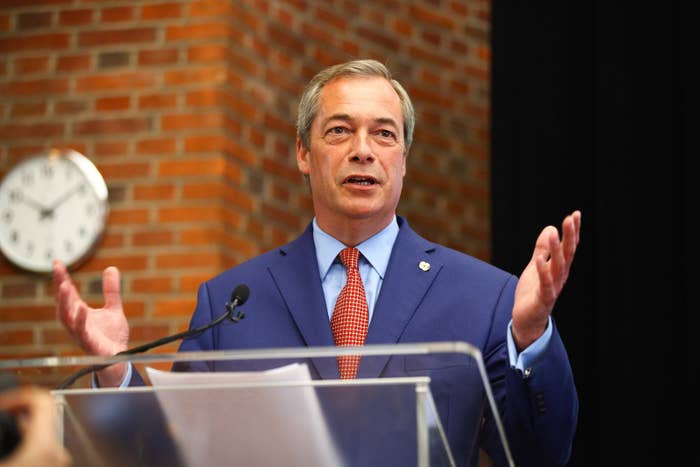 Nigel Farage has quit as UKIP leader, insisting that successfully taking the UK out of the European Union means his political career has served its purpose.
The politician, a founder member of UKIP and the party's first ever parliamentary candidate in 1994, told a press conference in central London that he would be stepping down by the end of the summer.
"During the election I said, 'I want my country back' – but now I want my life back," he said.
Farage insisted it was his party that had delivered the referendum result: "Without us, without the growth in UKIP there would not have been a referendum. There's no doubt that when it came to the ground campaign in this referendum it was the people's army of UKIP."
He said the party would now keep pressure on the next prime minister to take the UK out of the EU and predicted the party would win seats from Labour in the 2020 general election.
"If they think they've seen the back of UKIP, then they're in for a very nasty shock."

However, he confirmed to BuzzFeed News he would continue to serve as an MEP in the European parliament until Britain leaves the EU, while also suggesting he would be willing to return in some capacity to fight the 2020 election.
Farage said he did not expect to have a formal role in the negotiations on Britain's departure from the EU but suggested the UK should make up for the lack of expertise in trade deals by hiring negotiators "from Singapore, from South Korea, or Chile, or Switzerland".

But he said he would relish the final couple of years in the European parliament before Brexit leaves him unemployed: "The UKIPers will have been the turkeys that voted for Christmas."
Farage was leader of UKIP between 2006 and 2009, before returning for a second stint after the 2010 general election. He briefly stood down for a few days following his failure to enter the House of Commons at the 2015 election before reversing his decision a few days later.
This time he insists he won't be back: "I won't be changing my mind again, I promise you.
"I came into politics from business because I believed this nation should be self-governing. I have never wanted to be a career politician.
"They think about the tribe of their party before they think of their conscience, or constituents, or country."
Farage also insisted he had no regrets about his time as leader: "The only people in life who make mistakes are people who do things.
"Any regrets? No, we voted to leave the European Union. Hooray! Hooray! That's what matters to me."
Douglas Carswell, UKIP's only MP, has a very fractious relationship with Farage and simply tweeted a celebratory emoji.

Asked to respond to the emoji, Farage said: "I'm pleased he's smiling because it's not something I've seen very often from him."
He said he wouldn't back any particular candidate to become UKIP leader – but joked he wouldn't put much money on Carswell. The new leader will be in place for the party's annual conference in the autumn and will focus on northern working-class seats that voted Leave in the referendum.
Farage asked: "What is the future for UKIP after this result? Well, we've clearly established ourselves as the third political force in this country."
Afterwards, leadership candidates were already positioning themselves with UKIP deputy leader Paul Nuttall, the Liverpudlian MEP, considered the early frontrunner. He would not commit to a leadership run but did confirm he would not be following Farage out of frontline politics since "I'm only 39".
Meanwhile, UKIP Scotland leader David Coburn would not rule out his own bid for the top job. Instead he stood on the pavement with a briefcase repeatedly saying "I rule out a bid for Conservative leader" at a BuzzFeed News reporter.