Nigel Farage Calls For British Muslims To Choose UK Over Faith After Paris Attacks
The right-wing eurosceptic leader claims British Muslims are conflicted in their loyalties between their country and "elements" in their religion.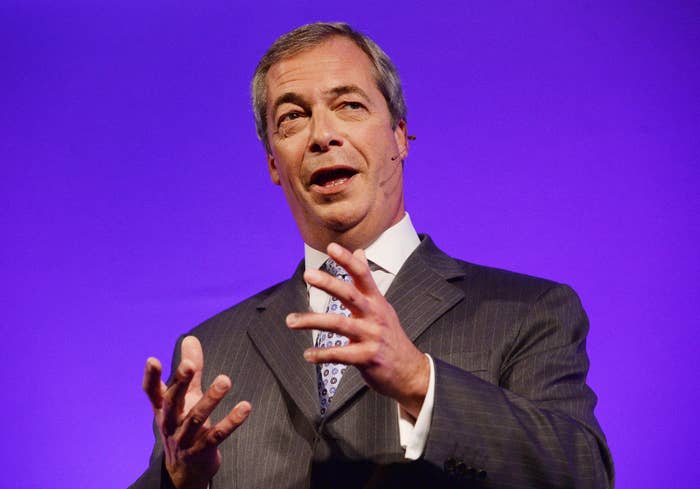 Nigel Farage will challenge British Muslims to choose between their loyalties to the UK and "what elements within their organised faith are telling them" in a speech on Monday night that follows the Paris terror attacks.
In comments designed to grab attention following the deaths of at least 129 people in the French capital, the UKIP leader will tell an audience in Basingstoke that the EU "is seriously imperilling our security" by allowing the free movement of migrants across Europe.
In response to the attacks, he will call for Muslims to publicly back British values. "It is clear that the UK Muslim population are conflicted in their loyalties between loyalty to the UK, its way of life and its institutions and what elements within their organised faith are telling them," he will say.
"This conflict with the UK Muslim population suggests that there is all to play for and we can win the battle of hearts and minds. ... We must believe and support those institutions and aspects of our society, like equality, decency, tolerance and the rule of law which are the bedrock of our civilisation."
Farage will also call for a new law requiring religious charities and institutions to publish details of all the donations they receive. Although such a transparency law would apply to religious institutions of all faiths – not simply mosques and Islamic charities – a UKIP source said the main concern was "Saudi funding" and suggested the focus would be on Muslim institutions.
"It just happens that we haven't seen the Yom Kippur synagogue in East Leeds organising terrorism," the source said. They also suggested the Paris attacks are what happens when you "invite hundreds of thousands of people into your country with no thought for security checks".
UKIP officials pointed towards a BBC/ComRes poll suggesting 27% of British Muslims have "some sympathy" for the motives behind January's attacks on the offices of the Charlie Hebdo magazine in Paris as evidence for a cultural divide in Britain.
Farage has so far stayed relatively quiet on the Paris attacks but ahead of the EU referendum and Oldham West by-election he will use the speech to attempt to tie them to EU policy. He will say the bloc's asylum policy is "a complete failure" and claim that European Commission president Jean-Claude Juncker is "dangerously complacent" about the risk of extremists arriving among the large number of new arrivals from Syria.
Farage is also expected to call for a "complete rethink" and warn that intervention overseas has often "created greater instability rather than greater security, both for ourselves and for those people living in Syria, Iraq, and Libya".
The eurosceptic politician will also push against David Cameron's desire to force out Syria's president, Bashar al-Assad: "We have to recognise that we cannot bomb and drone ourselves to victory, but we must work with the Arab and African countries and their militaries. We must recognise that Assad and Putin are not the main problem."