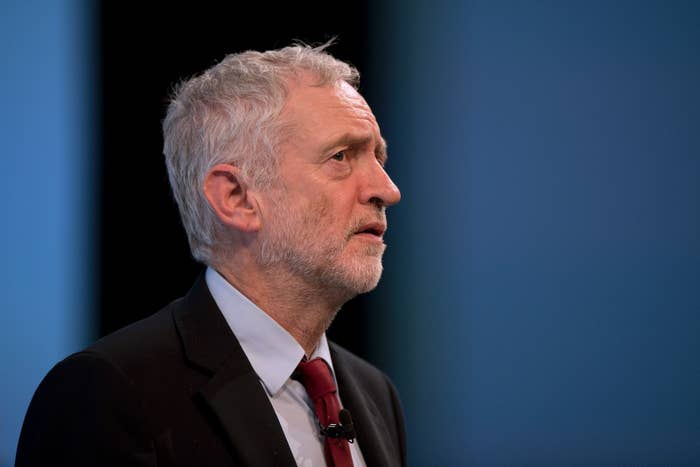 On Guy Fawkes Night, an alliance of hard-left political groups involved in the pro-Jeremy Corbyn group Momentum were called together in the London HQ of the Fire Brigades Union.
In the room were 18 members of Momentum's national committee, including FBU boss Matt Wrack, along with four people from the Trotskyist group Alliance for Workers' Liberty (AWL) and representatives of groups with names such as the Labour Representation Committee, Red Labour, Socialist Appeal, and Labour Party Marxists.

Not everyone was welcome. Socialist Workers party and Socialist party representatives turned up but – for reasons of internal left-wing politics – were told to go away, with one told to leave after being spotted, according to a leaked email from Tina Becker of the Communist party of Great Britain, having "simply put his bum down on a seat in the back". But many key figures on the British left, veterans of political parties to the left of Labour such as Left Unity, were present.
They planned to work out how to take back control of the Corbyn-supporting campaign group Momentum from allies of its co-founder Jon Lansman.
Earlier that week, at a hastily convened meeting, Lansman had pushed through a vote on a crucial decision regarding the organisation's future, handing control of all future decisions to Momentum's 20,000 members, in a giant display of direct democracy.
This would, without consultation, take power away from many of the people gathered in this room, many representing different warring groups on the left of British politics, who felt they were finally able to come together.
"A coup, in other words," Becker wrote in an internal email account of the meeting, which was later leaked to BuzzFeed News.
Momentum, which has tens of thousands of members and a far wider support base, was formed out of Jeremy Corbyn's 2015 leadership campaign, helping to build his support outside a hostile Labour party.
It began with a focus on nationwide education programmes and days of action aimed at involving young campaigners enthused by the new Labour leader, before helping to successfully organise Corbyn's leadership defence during the 2016 Labour coup.
Now the organisation is at risk of being torn apart with accusations and counter-accusations from internal political infighting.

On one side is a supposed attempt to take a group formed in the heat of Corbyn's leadership victory and turn it into a front for a Trotskyist splinter movement. On the other are accusations that a group of young activists who want to run national campaigns are being played by the "Blairite" actions of Lansman and individuals in Corbyn's office.
To Lansman – a veteran of battles on the left wing of British politics who helped run Corbyn's Labour leadership elections and who worked as an aide to Tony Benn – it looked as though he had won and ensured his vision of a decentralised, internet-based political movement would be implemented. But he reckoned without the efforts of Becker and those in the room that night.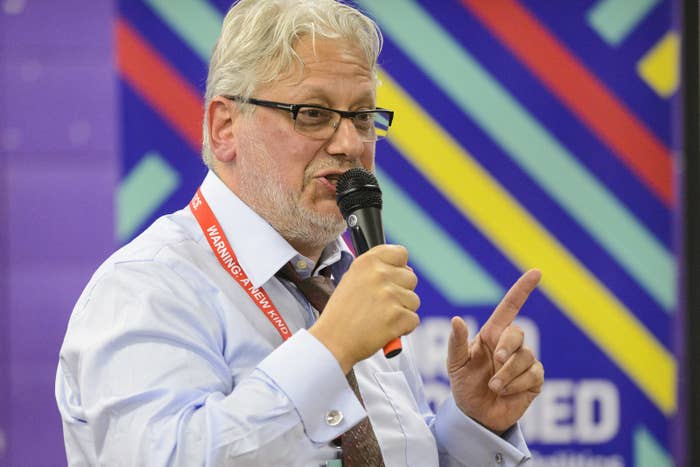 After a year of denying claims that Momentum is a left-wing entryist group operating within the Labour party, Lansman now perversely finds himself facing a coup of his own, amid claims that an alliance of hard-left campaigners is seeking to oust him from the group – potentially attempting to take control of valuable contact data and possibly even using it as the basis for a new political party.

Emails obtained by BuzzFeed News from an internal Google Groups mailing list, run by those who met at the FBU event, show the extent to which the efforts of various left-wing activists within Momentum have coordinated their efforts against Lansman and his allies. Several of the people on the list have been banned from the Labour party, while some stood against Labour in parliamentary elections as recently as 2015.
"The meeting was stuffed, pure and simple," Delia Mattis, a Momentum activist, told the mailing list after Saturday's meeting of the group's national committee. Despite this she said that "the left made some fantastic gains" in its battle to take control of key Momentum committees thanks to a "pre-meet" to agree voting tactics, defeating Lansman's plan to hand control of the organisation to ordinary members.
"It did get a bit heated at times but after such a tense period of time in Momentum I think that was to be expected," Mattis wrote, celebrating the election to a key committee of Jackie Walker, an activist who only a month earlier had been removed from her position as vice chair of Momentum following disputed allegations of anti-Semitism.
In another email, Rebecca Anderson of Workers Power said the meeting was "quite worrying in some ways" and the atmosphere was "fractious and frustrating".
Also on the mailing list was Sacha Ismail, a full-time activist with the small but well-organised Trotskyite group AWL, who sent around a briefing note ahead of a key vote describing one Momentum activist standing for election as a "Stalinist" who is "definitely pro-Lansman".
After limited parts of the group's conversations were published on the Guido Fawkes blog, a further email was distributed, again obtained by BuzzFeed News, demanding to know who was leaking to the media.

"Heavens knows who has forwarded emails from this list," said one baffled activist.
Some of the Momentum activists who spent the summer strenuously denying claims, made in an undercover Channel 4 Dispatches investigation, of AWL influence within the organisation are now the same people promoting similar theories emphasising the group's influence.
However, just to confuse matters, one member of a hard-left group involved in Momentum told BuzzFeed News they believed the entire situation had been concocted by Lansman and his camp as an excuse for Corbyn to personally exert control over the organisation before his allies lose power completely. Lansman still holds sole ownership of the party's valuable contact database and could theoretically take it elsewhere.
His opponents point to the fact that many of the key criticisms of those who might be trying to turn Momentum into a separate party were made in a blog post written by Laura Murray, a Momentum activist who is the daughter of Stop the War's Andrew Murray, one of Corbyn's closest political allies.
When asked whether Corbyn's office had advance sight of the post before it was published, a spokesperson said: "We don't comment on staffing issues." Murray did not reply to a request for a comment by the time of publication.

Separate internal messages from shortly after Momentum's foundation in late 2015, also leaked to BuzzFeed News, appear to show an exasperated Lansman setting out the inherent flaws in the organisation's structure and pushing for "effective leadership" over pure democracy.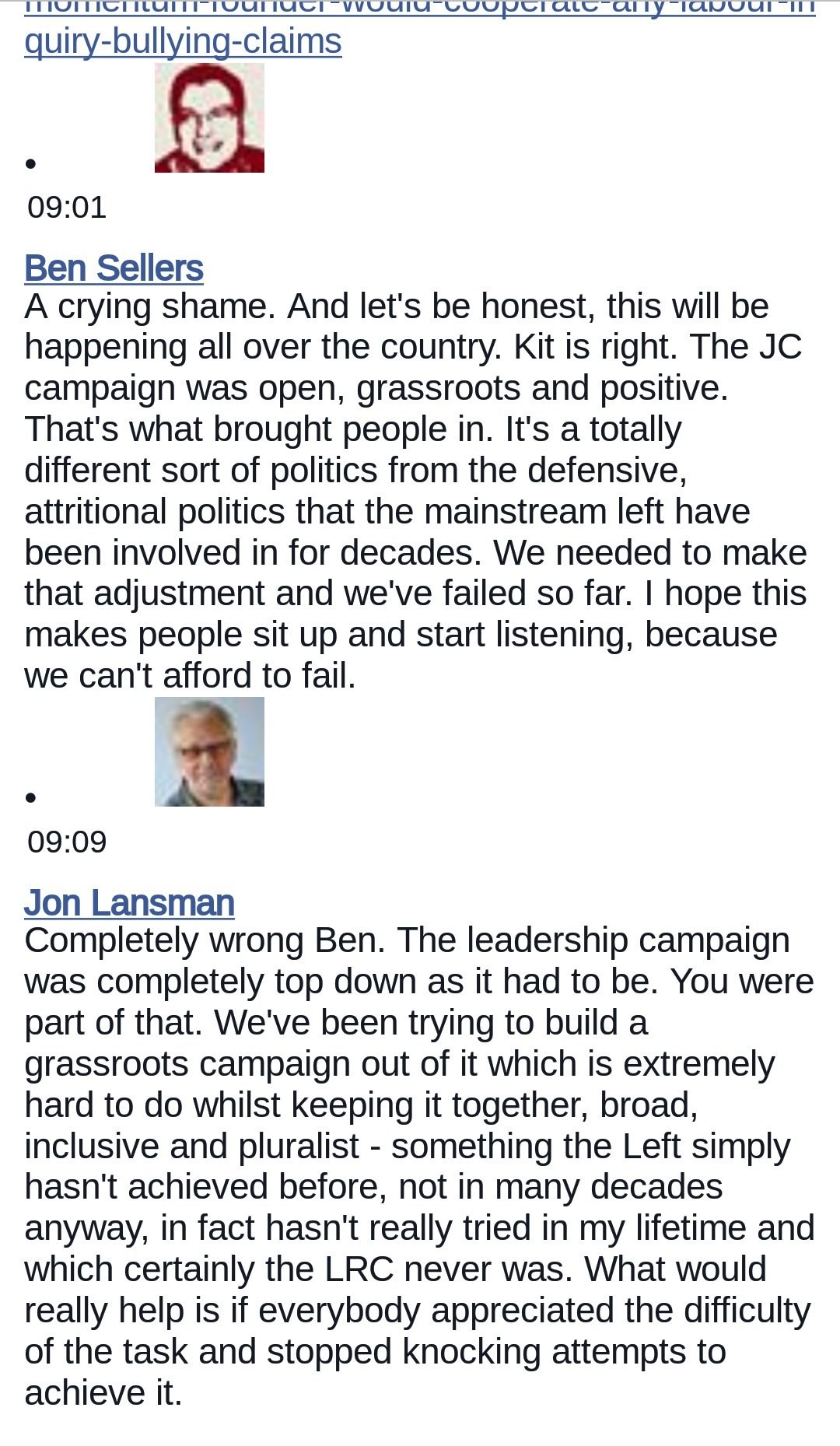 In the messages, part of a private discussion thread between leading activists, Lansman already appears tired of the infighting that followed Corbyn's first leadership campaign: "All of us were let down by how the campaign finished and the transition to leadership where some people were more concerned about what jobs they were going to get out of it than the strategy we were following and the organisation we were trying to build. The result has been that we have considerably underachieved.
"One of the things I also can't get my head around is that so many of the same people who complain about the lack of democracy also seem to defer to Jeremy and John as if they were able to lead us to a promised land. Building a grassroots movement is far from easy, and requires effective leadership which we haven't had."

He goes on to suggest that this is a repeated flaw in such groups: "It is the failure of the Left collectively to overcome its sectarianism in the last 25 years and build an effective alliance, which is the collective failure of many of us."