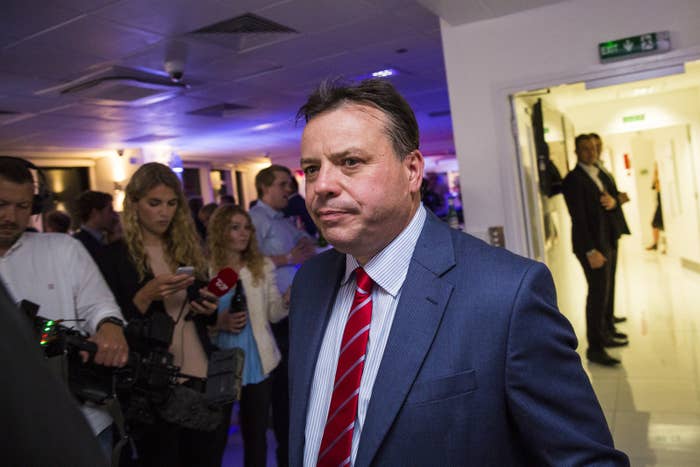 The Russian embassy sent representatives to UKIP's annual conference who then invited leading Eurosceptic figures to meet privately with the Russian ambassador, according to a new book by major UKIP donor Arron Banks.
In his account of the EU referendum campaign, Banks describes meeting a "a shady character called Oleg" who was attending UKIP's annual conference at Doncaster racecourse in September 2015.
"He was introduced to us as the First Secretary of the embassy – in other words, the KGB's man in London," writes Banks, who has given over a million pounds to UKIP and co-founded the Leave.EU campaign group. "Oleg", according to Banks, then invited him to a private meeting with Russian ambassador Alexander Yakovenko.
"Our host wanted the inside track on the Brexit campaign and grilled us on the potential implications of an Out vote for Europe," he writes in the book, entitled Bad Boys of Brexit, claiming the meeting lasted six hours. "Diplomatic relations only improved when our new friend produced a special surprise. It was a bottle of vodka which he claimed was 'one of only three in a batch made for Stalin personally'."
Banks confirmed to BuzzFeed News they had been approached by the Russian representative at the UKIP conference: "He picked us up and said, 'Do you want to come and see the Russian ambassador?'"

Russia has been accused of playing an active role in supporting pro-Brexit groups. However Banks, whose Russian wife drives a car with the numberplate "XMI5 SPY", denied being a front for Russia: "My wife's a Russian spy, haven't you heard? Of course I'm not a Russian front!"

The Russian embassy referred questions to UKIP, which confirmed the embassy sent representatives to the party's conference in Doncaster. However, a UKIP spokesperson noted a representative would be a "pretty rubbish agent" if the individual involved admitted to being from the Russian security services.
In his book Banks describes a last-ditch attempt to convince former Soviet leader Mikhail Gorbachev to appear onstage alongside TV host Jeremy Kyle and hypnotist Paul McKenna at an anti-EU rally at Birmingham's Genting Arena, after plans to hold a pro-Brexit concert unravelled when news outlets including BuzzFeed News reported that the booked acts were not aware of the political message.
Banks lost hundreds of thousands of pounds on the event, which was cancelled after multiple line-ups, including acts such as 5ive, Alesha Dixon, and East 17, pulled out after being informed of its political nature.
"We went to a bureau that specialises in speakers and of the names who came up was Gorbachev," said Banks of his final attempt to put together a line-up. "He charges fifty grand and has well known views on the EU. So we thought it would be iconic to get Gorbachev.
"I know it's hard to believe. Jeremy Kyle compering, Paul McKenna doing some hypnotism, and Gorbachev as the top speaker. It's you guys who killed it. If you guys hadn't killed it you'd have had the best night of your lives. It would have been 'Look into my eyes, vote Leave'."