Andrea Leadsom Supporters Marched On Parliament And It Was Bizarre
"Marching on parliament? I feel like a socialist!"
Conservative leadership hopeful – and potential prime minister – Andrea Leadsom organised a rally in central London on Thursday morning in an attempt to boost support in today's ballot of MPs.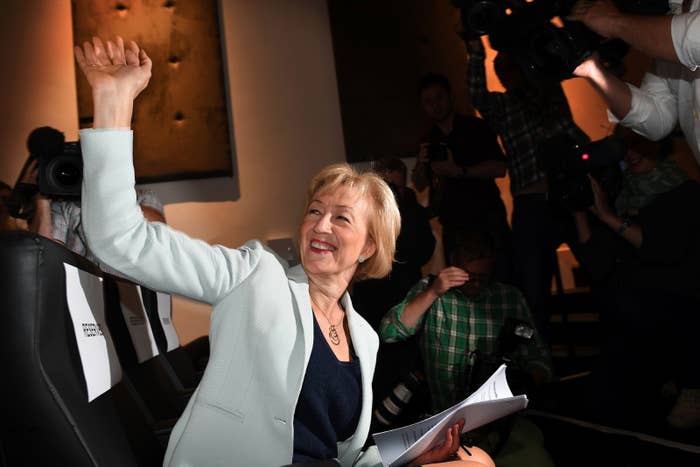 But the big fear among Leadsom supporters is tactical voting by Tory MPs who are desperate to stop her becoming party leader at any cost.
So Team Leadsom organised a rally as a show of grassroots support to convince MPs there is an upswell of support for putting her on the ballot.
Journalists had been invited on the basis this was a "major speech on the economy".
Leadsom didn't stop to take questions from journalists. This is probably unconnected to the fact she had to revise her CV history under scrutiny and is refusing to publish her tax summary.
Whatever the reason, things suddenly became very bizarre as her supporters announced they would march through Westminster to parliament to support her candidature. The only problem was that these Tory activists weren't very used to marching.
The candidate was also missing.
But eventually they were off! And it was the most amazing march of chanting people in suits that parliament has ever seen.
There's no way of sugar-coating it. A lot of people cringed when they saw this video. Including Scottish Conservatives leader Ruth Davidson.
She was a bit confused.
Still, the long march for Leadsom made it to parliament.
But despite the bizarre event, there was a lot of genuine, heartfelt support for Leadsom becoming leader among the Tory members present.
Several activists approvingly suggested Leadsom could attract UKIP supporters back to the Conservative party.
Many people gave other reasons for supporting Leadsom.
Still, at 4pm we will find out whether Leadsom has made the ballot put to Tory members, leaving her just one step away from becoming party leader and prime minister.