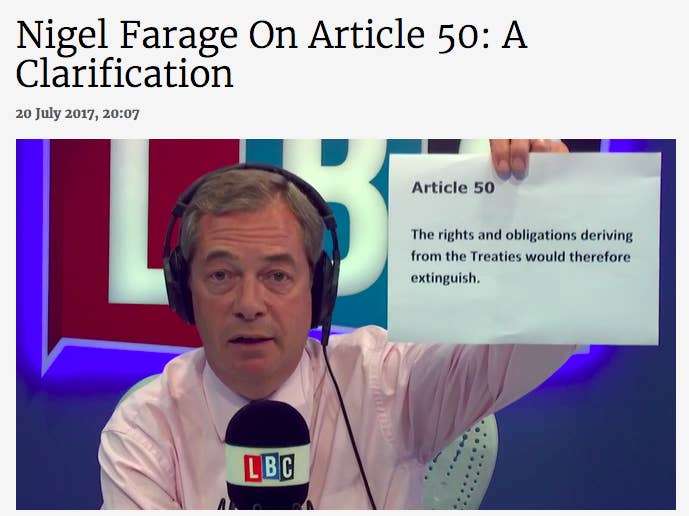 Nigel Farage's employer has been forced to issue a retraction on his behalf after the politician claimed that the UK has no legal obligations to the EU after 2020.

The former UKIP leader used his nightly radio show on the London-based talk station LBC to hold up a piece of paper that he said was evidence that Article 50 – the rule which enables the UK to leave the EU – contained a clause meaning Britain will have no financial obligations to the EU after 2020.
Farage claimed Article 50 said "the rights and obligations deriving from the Treaties would therefore extinguish" when a country leaves the EU.

In reality no such clause exists and Farage's sentence, printed on a piece of A4 paper, was a partial quote taken out of context from explanatory documents for MEPs that are not part of official EU law.
Farage also missed out the second part of the sentence, which made it clear the rights and obligations would only cease to exist "to the extent agreed between the EU and the withdrawing state".
The extent of Britain's financial commitment to the EU budget post-Brexit is a major concern of the UK government, with a realistic prospect that Britain will continue to pay towards some part of the EU budget even after the UK leaves the institution in March 2019.
Farage's false claim was then written up as a news story on LBC's own website under the headline "Nigel Farage's Proof That Britain Has No EU Obligations After 2020" and tweeted from the main LBC account.

Its publication was followed by online criticism after the headline was changed to "Nigel Farage Claims He Has Proof That Britain Has No EU Obligations After 2020" – featuring a critical tweet from the legal writer David Allen Green.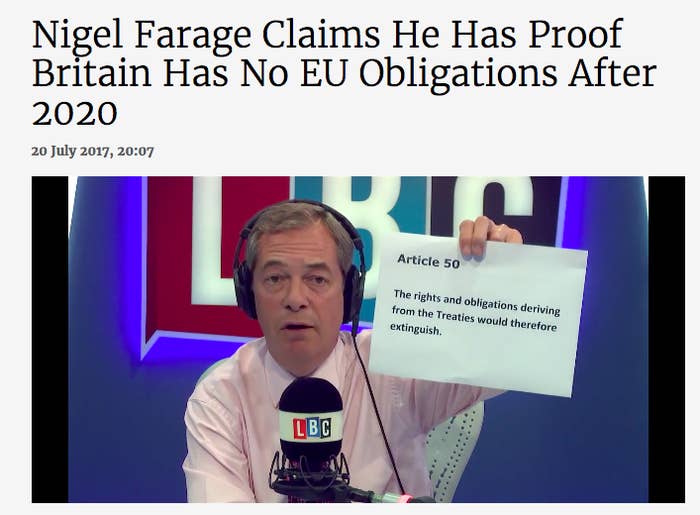 Following further criticism the article was deleted entirely and replaced with a correction.
"LBC can clarify that a comment made by Nigel Farage on his show last night is not accurate," the station said. "Nigel quoted a passage from what he said was in Article 50... we can clarify that this passage is not from Article 50, but from a briefing note sent to MEPs in February 2016 to help explain Article 50."
The station went on: "That briefing note contains a disclaimer, which reads: 'The content of this document is the sole responsibility of the author and any opinions expressed therein do not necessarily represent the official position of the European Parliament.'"
Farage's use of a partial, out-of-context qutoation, was attacked by fellow LBC presenter James O'Brien.
He retweeted criticism of the station from Conservative MEP Sajjad Karim, who questioned Farage's use of facts and said "why LBC would [give him a] platform is beyond understanding".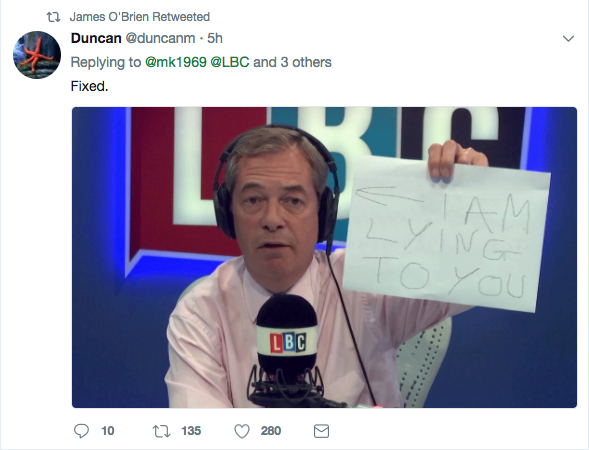 Farage has now deleted his own tweets regarding the claim and replaced them with one referring to a briefing paper, which has no legal standing.
One LBC employee told BuzzFeed News that the station, which has seen its political influence and listenership rise substantially in recent years, struggles to balance the increased interest which comes with hiring high-profile outsiders – such as Katie Hopkins and Farage – with the station's journalistic record.

"I think we're making it up as we go along and don't get anything like enough positives from these hires to compensate for all the negatives," the LBC employee said.
A spokesperson for the station said: "LBC can clarify that a comment made by Nigel Farage on his show last night is not accurate."