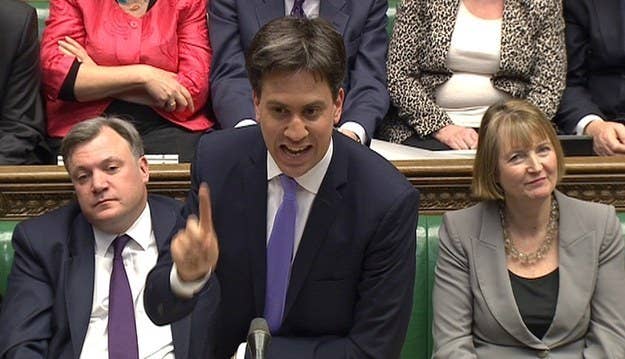 Ed Miliband would consider backing British military intervention in Iraq as the situation in the north of the country deteriorates.
A Labour source told BuzzFeed the party leadership is "not ruling anything out" when it comes to backing military involvement in the north of Iraq, and that the party is closely monitoring the situation.
While Miliband does not support intervention "at the moment", the source said, the leadership is "keeping [the] situation closely under review" and is willing to consider all options.
Labour has repeatedly urged the the coalition government to do more to help the thousands of Yazidis, the Iraqi minority group who are trapped on the side of a mountain after fleeing from ISIS, the militant "Islamic State" group.
The UK is already providing humanitarian aid to the area but there is growing pressure from senior former military figures and backbench MPs for further intervention, possibly in the form of British air strikes. RAF jets are already expected to be deployed to the country, although they are only expected to provide support for the ongoing aid programme.
Any decision to back military intervention in Iraq would reopen old wounds for a party still dealing with the legacy of Tony Blair's decision to invade the country. But it would also increase pressure on David Cameron, who has repeatedly ruled out direct military action and said the UK will stick to its humanitarian mission.
YouGov polling for The Sun suggests the British public is split on direct military intervention.
Despite this, backbench MPs from both Labour and the Conservatives are already calling for further British military intervention in the country.
Former Labour home secretary Jack Straw told ITV News that he backed intervention, as does former Conservative defence minister Andrew Robathan.
"One way or another, these maniacs, these medieval maniacs in the so-called Islamic State, have got to be defeated," Straw said.
Meanwhile, Conservative MPs such as Conor Burns and Mark Pritchard have also called for parliament to be recalled to debate potential intervention.
"The UK cannot stand by while women and children are buried alive," Pritchard wrote on Tuesday. "That is why the UK should join the Americans in taking military action against 'Islamic State', who are daily beheading and crucifying Iraq's Christians and other religious minorities."