Labour MP To Quit Parliament Following Abuse From Pro-Brexit Voters
Pat Glass, who was appointed shadow education secretary, said she would not stand at the next election after a brutal referendum campaign that saw her receive death threats.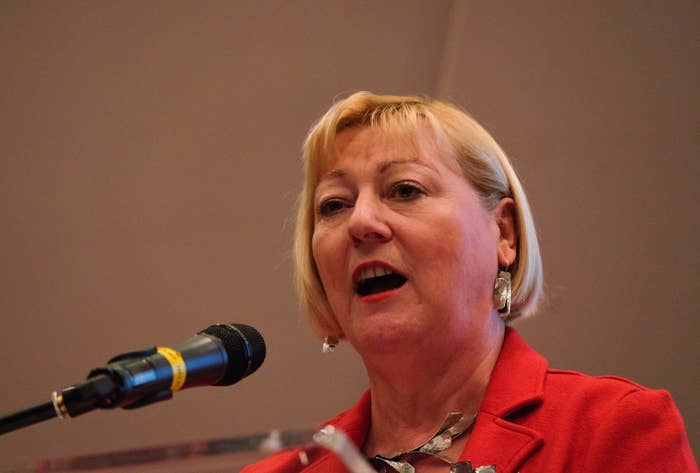 Labour MP Pat Glass has announced she is quitting parliament following a brutal EU referendum campaign during which she received death threats and abuse from pro-Brexit supporters in her local area.

The chair of her local constituency Labour party in North West Durham told BuzzFeed News the referendum had been a brutal campaign that had legitimised racism and seen the party lose the support of many traditional Labour voters.
The MP was appointed to Jeremy Corbyn's top team as shadow education secretary on Monday but just 24 hours later she publicly declared she will leave parliament at the next general election, warning the party should prepare for a vote in October.
"I have found the last six months very, very difficult," she said in her resignation letter sent to the local Labour party. "The referendum has been incredibly divisive, it divided families and communities and I have found it bruising in many respects. It has had an impact on both me and my family as I am sure it has had on many others."

Glass, who insists she never intended to stand for more than two parliamentary terms, spent the referendum campaigning for Remain in a constituency which includes former mining villages and towns such as Consett.
This went against the view of many constituents: County Durham overwhelmingly voted to leave the EU, and Glass received substantial abuse on the doorstep. Police told her to stay away from the referendum count after receiving death threats from an individual who "would be expecting her there".
Separately, she made the headlines for calling one anti-EU voter a "horrible racist" while out campaigning.
Fraser Tinsley, the chair of North West Durham constituency Labour party, told BuzzFeed News he had accepted Glass' resignation on Tuesday and said the party had struggled to reach its traditional voters during the campaign.

"It's been no secret that it's been pretty difficult in the north east in terms of the core Labour vote and that has been a contributory factor [in her going]," he said. "Obviously there were incidents that did occur during the campaign. And it's just the divisive nature of the campaign."
He said the local Labour leadership in Durham was united behind the pro-EU cause but "many who we would term our core voters" felt strongly otherwise, which left the party in direct opposition to many of its voters.
"It's taken a toll on a lot of people. We're seeing that now on communities with incidents of racism."
"The area with higher levels of deprivation had the higher leave vote. The underlying issues are poverty and exclusion but the immigration and the lack of sovereignty were a way of expressing that."
He also said there were concerns about Jeremy Corbyn's leadership of the party: "I think he has a mandate from the membership and that has to be respected. However, it's approaching an untenable position when he hasn't got the support of the parliamentary party."