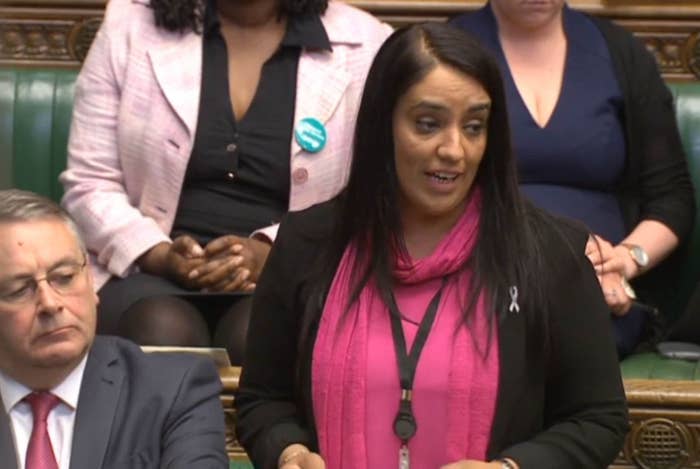 Labour leader Jeremy Corbyn's office and the party's HQ have made clear they played no part in editing a draft of MP Naz Shah's apology to remove mentions of the term "anti-Semitic", along with references to wider problems of anti-Semitism in left-wing politics.
On Wednesday, Shah released a statement apologising for Facebook posts she shared in 2014 that proposed moving Israel to the US and suggested Israel was an apartheid state. The apology was first published by Jewish News, a few hours before Shah was suspended by the party.
BuzzFeed News was shown what was referred to as a "final draft" of the statement that contained passages that did not appear in the published version. A source close to the discussions said that this was because it had been heavily edited by Labour officials.
But following publication of the story, both Labour and Corbyn's office issued categorical denials that they had seen or edited the fuller statement.
A Labour spokesperson said: "This claim is completely inaccurate. This article was not seen, written, edited or approved by Labour HQ, so to suggest we changed it is completely wrong."

A source close to Corbyn said: "We categorically deny any such edit in the BuzzFeed story." Only "stylistic changes" had been suggested by the leader's office, they said.

BuzzFeed News now understands that two versions of the statement were under discussion by Shah's team, and that the longer version referred to in our story was not sent to Labour HQ or Corbyn's office for approval.

Although the structure and much of the language remained the same in the published statement, Shah went much further in the draft apology seen by BuzzFeed News.

That draft included this admission: "I helped promote anti-Semitic tropes. This was totally wrong."

But the line was dropped from the published version along with another mention of "anti-Semitism".

The draft statement – in which Shah talked at length about her personal shame regarding the comments and pledged her full commitment to fighting prejudice – also included a passage in which she said she wanted to take part in "an intersectional struggle, one where the concerns of Jewish individuals and communities are taken seriously and anti-Semitism is not dismissed out of hand or ignored". This did not appear in the final version.

Other sentences deleted from the draft included an apparent admission by Shah of a widespread problem of anti-Semitism among left-wing campaigners and deep concerns about the spread of "toxic conspiracy theories, group-blame and stereotyping".
"We on the left must stop procrastinating and tackle oppression within our own ranks, especially anti-Jewish oppression," the draft said. The sentence did not appear in the published version.
A reference to "Nazi Germany" was also changed to "Hitler", prompting mockery from the editor of the Jewish Chronicle.

"I accept that referencing Israel in a comparison to Nazi Germany was not only wrong, but totally inaccurate," said the draft statement. "My other social media posts were also deeply offensive to Jewish people."
In the final version this appeared as: "I understand that referring to Israel and Hitler as I did is deeply offensive to Jewish people, for which I apologise."
On Wednesday morning, Corbyn compounded the disarray over the Shah response by issuing a statement to the media saying he was happy with Shah's "fulsome apology" before the apology had been published.
The MP's statement was eventually issued at noon as Prime Minister's Questions began. The delay in publishing also meant it was too late to stop shadow minister Lisa Nandy calling for Shah to be suspended from the party during an appearance on the BBC's Daily Politics.
In a bid to fend off allegations of anti-Semitism, Shah had been due to hold a series of meetings with representatives of the Jewish community on Wednesday afternoon, including the Jewish Labour movement and Rabbi Leah Jordan.