The Jewish Chronicle has apologised for running an advert asking for donations towards humanitarian relief in Gaza.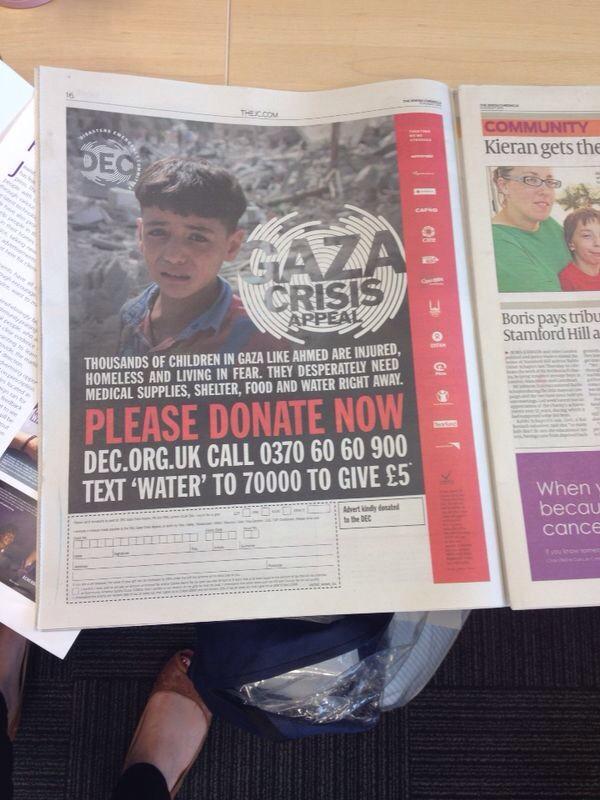 The advert, which appears in the London newspaper's latest edition, promotes a charity appeal on behalf of the Disasters Emergency Committee, a collection of charities organising aid for Gaza.
Many newspapers, including The Jewish Chronicle, donated advertising space for free.
But a number of the newspaper's readers were angry at the decision to accept the advert.
There was soon a Facebook campaign group calling for a boycott of the newspaper for running the advert.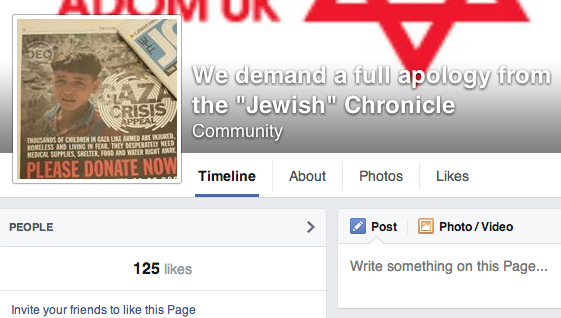 In this week's JC, we ran an advert for the DEC Gaza crisis appeal. This was meant as a purely humanitarian gesture, and was not an expression of the JC's view. We have received complaints from readers angry at the decision. We apologise for the upset caused. In response, the JC will be giving space in next week's issue to readers wishing to express their objection to the advert. The JC will also be running a free advert encouraging readers to donate to a range of charities supporting Israel.
But many people on the newspaper's Facebook page are still furious.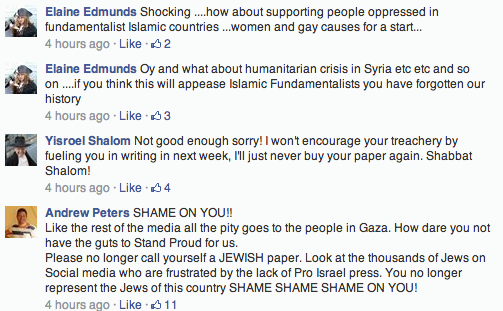 As editor, I am not responsible for any ads which appear in the paper. It is a critical part of our editorial independence that we do not allow advertisers to have any influence at all on the paper.The ad was approved by the chairman of The JC, who has no involvement in editorial decisions, as an ad for humanitarian aid which nowhere makes political or partisan points.Both I as editor and The JC are entirely supportive of Operation Protective Edge, as our coverage has demonstrated. Almost alone in the British media, The JC has stressed Israel's right to defend herself and sought to explain why Israel was faced with no choice but to take action in Gaza.