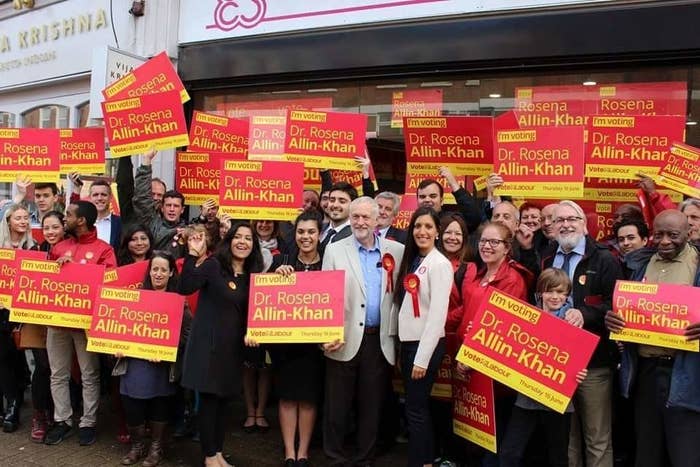 Jeremy Corbyn has said he will "absolutely" fight to defend the right of European Union workers to migrate to the UK, insisting the free movement of workers between member countries is an "intrinsic" part of belonging to the organisation.

Labour deputy leader Tom Watson and former shadow chancellor Ed Balls have suggested the party should push for controls on European migration, amid fears many of Labour's traditional voters could vote to leave the EU in next week's referendum in protest at current levels of immigration.

But Corbyn told BuzzFeed News he would not countenance curbs on the rights of EU migrants, despite the calls from within his own party and claims in The Guardian that a panicked Downing Street is considering asking other European governments for further restrictions on migration.

"It's intrinsic to the European Union that there has to be free movement of people," the Labour leader said during a break from campaigning ahead of this Thursday's Tooting by-election.
When asked whether he would fight to maintain the principle of free movement for EU workers, he said: "Absolutely. That's what we have to defend, because that's intrinsic to the whole thing."
Instead, the Labour leader said the focus should be on "stopping the exploitation of migrant workers".
He said he was fighting to stay in the European Union so it could be reformed. "Labour voters should think very carefully about the implications of the vote, the implications of tearing up a lot of the regulations which were obtained by trade unions across Europe.
"I've got many criticisms of TTIP and European trade policies – but I want to be there to make sure the interests of ordinary people across Europe are not placed second to those of very big corporations."
Despite recent opinion polls consistently showing Leave with a narrow lead, Corbyn suggested the closeness of the race could focus attention on next week's vote and boost Remain: "The polls change, they come and go, some days there's been a big lead for leave. They seem to me that people are maybe concentrating on the issue a bit closer. It [the polls being close] might concentrate minds."
In the midst of the EU referendum campaign is this Thursday's Tooting by-election, where Labour is hoping to retain control of the constituency after Sadiq Khan resigned to become mayor of London.
Labour candidate Rosena Allin-Khan said the EU and immigration had been not a major issue in this part of London during the by-election campaign: "We need to embrace and accept all the wonderful things that come with immigration: People come here and work hard and give back to society. They are worried about worried about public services and the NHS but that is about cuts to local government budget and efficiency savings."
The A&E doctor, who grew up in Tooting, said Britain leaving the EU would pose a major threat to the NHS, which would be "£10 billion worse off" as a result of government cuts that would be required due to a predicted post-Brexit economic downturn.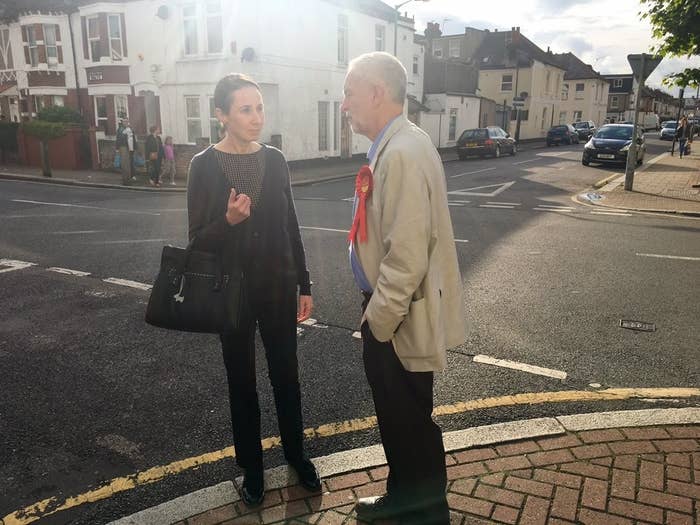 Corbyn spent an hour walking the streets of Tooting, taking the time to campaign door-to-door on behalf of Allin-Khan and listen to the concerns of local voters.
He received a warm welcome from voters in the area, with many taking the time to ask for selfies and wish him well. However, Corbyn was also stopped by lifelong Labour supporter Sandra Rodriquez, 40, who asked him to make a more passionate case for staying in the EU.

"I was checking he was going to be speaking out loudly," Rodriquez said after her chat with the Labour leader. "I really think your natural Labour voters need to hear it very clearly from the leader of the Labour party."
"I think he needs to present some really clear arguments [about staying in the EU] and connect with that younger generation of working-class people. Possibly he hasn't been vocal enough. But it's better late than never."