1.
2016 in UK politics started relatively quietly, with only a slightly bitter fortnight-long Labour reshuffle to keep people going.
2.
It went on and on and on.
3.
Still, with that out of the way Jeremy Corbyn could get on with having his Twitter account hacked.
4.
Sadly this statement was later retracted.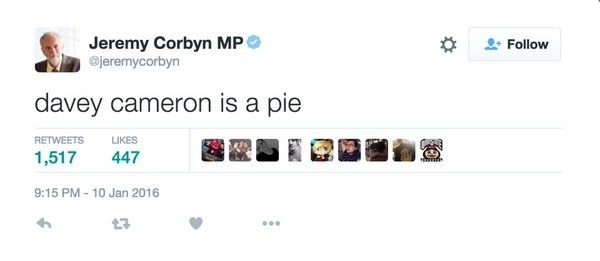 5.
In a prescient warning about the quality of debate in the EU referendum, UKIP's Scottish leader had some serious complaints.
6.
Meanwhile, former Labour leader Ed Miliband spent his days wandering the streets of London hoping to appear alongside schoolchildren in viral videos.
7.
He had some success.
8.
George Osborne delivered the Budget in March, although no one can now remember what he said.
9.
Then for some reason someone in Jeremy Corbyn's office decided to list every Labour MP into slightly daft categories, before leaving a copy lying around.
10.
People felt the categories were unusual.
11.
Some were saddened.
12.
Other lists were found.
13.
There was an election in Scotland, notably mainly for when Scottish Lib Dem leader Willie Rennie tried to give an interview while some pigs fucked in the background.
14.
Jeremy Corbyn spent a lot of time looking moody.
15.
Even with Ed Miliband.
16.
David Cameron had a bit of a kerfuffle over his father's offshore bank accounts.
17.
Liz Kendall ended up sulking with a small child following a Green party broadcast.
18.
Labour found itself involved in an anti-Semitism row, which former mayor of London Ken Livingstone improved by repeatedly referencing Hitler and then being chased by Labour MP John Mann.
19.
He then headed into a toilet.
20.
Which went well.
21.
Zac Goldsmith did his best to avoid looking a bit racist while running a bit of a racist campaign to be mayor of London.
22.
Then the referendum campaign started in earnest. Boris Johnson eventually decided to back Leave and spent several weeks waving food products around.
23.
Politicians rarely strayed off message.
24.
One campaign group attempted a continually catastrophic attempt to organise an anti-EU concert, where they booked dozens of bands at great expense.
25.
Unfortunately this led to dozens of acts pulling out when they found out it was, um, an anti-EU music festival.
26.
There were many attempts by politicians to reach out to a new audience ahead of the referendum. Jeremy Corbyn appeared on Channel 4's The Last Leg looking pretty smart, only to say he wasn't 100% keen on the EU.
27.
David Cameron came to BuzzFeed for a Facebook Live event, where a woman repeatedly swore at him and Sky News was forced to issue an apology despite this being some of the most highbrow debate in the entire referendum campaign.
28.
In the middle of all this notorious Everton fan Andy Burnham decided to run to be mayor of Greater Manchester.
29.
The referendum campaign rolled on. Nigel Farage chose to lead a flotilla of boats up the Thames in a pro-Brexit display of fish.
30.
Bob Geldof turned up, again.
31.
This really was a thing that happened.
32.
With Farage involved.
33.
Which then got a bit out of control.
34.
And it all ground to a halt outside parliament.
35.
The referendum night was very exciting, with lots of top quality analysis.
36.
People on Twitter spotted the real story of the night.
37.
In the morning the world's press gathered in Downing Street to await David Cameron's resignation as prime minister, only for Larry the cat to try and take the podium.
38.
The morning after the result everything went a bit wrong.
39.
The pound crashed against the dollar.
40.
Remain voters looked for someone to blame.
41.
Some people were confused as to who had to take charge of Brexit Britain.
42.
Although Scotland had some views on the result.
43.
Some very...
44.
...strong...
45.
...views.
46.
Labour deputy leader Tom Watson decided he'd had enough so ~~mysteriously~~ kept posting updates from Glastonbury festival.
47.
Before being papped on the station while trying to get back to London with a killer hangover and 3% phone battery.
48.
Which was appropriate.
49.
Back in London, things were going well as everyone who has ever worked for Labour kept resigning in an attempt to force Jeremy Corbyn out of office.
50.
They just kept going.
51.
He just wouldn't do it though.
52.
The coup meant some of Labour's most obscure MPs ever were forced to take frontline jobs.
53.
Basically by the end no one could keep up.
54.
Slightly embarrassingly the mass resignations just... well, just didn't work. Corbyn stayed, awaiting a formal leadership challenge.
55.
Even though that's not what the MPs expected to happen.
56.
In an attempt to show unity, the new shadow cabinet met and looked nervous while TV microphones picked up the awkwardness.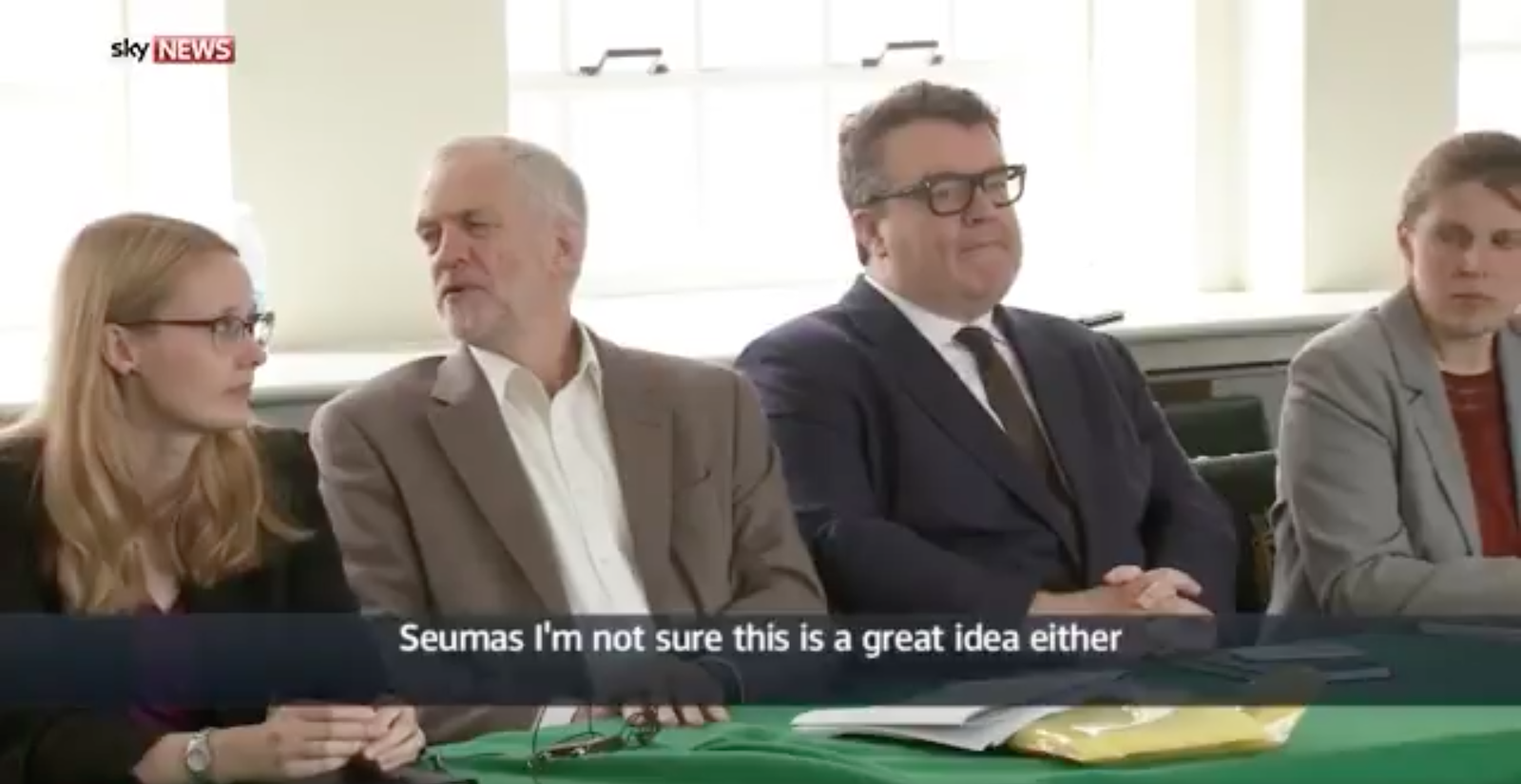 57.
All of this was doing wonders for Britain's reputation overseas.
58.
Although at least the country had a new name.
59.
At this point the Conservatives decided that Labour was getting too much attention. So Michael Gove decided to knife his Vote Leave ally Boris Johnson in the back and force him out of the Tory leadership race.
60.
Which capped a pretty awful decade's worth of leadership scheming by Johnson.
61.
At least it was dramatic to watch.
62.
In the middle of this MPs in the House of Commons were mainly talking about Lindsay Lohan's tweets.
63.
Lindsay later asked them to get in touch but never made it to Kettering. Oh dear, Lindsay.
64.
One of the upsides of the Tory leadership campaign was the greatest march on parliament since the English Civil War, organised by supporters of Andrea Leadsom.
65.
Which was so awkward it impressed many of her fellow Conservatives.
66.
Michael Gove's own leadership campaign was a great success, lasting around five days.
67.
Instead it cleared the way for a Conservative leadership contest between Andrea Leadsom and Theresa May.
68.
David Cameron got so excited by this he started levitating.
69.
Meanwhile over in Labour land every single shadow minister had resigned at least twice. Angela Eagle then waited a fortnight and then launched her leadership campaign. It didn't go very well.
70.
This meant Theresa May would automatically be prime minister, which was a shock to some people.
71.
David Cameron was swiftly turfed out of Downing Street, bowing out after a slightly odd final prime minister's questions.
72.
This was now standard.
73.
And just like that Britain had a new, strangely glossy leader.
74.
With new priorities.
75.
Everyone was in on the craze of the summer, while Tories hoped for jobs.
76.
...while vanquished ministers looked forward to a brighter, drunker future.
77.
Angela Eagle decided she'd had enough and quit the Labour leadership race.
78.
Leaving Owen Smith to set the agenda over the summer.
79.
Which went well.
80.
By this point everything in British politics had been on fire for weeks.
81.
By August Theresa May was busy establishing herself on the world stage.
82.
Boris Johnson, who had somehow ended up as foreign secretary, settled into his new role.
83.
Slowly but surely.
84.
While Nigel Farage decided to adopt the persona of an ageing 1970s porn star.
85.
Andy Burnham was deeply attracted to the idea of getting out of the Westminster firestorm by heading to be mayor of Greater Manchester.
86.
Mayor of London Sadiq Khan went a bit too far.
87.
Lots of major issues were discussed in the Labour leadership campaign.
88.
Anti-Corbyn Labour MPs prepared for war.
89.
While Jeremy Corbyn shared a stage with UB40.
90.
In the end Corbyn easily won the leadership contest and everything settled down a bit.
92.
Jeremy Corbyn stood up in the House of Commons and said Theresa May lacked a cunning plan.
93.
Baldrick weighed in.
94.
We had a Brexit court case.
95.
But the government insisted there was a plan.
96.
Things were getting a bit much for everyone.
97.
Ed Balls appeared on Strictly Come Dancing.
98.
He was inexplicably popular.
99.
Which led to people asking if he could sort out Brexit.
100.
The Lib Dems won a by-election and got very excited.
101.
Leaks kept happening.
102.
Basically, everyone wanted out.
103.
People in parliament just gave up even trying.
104.
While Eric Pickles applied for Gary Lineker's job with Walkers.
105.
Ed Miliband became a stock image model on US news programmes.
106.
The end was near.
107.
Some people enjoyed it more than others.
108.
Some weathered it better.
109.
By the final prime minister's questions of the year some MPs just looked really rough.
110.
Still, some progress was made in the course of 2016.
111.
That's your year in politics, everyone.