How Prince Charles Lobbied For NHS Funding Of Homeopathic Medicine
Letters released under the Freedom of Information Act show how the heir to the throne pushed for more public funding for alternative medical treatments.
Prince Charles lobbied the government to boost NHS funding for herbal and homeopathic medicines, according to newly released private letters.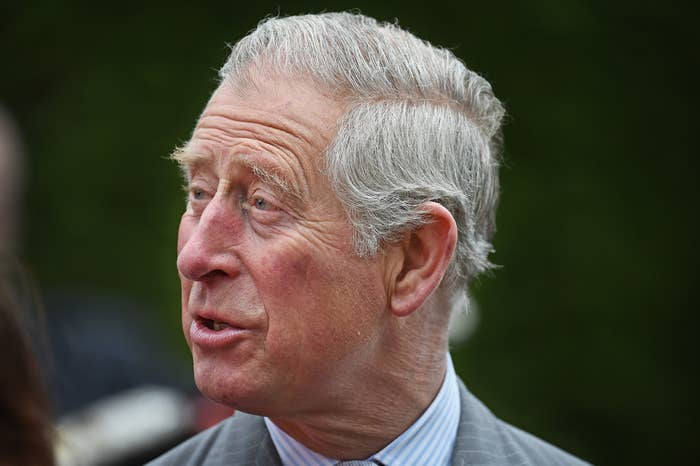 The correspondence, published following a decade-long legal battle by The Guardian, shows how Prince Charles lobbied successive health ministers to retain funding for homeopathic and alternative medicines such as acupuncture on the NHS.
The future king said he was pursuing this campaign in the face of opposition from the medical establishment – which insists such treatments have little value – because he could not "bear people suffering unnecessarily when a complementary approach could make a real difference".
In one letter, sent to then Labour secretary of state for health Alan Johnson in 2007, Charles complained about attacks on his views from "Medical and Scientific establishments".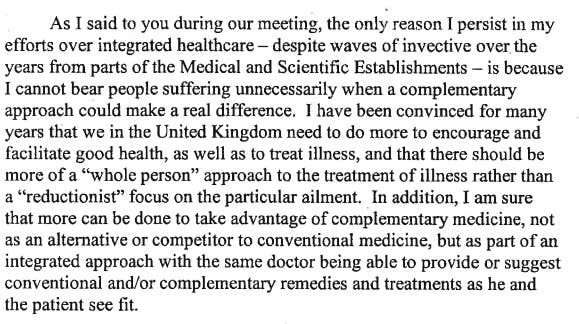 He went on to complain about the threats to NHS homeopathic hospitals in the face of the "anti-homeopathy campaign".

Homeopathy is an alternative treatment based on highly diluted substances being injested by the patient. NHS Choices describes homeopathy as "scientifically implausible" and points out that there is "no good-quality evidence that homeopathy is effective as a treatment for any health condition".
At the time the letter was being written, anti-homeopathy campaigns involving science writers such as Ben Goldacre were gathering pace. This appears to have deeply concerned the prince.
Charles went on to defend the "low-risk", "low-tech" approach of the NHS's homeopathic hospitals and said they should be safeguarded in "the interests of the nation's health".

Charles also requested that Alan Johnson consider expanding an alternative medicine trial in Northern Ireland to England and Wales.
The prince wrote back to express his gratitude when Johnson indicated that he would consider expanding Northern Ireland's alternative medicine provision into England.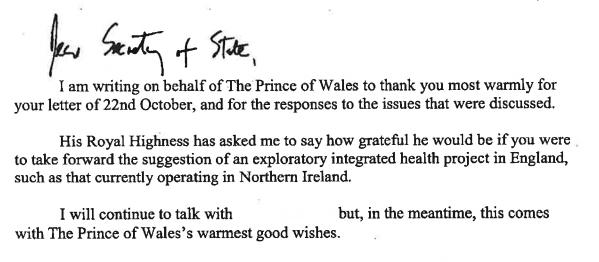 Johnson was later replaced as health secretary by Andy Burnham, who is currently running to be leader of the Labour party.
Soon after his appointment, Burnham sent a letter to Charles confirming plans to expand the trial of integrated traditional and alternative medicine in England.

Burnham also offered to meet the prince to discuss any further concerns the royal has about "topics of interest to us both".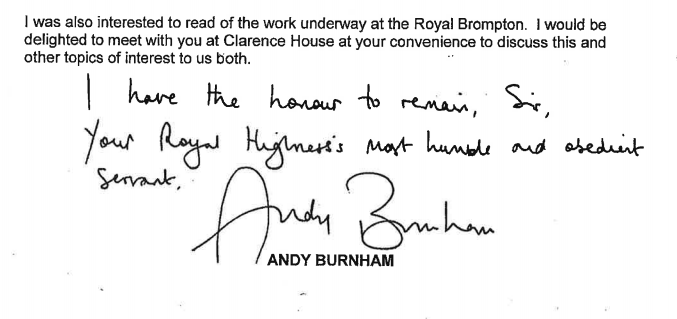 Burnham finished his letter to Charles with this formal sign-off: "I have the honour to remain, Sir, Your Royal Highness's most humble and obedient servant."