Facebook has accepted thousands of pounds from the far-right group Britain First to promote anti-Islam videos on the social network, BuzzFeed News has established.

Britain First, which campaigns against immigration and Muslims, spent the money pushing sponsored videos and posts in front of millions of people.
However, Facebook said most of the posts met its community standards and it would continue to accept money from the group.
In one video, which Britain First paid Facebook to promote, members of the far-right group invade a halal slaughterhouse and accuse the butchers of offering up animals to "Satan". They then claim sales of the meat are being used to fund Hamas, Hezbollah, al-Qaeda, and ISIS before concluding with a message urging people to vote for the far-right group.

In another sponsored Facebook video Britain First leader Jayda Fransen calls on Polish people living in the UK to support the right-wing group and attack Islam.
Fransen, who last month was convicted of religiously aggravated harassment after abusing a Muslim woman, urges eastern Europeans to join the group, declaring: "We have a common enemy and that enemy is Islam."
Another clip, heavily promoted using paid Facebook adverts, saw six Britain First members invade and occupy a "sharia court" in London while staff hid behind a door.
Facebook said the promoted Britain First videos still available on the network met its community standards and it would not stop the far-right activist group, which is also a registered political party, from paying to advertise on the platform.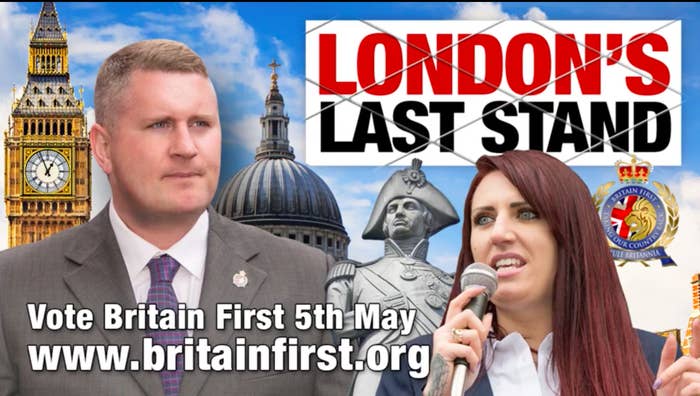 "Facebook is used by parties and supporters of many political persuasions to campaign for issues they feel passionately about," said a spokesperson.

"Like individuals and all other organisations on Facebook, they must adhere to our community and advertising standards, which set out the limits for acceptable behaviour and content. These standards include strict rules on content that directly attacks people based on their race, ethnicity, national origin, religion, sex, gender, sexual orientation, disability, or medical condition. We can, do, and have taken action when they do not."

Labour MP Louise Haigh recently called for the group to be listed as a proscribed terrorist organisation, after the murderer Thomas Mair – who had no known direct connection with the political party – shouted "Britain first" while shooting MP Jo Cox.
On Wednesday Haigh told the House of Commons of the reaction to her comments: "I have been called a traitor, I have been called a Muslim-lover, and on Friday an individual went through every single one of my videos on YouTube and said that he would not rest until I was murdered.
"Now, if that isn't evidence that Britain First should be proscribed as a terrorist organisation then I'm not sure what is."
She told BuzzFeed News that Facebook should stop accepting funds from the party: "Facebook cannot hide behind the idea that they are solely a platform for any longer and must take responsibility for the content that is promoted through their site. Their social responsibility must surely extend to refusing business from organisations that promote anti-democratic and violent activity."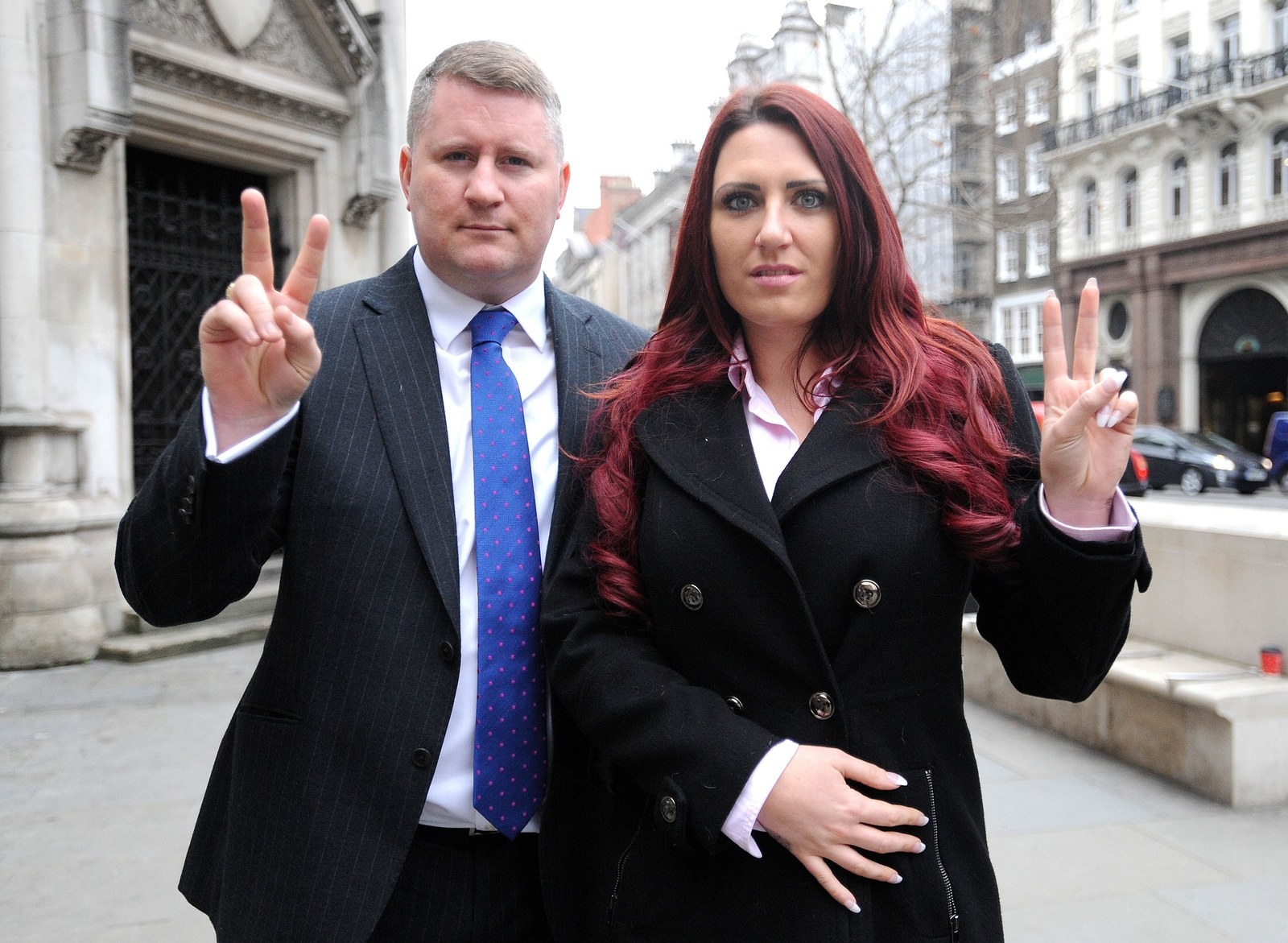 Britain First paid Facebook at least £6,000 for 3.3 million views of its content during one three-week period between mid-April and 5 May, according to invoices made available as part of the political party's spending return for the 2016 London mayoral election.

The paperwork only covers expenditure directly relating to the party's London mayoral and London Assembly campaigns. Other posts on social media suggest Britain First has paid Facebook to promote its content since at least April 2015, meaning the total sum paid to the social network could be much higher.

Another video that received heavy paid promotion on Facebook saw former party leader Paul Golding complain high immigration to London means "British people are treated like second-class citizens in their own city" and pledge "tough, decisive action to protect our borders and stop this invasion".

Golding stood in this year's election to be mayor of London, finishing in eighth place. He gained attention by turning his back on Labour's Sadiq Khan, who was elected as London's first Muslim mayor, when the results were read out.
Other posts that Facebook was paid to promote had titles such as "The clash of civilisations" and the pro-Brexit message "Vote to leave June 23rd!"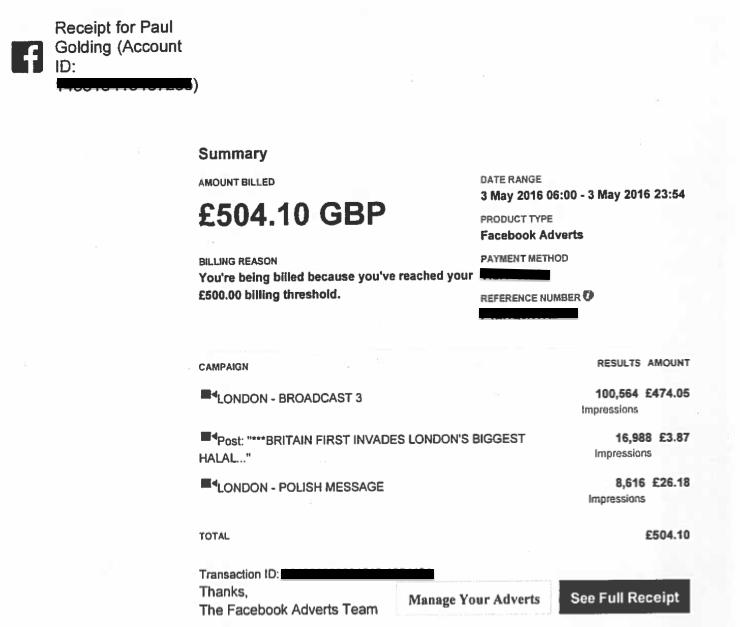 Britain First, which regularly organises anti-Islam publicity stunts, was early to understand the benefits of a strong social media presence and Facebook is central to the group's success, growth, and profile. Its Facebook page has 1.5 million followers – more than Labour, the Conservatives, and the Liberal Democrats combined.

However, in common with other political parties and campaigns, Britain First has increasingly found it needs to buy advertising space from Facebook to ensure posts appear in users' feeds.
Facebook was willing to accept this money, with the adverts billed to a credit card held in the name of Golding, who has been repeatedly convicted of wearing a political uniform and has been banned from entering any mosque in England and Wales for three years.
The social network briefly removed the group's Facebook page last year but later reinstated it, saying it had been taken offline in error.
The invoices were contained in a large cache of spending returns from May's London election, which were collated by the Green party and then made available to BuzzFeed News for analysis. They show how central the social network is to the group's existence: Facebook advertising was by far Britain First's biggest mayoral campaign expense, other than the deposit required to stand in the election and the cost of appearing in the official booklet distributed to all London households.

Paid political advertising is banned on British TV and radio channels but there is no such restriction on Facebook, with millions spent on advertising with the social network by British political campaigns in recent years.

Britain First did not respond to multiple requests for comment.