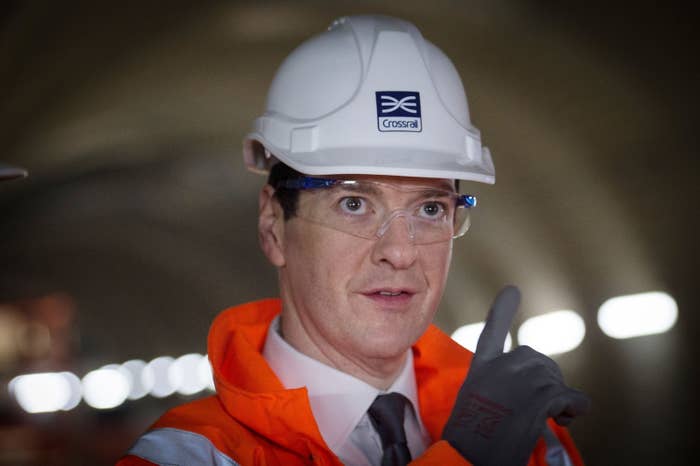 George Osborne wanted to talk about an ongoing economic recovery in this afternoon's Budget. Instead he is expected to announce the government has failed to hit his own economic targets, prompting him to announce further cuts and warn "storm clouds are gathering" due to the state of the global economy.
The problems largely stem from his failure to hit his own financial targets, such as reducing the level of national debt in proportion to the size of the economy. That's because the economy is £18 billion smaller than it was expected to be, as growth slows.
And it's not good news for the chancellor on his other promises: He's also had to give up plans to cut welfare spending after rebel Tory MPs forced him to drop a proposal to cut tax credits in last year's Autumn Statement.
Some parts of the Budget have already been briefed out: As a result we know he is expecting to announce £4 billion of further cuts to public spending, plus likely increases in the amount of income an individual can earn before paying tax – in addition to an increase in the amount wealthy people can earn before paying the higher tax rate. There will be some funding to help reduce the level of homelessness and changes to help develop driverless car technology.

In order to pay for some of these measures the government has already chosen to cut personal independence payments for the disabled, which Labour claims could result in hundreds of thousands of people losing up to £3,000 in benefit payments every year.
However, unless there's a metaphorical rabbit-in-the-hat for him to unveil, Osborne's main announcement will be one that is only partially related to the Budget: The government's decision to require all schools to leave local authority control and become academies, weakening the control of local councils in favour of giving more independence to schools. Unions and Labour have reacted angrily to the move, which will be announced alongside £1.5 billion in funding to extend the school day after 3.30pm.

Other announcements are expected to include limited funding to help develop new rail projects such as London's Crossrail 2 and High Speed 3 in the north of England, although further infrastructure announcements could be coming.
There is some good news for Osborne, as statistics released on Wednesday morning show unemployment hit a 10-year low at 5.1% of the population. But he's also desperate to avoid too much attention due to the ongoing EU referendum campaign.
As a result Labour shadow chancellor John McDonnell said the entire Budget was more a "press stunt to hide George Osborne's failures than about any serious policy".