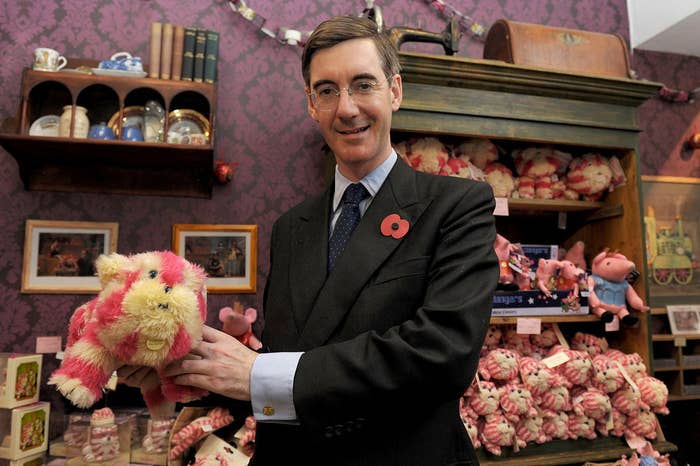 Conservative MP Jacob Rees-Mogg is one of the most astonishing politicians to grace the House of Commons – and one of the greatest throwbacks in British political life.
The Old Etonian investment banker is the son of a former Times editor who became a Conservative peer, before himself becoming a politician.
At the age of 12, the younger Rees-Mogg was photographed reading the Financial Times before addressing the annual meeting of a company he held shares in. Then, shortly after leaving university, he gained notoriety for campaigning for the Conservatives in the Scottish seat of Central Fife with his nanny while driving a Mercedes.
Since joining the House of Commons in 2010 as the Conservative MP for North East Somerset, Rees-Mogg has earned a begrudging respect from all sides, playing up to his public persona and going out campaigning with his young son in matching suits.
Student newspaper reports of Rees-Mogg's time at Oxford University in the late 1980s and early 1990s reveal that the would-be MP was already a figure of fun at the age of 18.
BuzzFeed News had a look in the archives.
Jacob Rees-Mogg was first introduced to students in a feature called "Pushy Fresher", which apparently profiled people considered likely to become notorious on campus.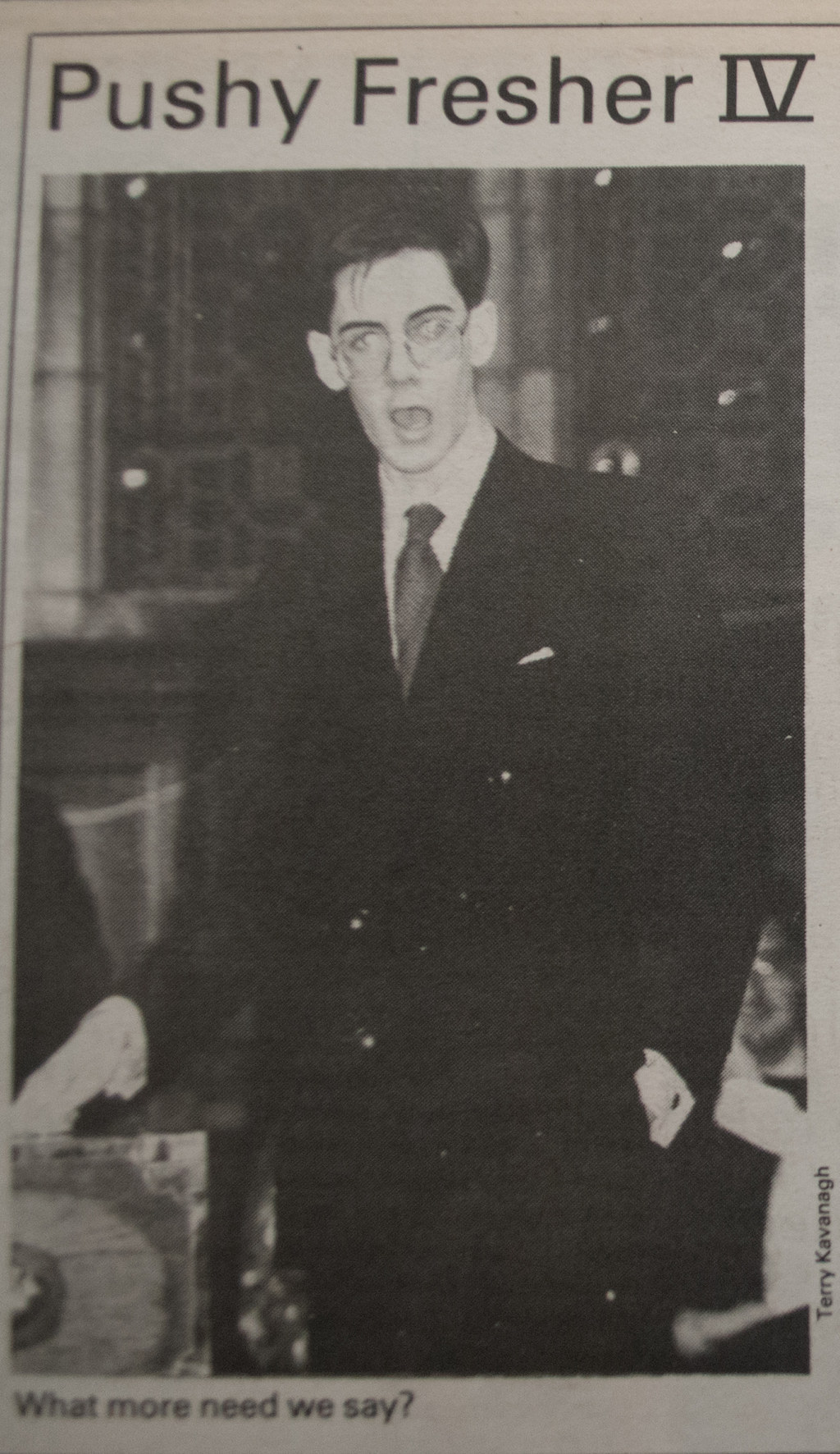 The profile, dating from the late 1980s and published in the student newspaper Cherwell, describes how the young Jacob was "rumoured to be a millionaire by the tender age of sixteen".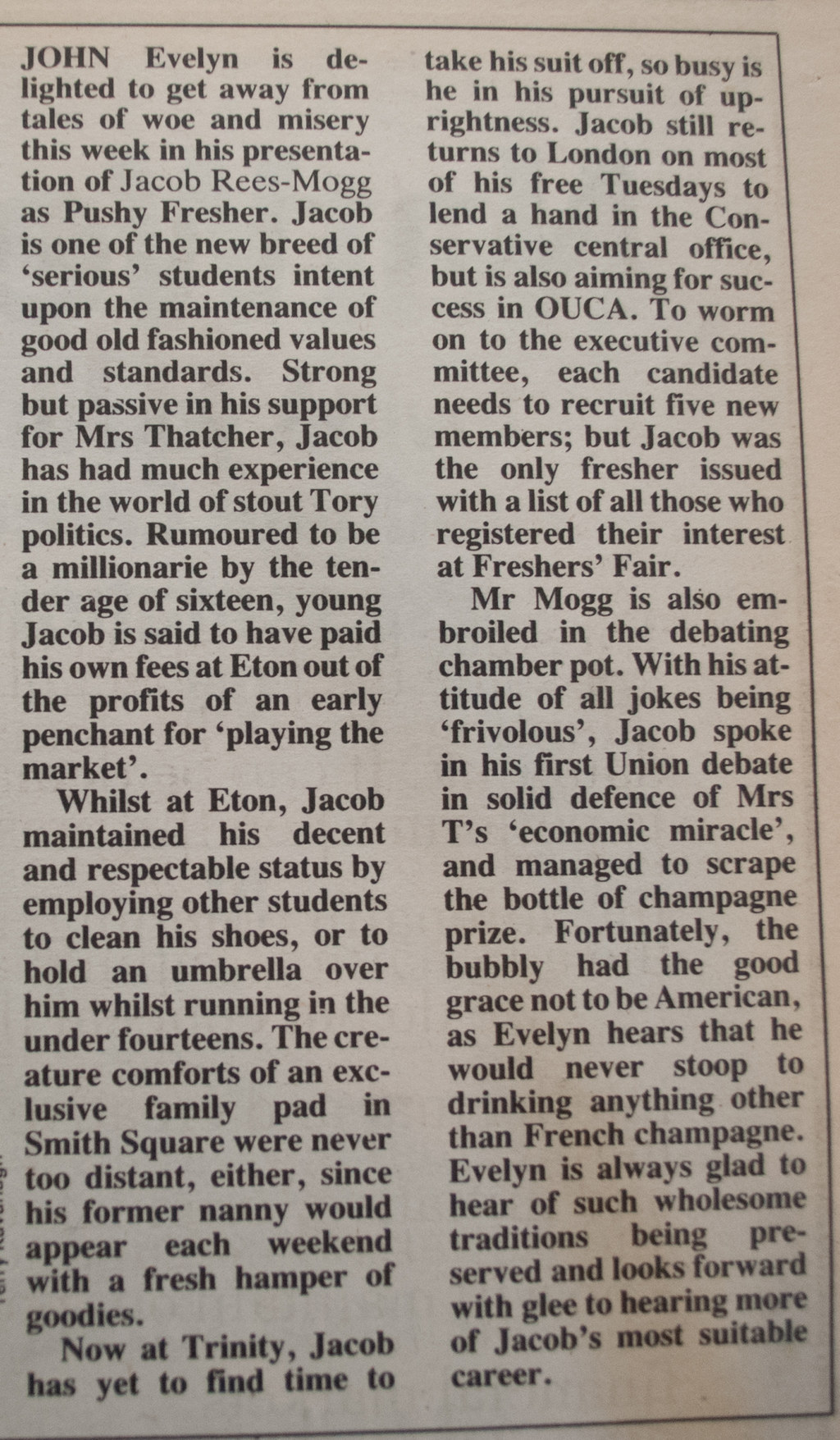 The report, written in Rees-Mogg's first few weeks at university, claims he is "aiming for success in OUCA" – the Oxford University Conservative Association – by obtaining a definitive list of those who are interested in the organisation in order to gain an advantage over other rivals for elected positions.
In common with everything ever written by sniping students aiming to undermine one of their classmates, it is probably worth taking all of this with a pinch of salt.
In a later edition, the newspaper told of how the future MP had a cigarette-related incident, then published his private phone number (which was then an unusual thing to have).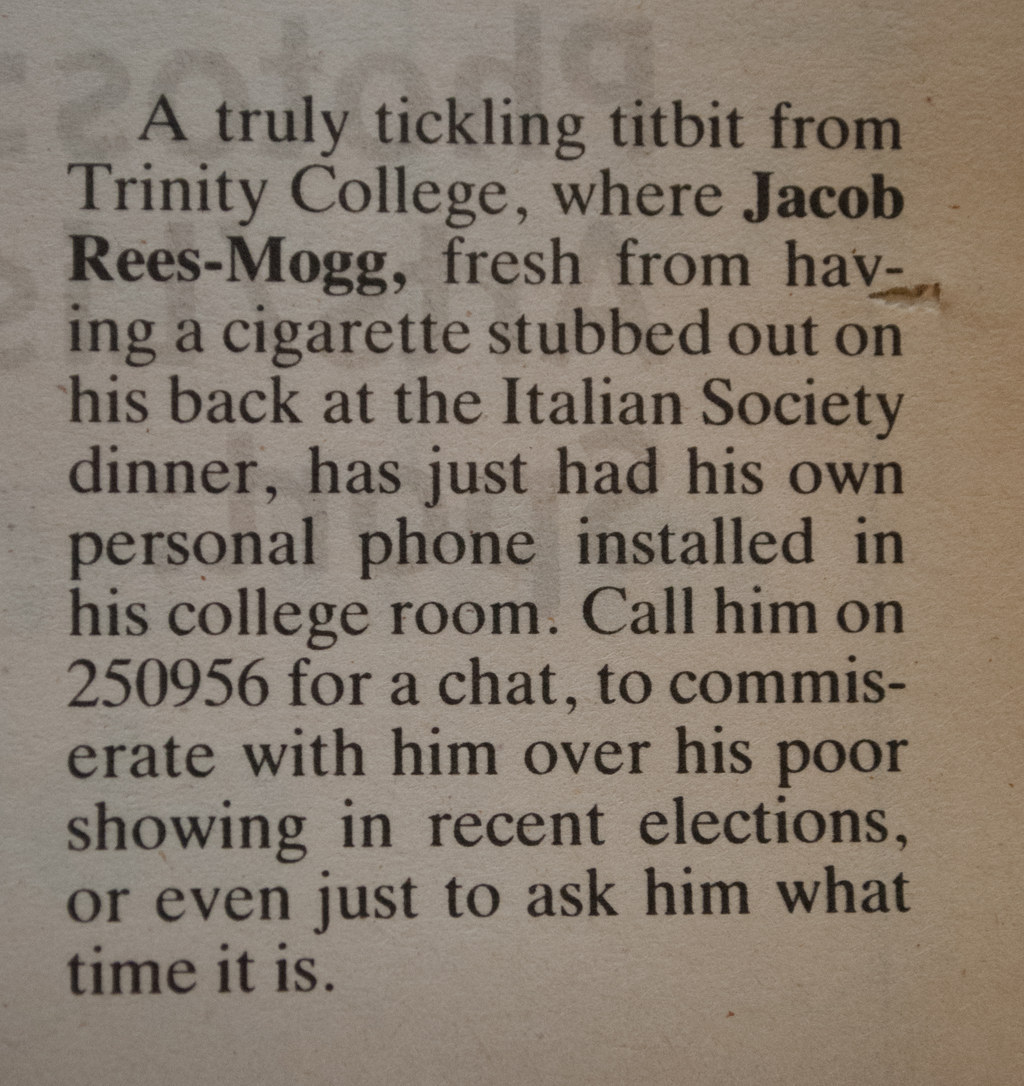 A couple of weeks later, the column claimed it had informed the future MP about a woman who "wants your body". Rees-Mogg was baffled: "I can't imagine why".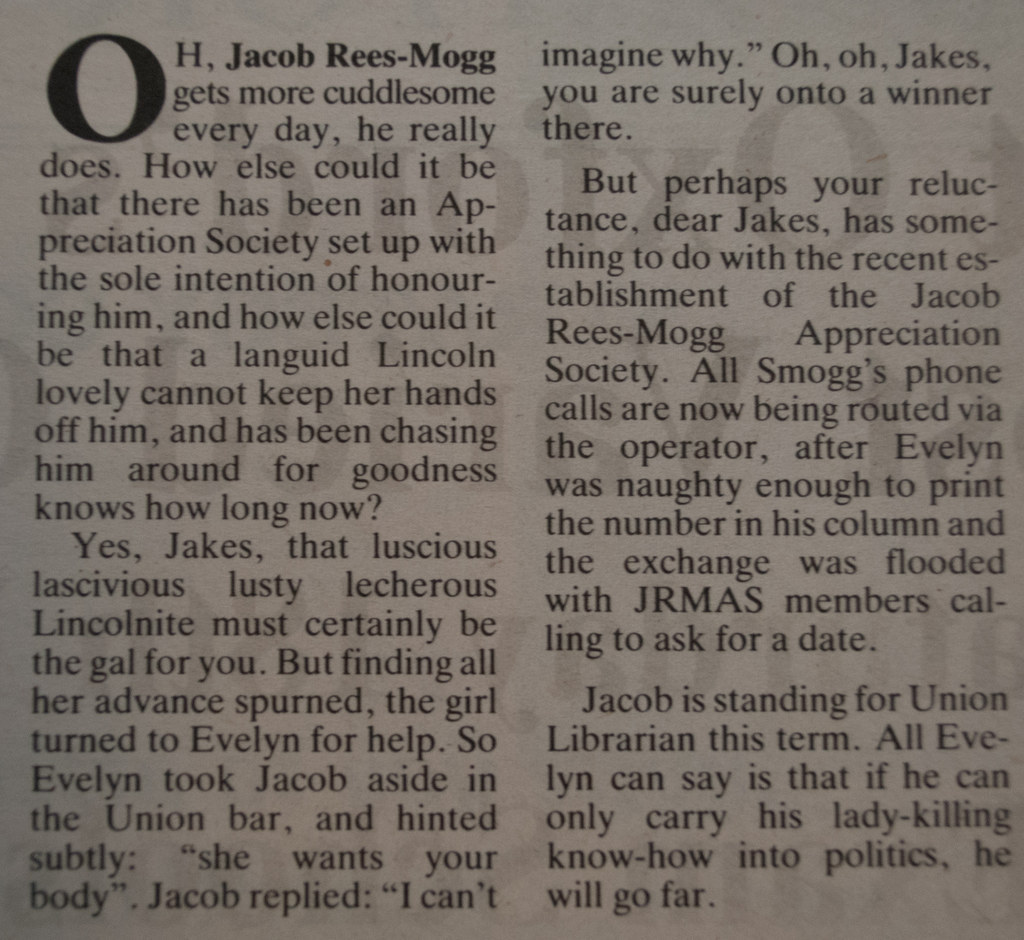 A couple of years later there was this caricature of a 20-year-old Rees-Mogg.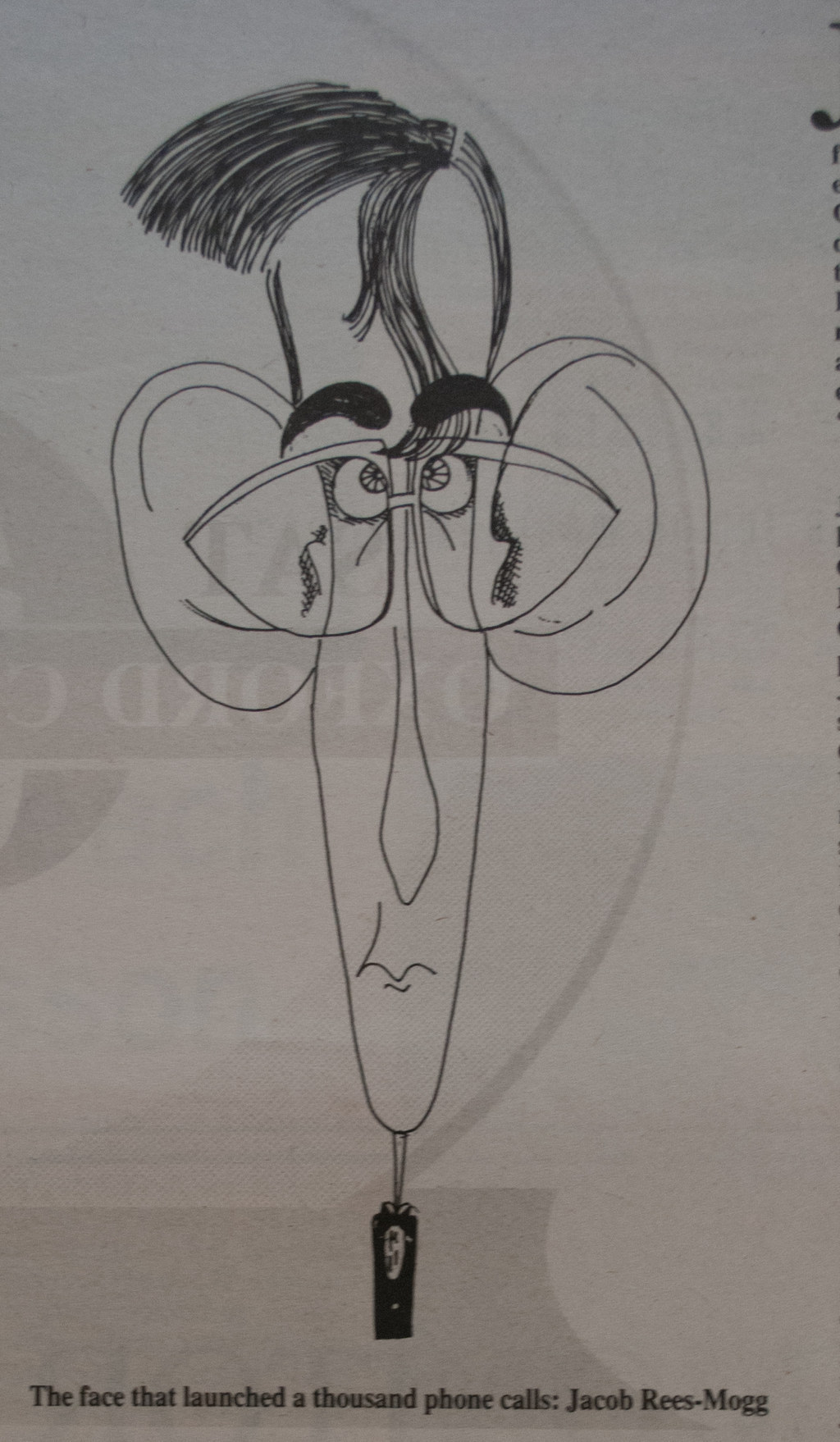 Rees-Mogg then popped up in this article, defending the right to cycle around Oxford wearing a mortarboard on one's head.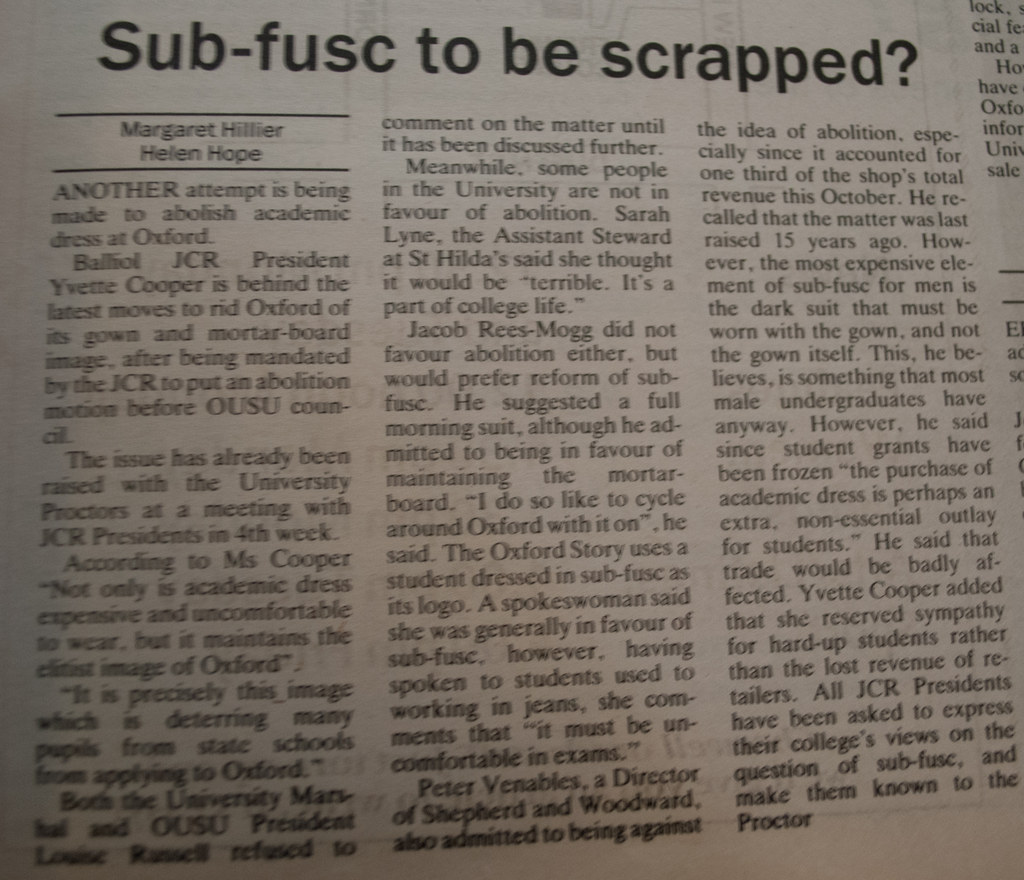 The piece, written by future Labour MP Margaret "Meg" Hillier, reports on an unsuccessful attempt by a student called Yvette Cooper to ban "expensive and uncomfortable" formal clothing from the university because it puts off applicants from state schools.
Rees-Mogg is quoted as suggesting students should instead be encouraged to wear a "full morning suit". He goes on to say that the mortarboard is a key part of student dress: "I do so like to cycle around Oxford with it on."
The article also features this picture of the young Cooper, who is now the shadow home secretary.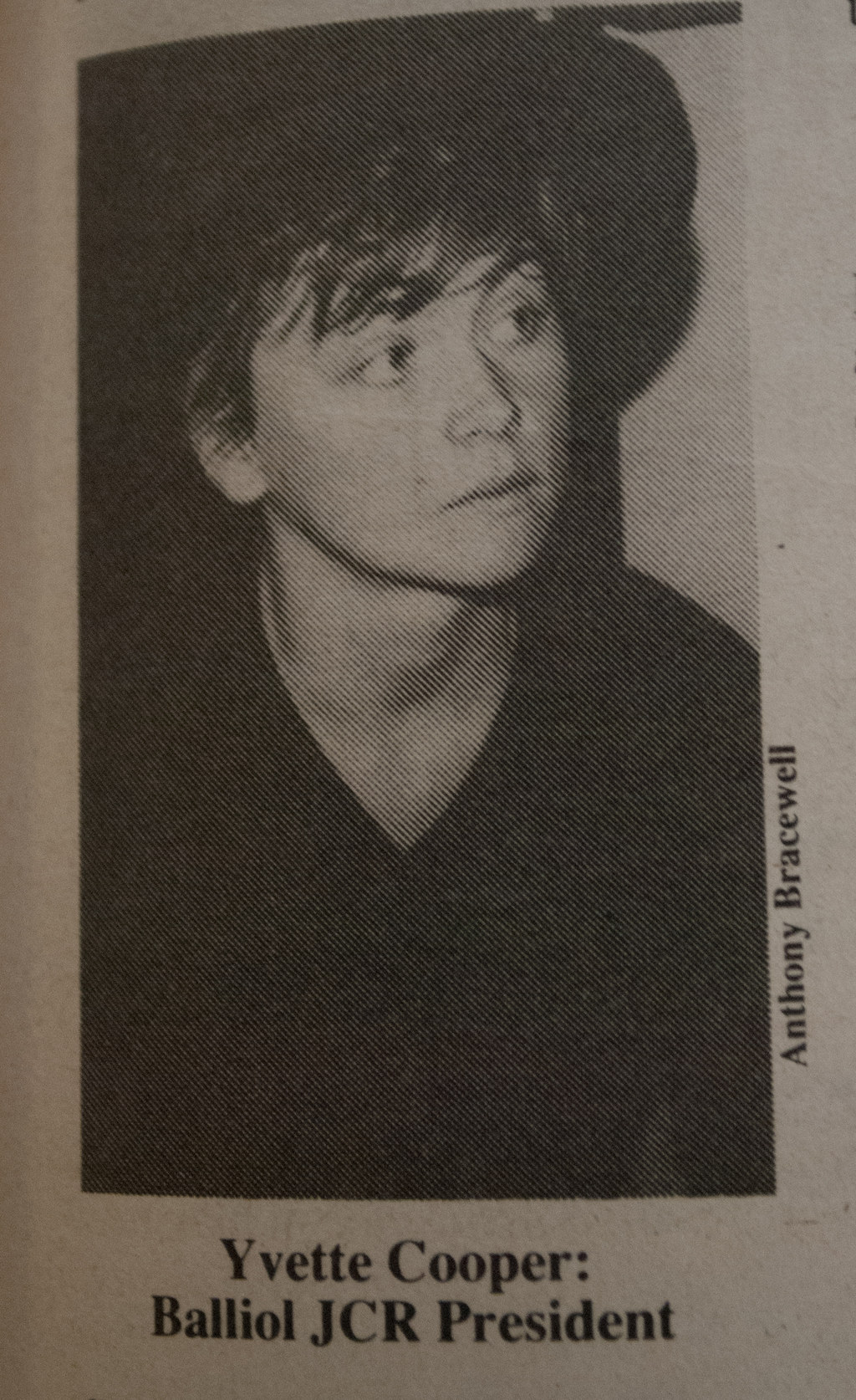 There was then this largely unnecessary piece attacking a man variously called "Please-Flogg", "Grease-Bog", and "Rees-Smugg".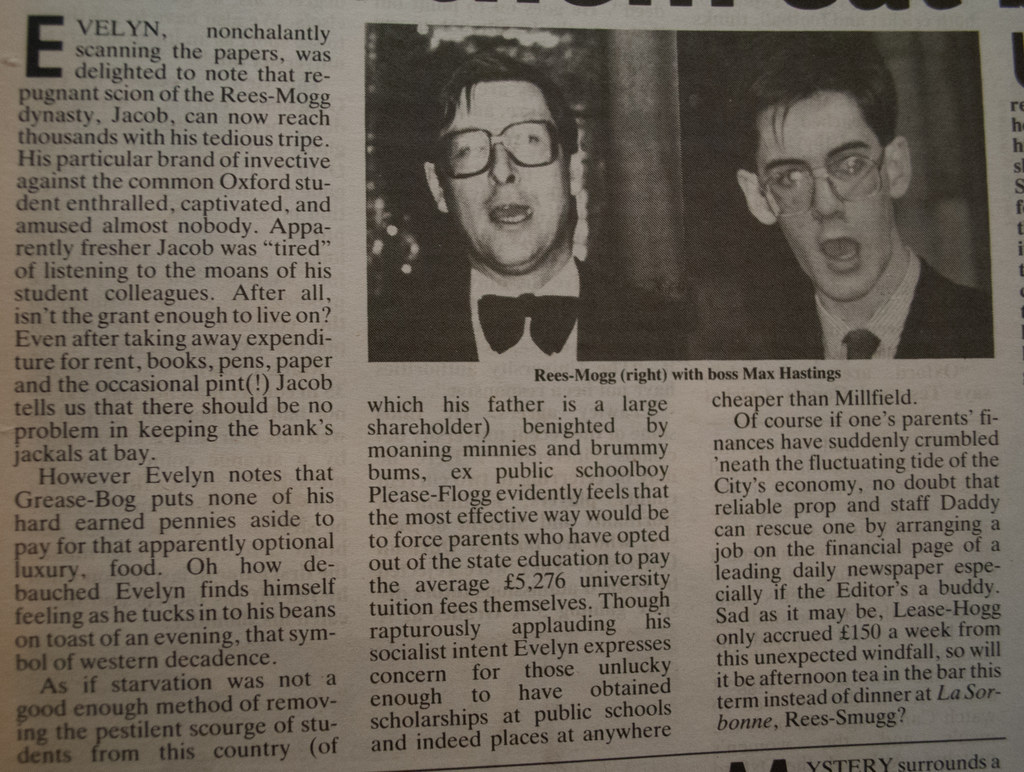 Which was accompanied by a piece on how students were shocked to discover Rees-Mogg spent his summer working as a waiter, serving champagne.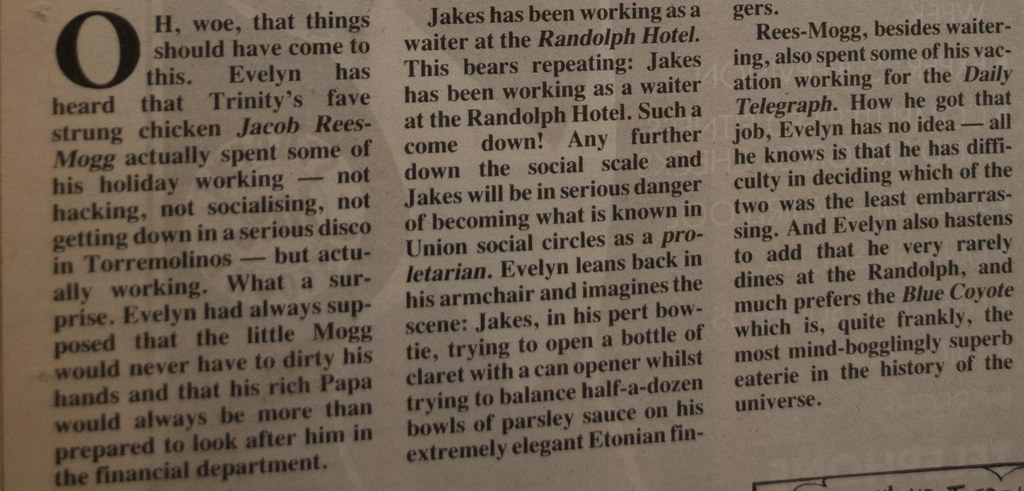 Finally, for no discernible reason, a picture was printed in the student paper entitled "Spot the difference: Jacob Rees-Mogg and a spindly table".