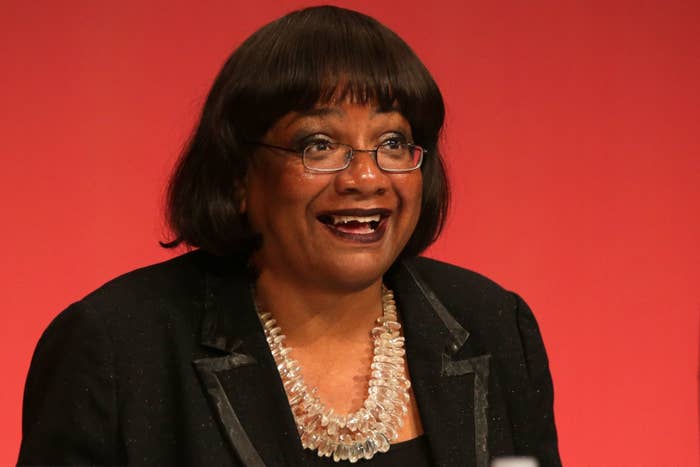 Diane Abbott has said Labour should ban white candidates from standing for the party in certain constituencies, in an attempt to increase the number of ethnic minority MPs in parliament.

The shadow home secretary suggested it is time for the party to require all potential candidates in select constituencies to be nonwhite, with local Labour parties required to pick a candidate from a minority background.
"We need to revisit the campaign for all-black shortlists," said Abbott, discussing ways to increase the influence of black, Asian, and ethnic minority (BAME) activists in Labour.
It is unclear whether Jeremy Corbyn backs the idea of all-black shortlists but a source close to the leader told BuzzFeed News the proposal would be considered as part of a forthcoming review of Labour's internal democratic processes. Previous attempts to introduce all-black shortlists have struggled but Abbott is now in a substantially more influential position as she is one of Corbyn's closest allies.
Since the 1990s Labour has substantially increased its number of female MPs, aided by the introduction of all-women shortlists, in which certain constituencies are not allowed to select a male candidate.
"It did have a transformative effect on getting women into parliament, but we need to pay attention to the fact that all-women shortlists have not necessarily worked for black and ethnic minority women," said Abbott at The World Transformed, a fringe event organised by the pro-Corbyn group Momentum outside the Labour party conference in Brighton.
Abbott also said Labour had traditionally relied too heavily on talking to so-called community leaders rather than discussing issues directly with ethnic minority voters.
"If you want to engage with black and minority voters you have to start talking about the things they are talking about, you have to start holding events and reaching out to them," she said.
There were also cheers when one speaker suggested launching a campaign to remove Leicester MP Keith Vaz from his position as the party's official BAME representative on the party's ruling committee.
Abbott's call for all-black shortlists was backed by Claudia Webbe, who sits on Labour's ruling national executive committee and will be taking part in the forthcoming review of Labour's internal processes.
"All-women shortlists have returned – essentially, white women," she said. "That has meant there is a democratic deficit in terms of black and ethnic minority women.

"What we need to do is return and have all-black shortlists. In areas where there are black-majority cities, like Leicester, we ought to consider black shortlists. That isn't beyond our thinking."
Earlier this year, however, some Labour activists and councillors wrote a formal letter of complaint to party chiefs asking why no additional black male candidates had been selected to stand in June's snap general election.