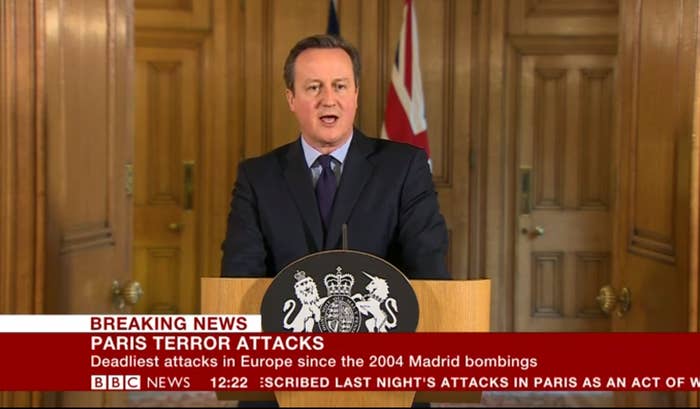 David Cameron said the UK "must be prepared for a number of British casualties" in Friday night's terrorist attacks on Paris as he pledged to do everything possible to help France following the murder of at least 127 people in multiple attacks on the country's capital city.
The prime minister criticised the "brutal and callous murderers" and said the British and French people would stand together following the "worst terrorist attack in Europe for a decade".
Cameron, who held a meeting of the government's emergency COBRA committee on Saturday morning, said the risk of a terrorist attack in the UK remains high and that the scale of the attacks suggest "a new degree of planning and coordination" on the part of ISIS: "The threat level is already at severe, which means an attack is highly likely and remains so. Our police and intelligence agencies work around the clock to keep us safe."
Cameron said the UK police and security services would review their procedures and increase security at key locations, adding: "We will redouble our efforts to wipe out this poisonous extreme ideology."
He described the victims as people "enjoying a night out with friends and families, no doubt after long week" who were "killed and injured by brutal, callous murderers, who want to destroy what our two countries stand for".
Addressing the French people, he said: "Your values are our values, your pain is our pain, your fight is our fight."
Labour leader Jeremy Corbyn said the attacks were "horrific and immoral" and warned against "responses which feed a cycle of violence and hatred", while London mayor Boris Johnson said the British capital would do "do everything in our power" to help Paris.
Their comments came as European leaders increased border controls across the continent, ordered an increased security presence, and warned that the attacks may stop attempts to rehouse migrants across Europe.
London's Metropolitan police said they continued to work on the basis that an attack was "highly likely" and said the public should expect to see more officers at public events and increased security at ports in the coming days. The Foreign Office also warned Britons travelling to France to "exercise caution in public places".
The French government has already imposed stricter border checks and deployed additional military personnel to Paris, while interior minister Bernard Cazeneuve has authorised local governments to impose curfews.
Other European leaders followed suit. Italian prime minister Matteo Renzi announced additional security across the country. Belgian prime minister Charles Michel urged his country's citizens to avoid all unnecessary travel to Paris, while pledging extra security at key sites and increased passport checks at the Franco-Belgian border.
The attacks also threaten last month's EU-wide agreement to relocate 120,000 migrants from countries such as Greece and Italy to other members of the bloc.
Konrad Szymanski, Poland's incoming European minister, who takes office on Monday, responded to the Paris attacks by writing a piece for a local comment site suggesting the deal would now be problematic.
"The EU Council decisions on refugees and migrants' relocations we criticised are still the binding EU laws," he said. "But in the face of tragic events in Paris, we see no political possibilities of implementing them."