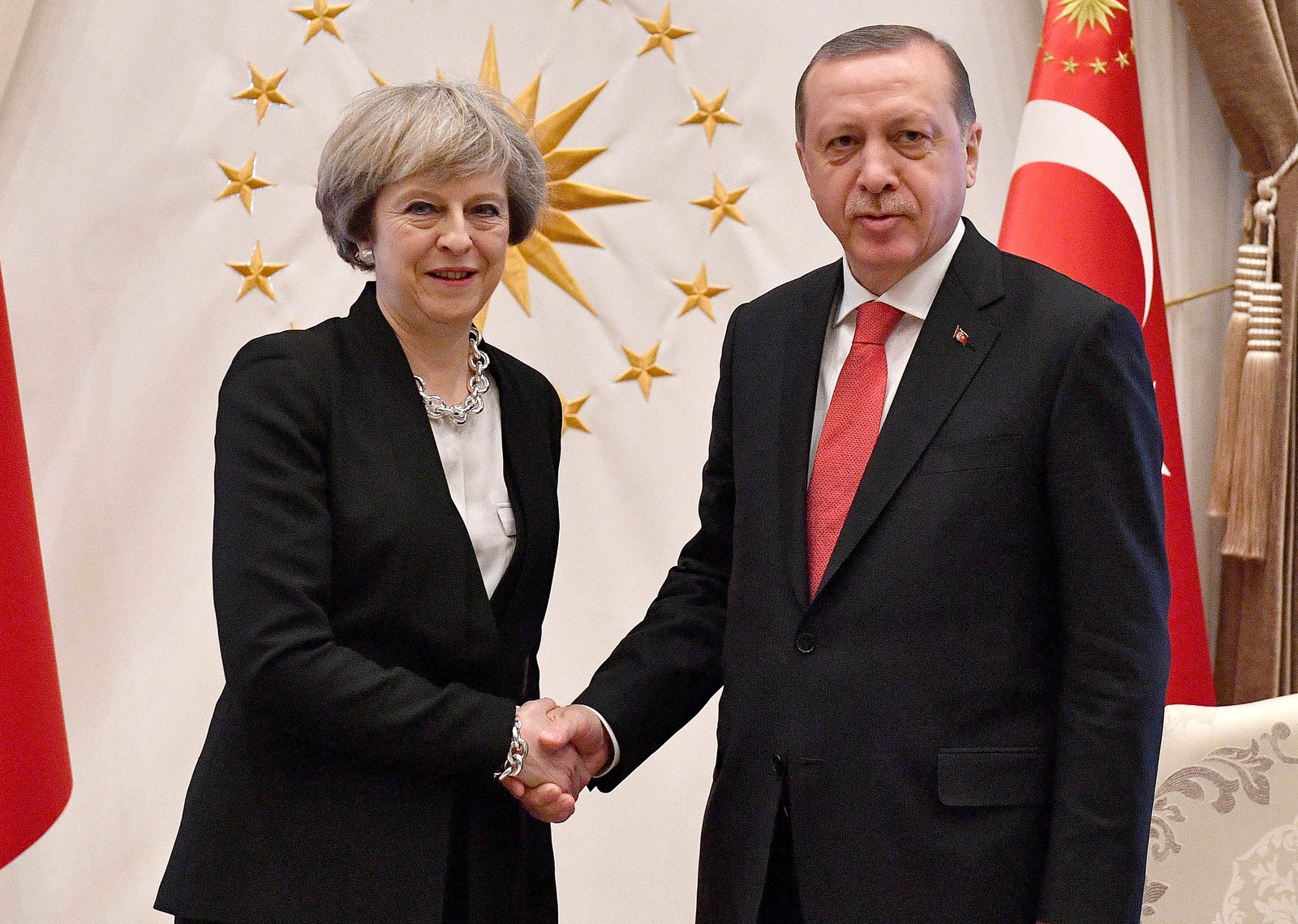 ANKARA – Theresa May will help Turkey develop new fighter jets to build post-Brexit trade relations with the country's president, Recep Tayyip Erdogan, despite human rights concerns about his government.

The prime minister used a trip to the Turkish capital of Ankara to back a £100 million deal that will see British businesses help Turkey build its own warplanes. The agreement had reportedly been delayed following last year's failed military coup against Erdogan and his subsequent crackdown on dissenting forces in the country.
May's spokesperson stood by the decision to help Turkey develop military hardware, despite Human Rights Watch describing the deterioration of human rights in the country following recent crackdowns on the media and political opponents of the ruling Justice and Development party (AKP).

"She thinks that it's important and in the UK's national interest to engage with Turkey," the representative said, although they would not confirm that human rights would be specifically raised in the meeting between the two leaders.
"We have expressed strong support for Turkey's democracy and institutions following the coup but have also urged Turkey to ensure their response is proportionate and in line with international human rights organisation."

The prime minister later emphasised this, standing beside Erdogan to deliver a joint statement in which she denounced the coup: "I'm proud that the UK stood with you on the 15 July last year in defence of democracy and now it is important that Turkey sustains that democracy by maintaining the rule of law and upholding its international human rights obligations as the government has undertaken to do."
The deal could later expand to other military equipment worth billions of pounds, helping supply a Turkish military that is currently involved in the conflict with Syria and battling with Kurdish forces within its own borders.

The prime minister flew to Ankara directly after meeting US president Donald Trump in Washington DC. She was greeted by Erdogan at his fortress-like presidential compound in the Turkish capital and as she sat down to begin her talks with the president, he pointed to a huge TV in the corner where scenes from her visit to the White House were being shown.
She laughed in surprise. "It was well covered in Turkey," an aide to the president said, to which May smiled.
"Well covered," she repeated, and smiled again.
Erdogan, who has recently jailed dozens of journalists, is no fan of the media and will not be taking questions from reporters. Instead, Theresa May will hold a joint press conference with Turkish prime minister Binali Yildirim.
During the EU referendum campaign the prospect of Turkey joining the EU was used to increase fears of high immigration. Although Britain is set to leave the EU, May's spokesperson confirmed that the UK still technically supports Turkish accession and now wants to boost trade between the two countries.
May is the first Western leader to visit Erdogan since the attempted coup, although she is not his only high-profile visitor this week: Twenty-four hours earlier he held talks with film star Lindsay Lohan.