Boris Johnson's Completely Useless Water Cannon Are So Useless They're Being Sold
The vehicles, which are illegal to use on the streets of London, have so far cost £320,000.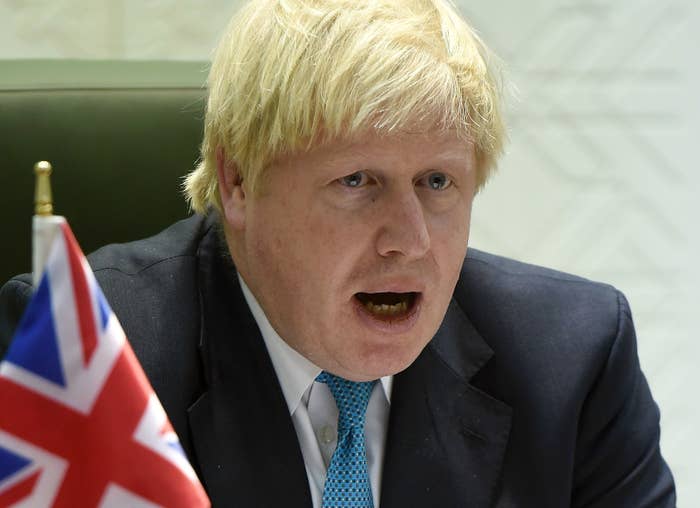 Boris Johnson's doomed bid to introduce water cannon to the streets of London has so far cost more than £320,000, despite it being illegal to use them in the capital amid concerns they could blind protesters.

Now the vehicles are being sold off at a knockdown price.
The former mayor of London, now foreign secretary, bought three second-hand Wasserwerfer 9000 vehicles from the German police in 2014. He hoped they would help the Metropolitan police control protests in the capital, with the expectation he could convince the government to legalise their use.
But Theresa May – then the home secretary – blocked a change in the law on the basis that they could cause "serious harm" and destroy trust in the police, especially after a similar vehicle blinded a 66-year-old man in Stuttgart.
Labour's Sadiq Khan, the new mayor of London, has now released a breakdown of the money spent on Johnson's watch converting the water cannon and confirmed they have been put up for sale via the Ministry of Defence.

"I have spent a significant amount of time looking into how I can do this, and have been left with no choice but sell these machines through a process that charges a fee," said Khan, who described the vehicles as "obsolete and illegal".
A cost breakdown provided to BuzzFeed News by City Hall shows how thousands of pounds was spent upgrading the vehicles, despite little chance of them being deployed on the streets of London.
Although originally bought for just £85,022, the three vehicles have now run up costs of £322,834 when transport, storage, and conversion are taken into account.
Among other upgrades, more than £25,000 was spent installing extra cameras and CCTV systems, while £970 was spent installing new CD players in the vehicles.
Because the vehicles did originally not meet Transport for London's strict carbon emissions standards, they were also converted to be more environmentally friendly at a cost of £32,000.
The water cannon, which are being stored at a Metropolitan police training site in Kent, are now never likely to be deployed on British streets. Despite this, more than £1,600 has been spent on their MOTs in the last two years.

It's unclear how much money can be recouped from the sale. The German police put strict restrictions on resale when they offloaded the vehicles to Johnson, which means they must approve every purchase. Germany also banned the vehicles being advertised publicly and stated they can only be sold to a police organisation in an EU state, limiting the potential purchasers for the ageing vehicles.
Even in the very best scenario around 40% of the sale price will go to the Ministry of Defence, although Khan insists offloading the vehicles will still save £175,000 in storage costs over the coming years which can be put into fighting youth crime.
What the vehicles cost between April 2014 and April 2016, according to City Hall:

Purchase of vehicles and initial fit-out
Cost of vehicles – £85,022.01
Transport to UK – £20,223
Transport within UK – £3,800.01
Supply and fit of warning equipment – £8,584.50
Supply and fit of 999 sirens – £3,109.20
Supply and fit of CCTV systems – £19,376.70
Supply and fit of external/internal intercom system – £4284.30
Supply and fit of PA system – £4288.80
Repainting – £19,035
Supply and fit "Battenberg" police vehicle markings – £4,538.70
Supply and fit Motorola MTM800 radios – £2,708.10
Signage – £3,511.50
Body work repairs due to corrosion – £4,911.15
Mass storage devices – £434.10
Tachograph inspections – £194.10
Radio/CD players – £970.50
Water jet camera housings – £4095.60
Front camera brackets – £2059.20
Tool kits – £986.40
Conversion to UK specification and service parts – £30,625.96
MOT tests – £1,688.04
UK registration – £499.98
Sub-total – £224,946.85
Additional modifications carried out following Home Office requirements and recommendations
Internal camera system – £2,477.40
Modification of water jet brackets – £1,909.20
Maintenance, service, and inspection
Low Emission Zone compliance – £32,004
Assistance with trials – £12,578
2014/15 – £20,880
2015/16 – £21,866.04
Wear and tear – £6,173.22

Total – £322,834.71