Ken Livingstone has been suspended from the Labour party following allegations of anti-Semitism over comments in which he appeared to suggest Hitler was a Zionist.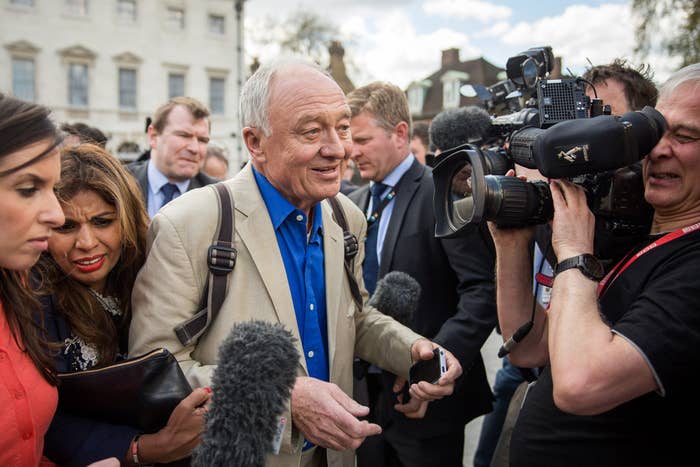 "Ken Livingstone has been suspended by the Labour party, pending an investigation, for bringing the Party into disrepute," Labour confirmed on Thursday afternoon.

The suspension came after an extraordinary few hours of drama that began when the former mayor of London told BBC Radio London a Facebook post by Naz Shah, the MP for Bradford West, that proposed moving all Israelis to the United States was "completely over the top but it's not anti-Semitic".
"Let's remember when Hitler won his election in 1932 – his policy then was that Jews should be moved to Israel," Livingstone said. "He was supporting Zionism. This before he went mad and ended up killing 6 million Jews."
Then, shortly before midday, the party row over anti-Semitism erupted into open warfare when Labour MP John Mann accused Livingstone of being a "Nazi apologist".
Mann, MP for Bassetlaw, pursued Livingstone into a TV studio accusing the former mayor of being a "disgusting racist" and "a disgusting Nazi apologist" following the interview with BBC Radio London.
Footage captured by reporters in the building shows Mann repeatedly shouting at Livingstone, who sits on Labour's ruling national executive, to "go back and check what Hitler did! Go back and check what Hitler did!"
By that point more than 30 Labour MPs had called for Livingstone to be suspended from the Labour party over the comments, including current mayor of London candidate Sadiq Khan. The Campaign Against Anti-Semitism has called for Livingstone's expulsion from the party.
So far there has been no response to the row from party leader Jeremy Corbyn.
Further footage shows Mann chasing Livingstone into the building and shouting accusations of racism as the former mayor of London tells him to "check his history".
Livingstone then appeared on the BBC's Daily Politics to defend the comments, insisting he was historically correct. He said: "Hitler's policy when he first came to power [was] to move Germany's Jews to Israel."
He also repeatedly insisted that in his long career as a Labour activist he had never encountered anti-Semitism and that Shah's comment had been "rude", rather than anti-Semitic.
With Livingstone still on the show, the producers introduced John Mann as an unexpected guest, and Mann repeated his accusation about the former mayor of London: "He is a Nazi apologist."
Livingstone then left the studio to be greeted by an enormous press pack that chased him down the stairs and asked him repeatedly if he wanted to retract his comments. Livingstone briefly escaped the scrum by going into a disabled toilet before leaving the building in Westminster.
Meanwhile, pressure for Livingstone to be suspended continued to grow. Jon Lansman, who was involved in setting up Jeremy Corbyn's leadership campaign and the continuity group Momentum, called for Livingstone to permanently quit politics. His comment was retweeted by Labour deputy leader Tom Watson.

Livingstone was finally suspended shortly after 1pm – although Mann was also called in by the party's chief whip and told it was "completely inappropriate for MPs to be involved in public rows on television".
David Cameron said the comments were abhorrent and it is "quite clear the Labour Party has got a problem with anti-Semitism".
Labour leader Jeremy Corbyn told the BBC there were "grave concerns" about Livingstone's comments, which was why he was suspended: "Anybody that thinks this is party is not cracking down on anti-Semitism is simply wrong."