All Passengers And Crew Leave Hijacked Libyan Plane In Malta
An Afriqiyah Airways plane landed on the Mediterranean island with 118 people on board following a possible hijacking, Malta's prime minister said. However, all those on board left safely after a few hours.
by
,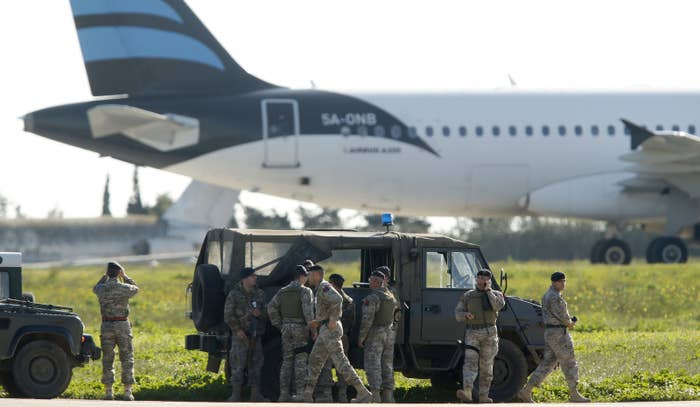 A Libyan passenger plane carrying 118 people landed in Malta after being diverted en route to Tripoli in what the Mediterranean island nation's prime minister initially described as a "potential hijack situation" on Friday morning.


From around 2 p.m. local time, he gradually announced that all of the 111 passengers had been allowed to disembark from the plane in groups, as footage emerged of passengers descending down the staircase.

Just before 3 p.m., Muscat said the 7 crew members had been released, meaning that only "potentially two hijackers and some crew" were left on board. Minutes later, a man appeared to wave the green flag of deposed Libyan leader Muammar Qaddafi's regime from the plane's door.

By 3:45 p.m., Muscat said all passengers and crew were safely off the plane, and that the hijackers had surrendered, been searched, and taken into custody.

The hijackers were carrying a hand grenade and a pistol when they surrendered and a second pistol was found on the plane, according to Muscat, the AP reported.
All passengers will be flown back to Libya later Friday after they've been questioned by police.
The plane is Afriqiyah Airways Flight 8U209, and an Airbus A320 model. It was on a Libyan domestic flight from Sebha, also referred to as Sabha, to Tripoli, but was diverted and eventually landed in Malta at 11:32 a.m. local time on Friday.
Malta's national broadcaster TVM reported that initial indications suggested two hijackers had taken control of the plane and had threatened to blow the jet up.
Reports in the Times of Malta suggested the hijackers may be from a group of Qaddafi supporters known as Al Fatah Al Gadida.
The hijackers will likely claim they are Gaddafi supporters and could be persecuted if they're not granted asylum Europe — but Libya experts said this was no longer the case. When leader of the of the UN-backed government, Fayez Serraj, visited the western city of Ghat recently, he was greeted by protesters holding up portraits of the former dictator, who was killed by Nato-backed rebels in 2011.
"Gaddafi loyalists are very active in Libya," said Mohamed Eljarh, a Libya expert at the Atlantic Council. "Many Gaddafi loyalists are coming out of the woodwork. Many people from Gaddafi's circle are able to go about their business. I don't think the whole situation is political. It's set up for those couple of people to try to get asylum in Europe."
Malta International Airport said that there had been an "unlawful interference" on the runway, and that emergency services had been dispatched.

Oil-rich Libya has been mired in chaos since the toppling of longtime leader Qaddafi in 2011. Three rival governments claim authority over a divided land and sometimes battle each other.
The southern Libyan city of Sabha, where the hijacked plane took off, has been repeatedly engulfed in armed ethnic and tribal conflict over political power and lucrative smuggling routes between Libya and countries to the south.
Libya's aviation sector has been hit hard by the conflict. The capital's main airport was destroyed in 2014 fighting. No international carriers maintain connections to Libya. On Thursday, a MiG -23 fighter jet crashed during a training mission in the country's west, killing both crew members.