These Are The Victims Of The Berlin Truck Attack
Twelve people died after a man driving a truck rammed into a crowded Christmas market in the German capital on Monday. This is what we know so far about the victims.
On Monday, 12 people died after a man drove a truck into a busy Christmas market in Berlin's Breitscheidplatz in what authorities say was likely a terrorist attack.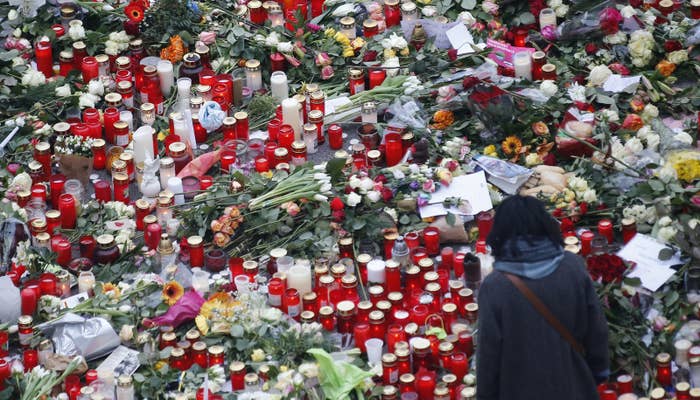 German police have yet to release details of all those who were killed, but this is what we know about the victims who have been identified so far.


Daliya Elyakim, from Herzliya, Israel, and believed to be in her sixties, had initially been reported as missing after the attack.
On Thursday, Israel's foreign ministry confirmed that she had been among those killed, according to Haaretz.
Her husband Rami, also in his sixties and pictured her above, was wounded and remains in hospital.
Their two children flew to Berlin following the attack earlier this week.
Aliza Ginis, who was identified as a friend and neighbor of the couple, was reported to have told Israel's Ynetnews: "I was in shock when I heard about the attack and I didn't know that it was them. When I realized who it was I just broke out into tears.
"By the time I got home I missed the children who had already left for Berlin about 10 minutes before. We were good friends. Knowing each other for 30 years made us like family."`
Israeli President Reuven Rivlin said he had received word of Daliya Elyakim's death "with great sadness", the Jerusalem Post reported.
Lukasz Urban, a 37-year-old Polish truck driver, was found dead in the cab of the truck with gunshot and stab wounds and a swollen, bloodied face.
He had been behind the wheel of the vehicle earlier in the evening, and worked for the company that owned it.
The owner of the company, Ariel Zurawksi, who was also Urban's cousin, was asked by German authorities to identify his relative, and told reporters that his wounds indicated "it was really clear he was fighting for his life."
Another colleague told Polish state TV he believed the truck had been hijacked.
"I believe he would not give up the vehicle and would defend [it] to the end if it were attacked," said the company's manager, Lukasz Wasik, in comments to Poland's state channel TVP.
Wasik also said Urban was a "good," "quiet," "honest person devoted to his work."
Zurawski, pictured above showing reporters the last picture taken of his cousin, said that Urban was simply "in the wrong place at the wrong time."
Urban leaves behind a wife and an 18-year-old son.
Fabrizia Di Lorenzo, 31
Fabrizia Di Lorenzo was a 31-year-old Italian woman who had been living in Berlin for several years, the Associated Press reported. She was shopping for Christmas presents to take back to Italy when the attack happened.

Her family lost contact with her after the attack on Monday, and her phone and transport pass were found in Breitscheidplatz.

Concern that Di Lorenzo was a victim in the attack grew on Tuesday, when she did not show up for work, and Italian Foreign Minister Angelino Alfano later confirmed that she had been killed, Italian newspaper Repubblica reported.
According to The Guardian, Di Lorenzo previously studied at the Catholic University in Rome and earned a master's degree in international and diplomatic relations from the University of Bologna.
She was fluent in French, English, German, and Italian, the AP reported.
Other victims
No further details on the identities of victims have been officially released by authorities as yet.

However, German tabloid Bild reported Wednesday that a 65-year-old woman from Neuss, in North Rhine-Westphalia, was among the dead, and that her son had been wounded.

The interior ministry of the state of Brandenburg also said two of its citizens were killed, but did not reveal their names. They include a 32-year-old man from Brandenburg an der Havel, and a 53-year-old woman from Dahme-Spreewald, the BBC reported.

On Friday, the Czech foreign ministry confirmed a Czech woman, who has not been named but was confirmed to be living and working in Berlin, was also killed in the attack.

In a press conference, Foreign Minister Lubomír Zaorálek reportedly said it was the first time a Czech had died in a terrorist attack in Europe.