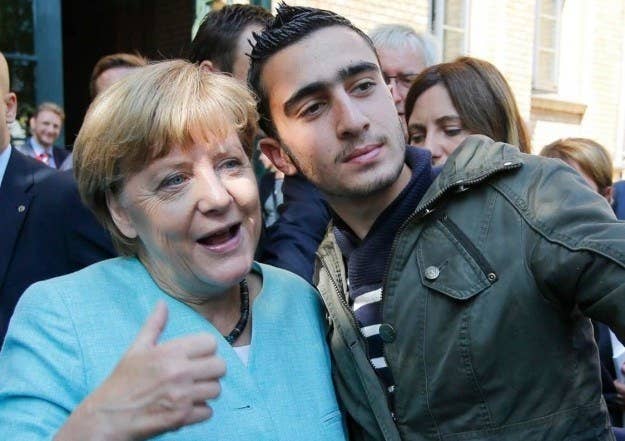 A Syrian refugee in Germany who took a viral selfie with Chancellor Angela Merkel is now taking Facebook to court because he keeps being accused of terrorism in posts on the social network.
Anas Modamani filed for an injunction that will require Facebook to remove all content from its platform that link him to terrorism. If granted, it would also impose a fine of 250,000 euros each time Facebook fails to stop fake news about Modamani from spreading. A hearing is scheduled for early February.

"[Modamani] does not want be a constant victim of libel," Chan-jo Jun, his lawyer, told BuzzFeed News. "He is afraid to go out on the street and be taken as terrorist or attempted murderer."
Jun said content continues to appear on Facebook that accuses Modamani of being a terrorist, or that link him to violent acts in Germany. In a Facebook video about the filing, he cited a recent Facebook meme that accused Modamani of taking part in an attack on a homeless man in Berlin, and another that linked him to the attack on a Berlin Christmas market.

"Facebook provides fertile ground for illegal fake news and encourages its spreading," Jun told BuzzFeed News.

"We keep reporting cases and receive the answer [that the content] 'does not violate community standards,'" Jun said, noting that in some cases the company will remove the content for German users. He called that practice "insufficient," and said there are still hundreds of offending posts about Modamani on Facebook.
Germany has strict hate speech laws, but Jun said Facebook has not been applying them properly.
"Facebook is showing lots of difficulties in abiding by German laws," he said in the video. "Slander and insults are against German laws but aren't against [Facebook's] community standards. This will show whether one can push through German laws or whether — as many politicians prefer — changes to the German laws are necessary to make Facebook change its behavior."
In a statement, Facebook told the BBC it quickly removed an offending image after being requested to do so by Jun, and therefore "we do not believe there is any basis for him to seek an injunction."

Modamani arrived in Germany in September 2015 after fleeing Syria. That same month, Merkel made an appearance at the Berlin shelter where he was staying. He managed to snap a selfie with her and soon his photo — as well as news photos of him taking the selfie — spread widely in Germany and beyond.
Since that moment, Modamani has become a target of false accusations of terrorism. When bombs went off in the Brussels airport in March, his photo began to circulate with some claiming he was one of the attackers. It happened again in July after a Syrian refugee set off a suicide bomb near a wine bar in Ansbach, Germany.
"I was fed up with this happening again, so we discussed getting a lawyer involved," Modamani told the BBC.

Jun, his lawyer, said the case will prove that "Facebook will comply with national law only under heavy pressure."