Here's What Happens When You Ask A Chef To Make You Breakfast
In our new series BuzzFeed Breakfast, we invite a chef to hang out and cook stuff at 10 a.m. Then we show you how to recreate what he or she did.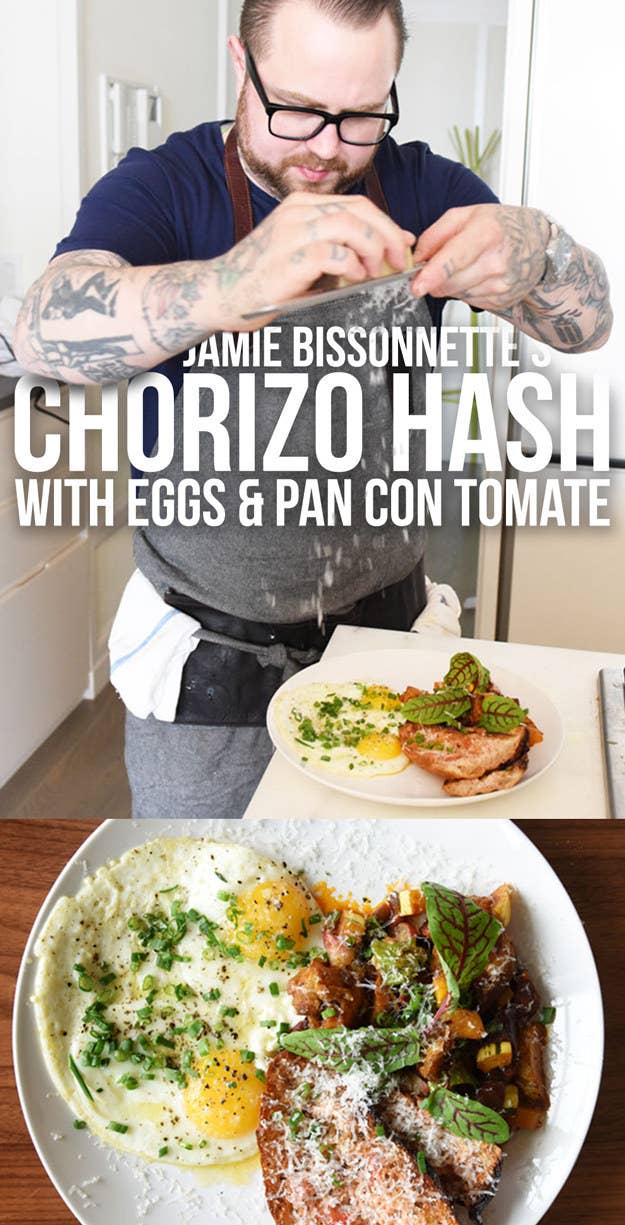 When chef and recent James Beard Award winner Jamie Bissonnette showed up at BuzzFeed's test kitchen with a cooler full of farmers market vegetables and homemade chorizo, we nearly passed out from excitement.
We'd invited him to visit and make whatever he wanted for this post, the first in a new series called BuzzFeed Breakfast, wherein we ask chefs to come hang out at 10 a.m. and cook. Bissonnette has three restaurants, Toro in NYC, Coppa in Boston, and Toro in Boston, and the delicious chorizo he brought to use for breakfast wasn't too much of a surprise: He just wrote his first cookbook and it's all about cured meats, The New Charcuterie Cookbook.
His goal is to show people that making pate is just as easy as making meatloaf — "just lose the ketchup and add more kinds of meat," he says. "To write the recipes I was like, How would I tell my Dad, who isn't a chef, how to make this?, so that's what I did, I just walked through it all asking him."
The book's instructions for blood sausage, for example, are divided into three recipes: blood sausage for beginners, blood sausage for intermediates, and blood sausage for ninjas.
Watching Bissonnette go into ninja mode to cook breakfast was fascinating because he worked so cleanly. His ninja tool is a dough scraper, which he uses instead of the back of his knife to transfer food to the pan and to transfer trash to the trash. "One thing I think is really important for home cooks to learn is that the cleaner you are the more efficient you're going to be, and the more fun you'll have eating because you'll be eating in a clean kitchen." In fact, we couldn't even get him to leave before he had scrubbed down the entire range. Thanks chef.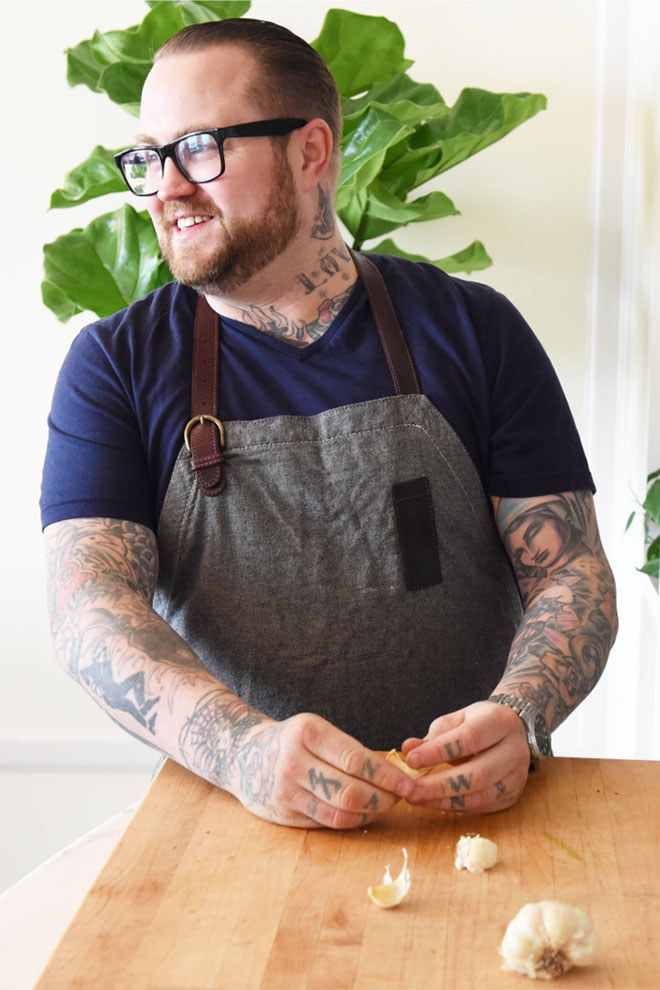 Here's what chef brought: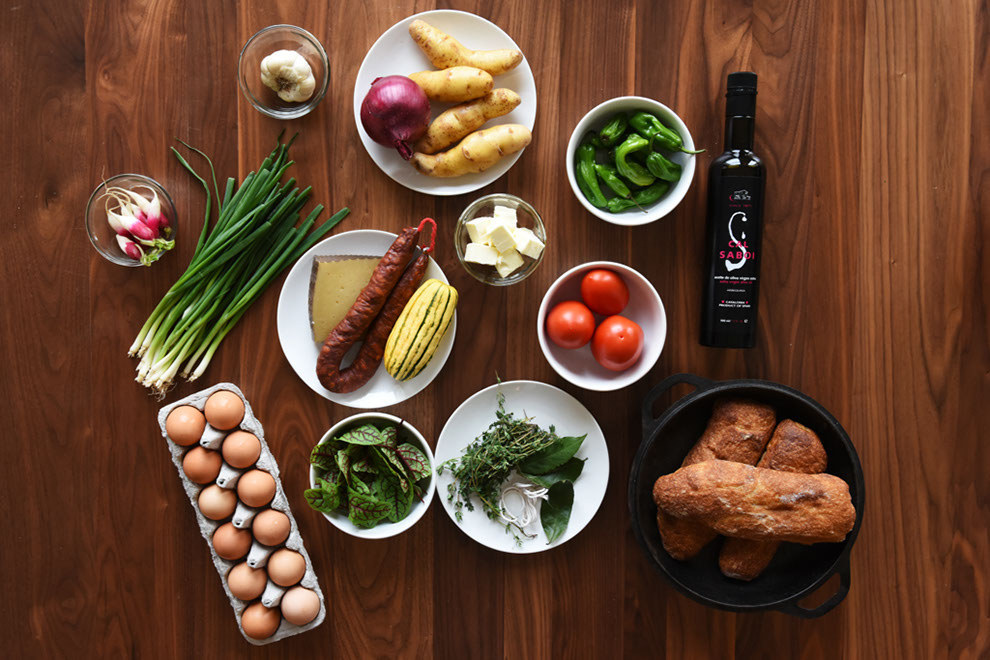 And here's how to recreate what he made:
Note: We know some of you are going to yell at us that this is too much work for breakfast. But that's not really the point. The point is seeing what a professional does, how he does it, learning, and maybe trying it — or some version of it — if you feel like it.
<3,
Management
1.
Heat the olive oil in a large dutch oven or pot over medium heat.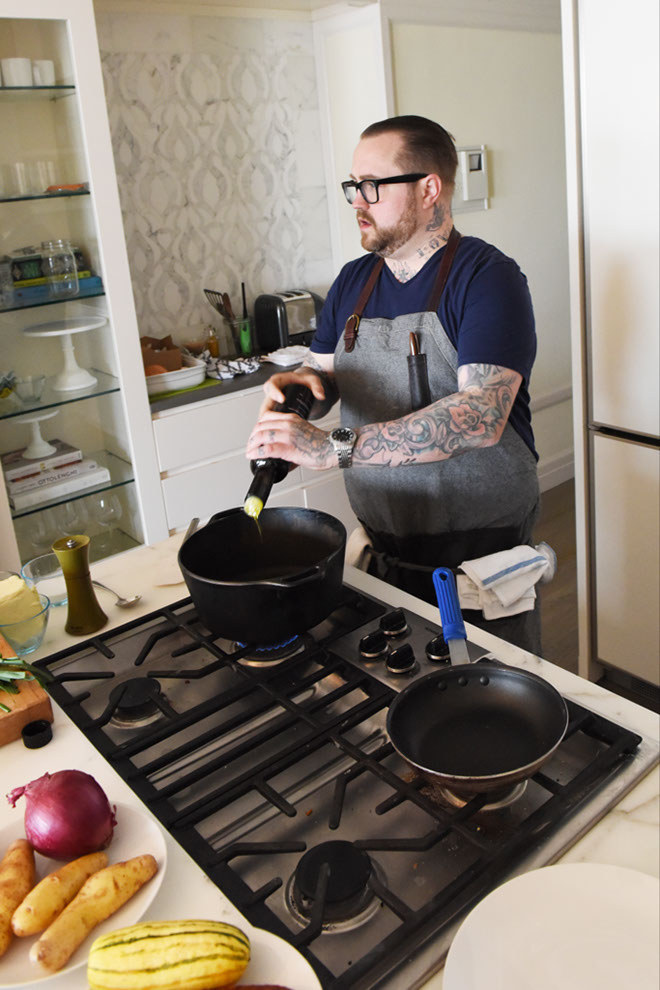 2.
Cut your chorizo using a "roll cut."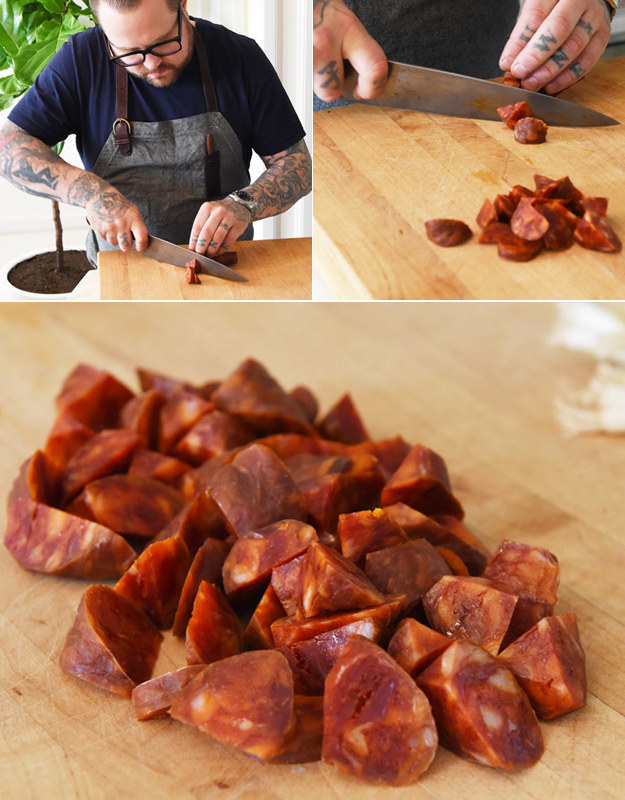 3.
Add the chorizo to the pot when the oil is hot (but not sizzling), then cut the fingerling potatoes, again using a roll cut.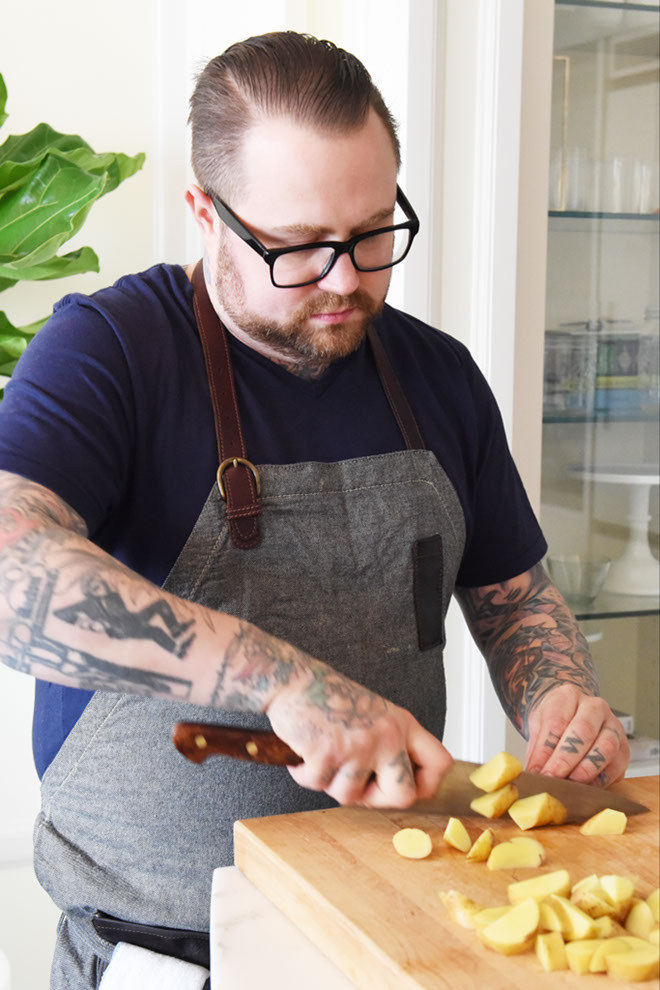 4.
When the fat from the chorizo has rendered out a little bit, add the potatoes. Season with salt and pepper, and stir so that the potatoes are coated in fat.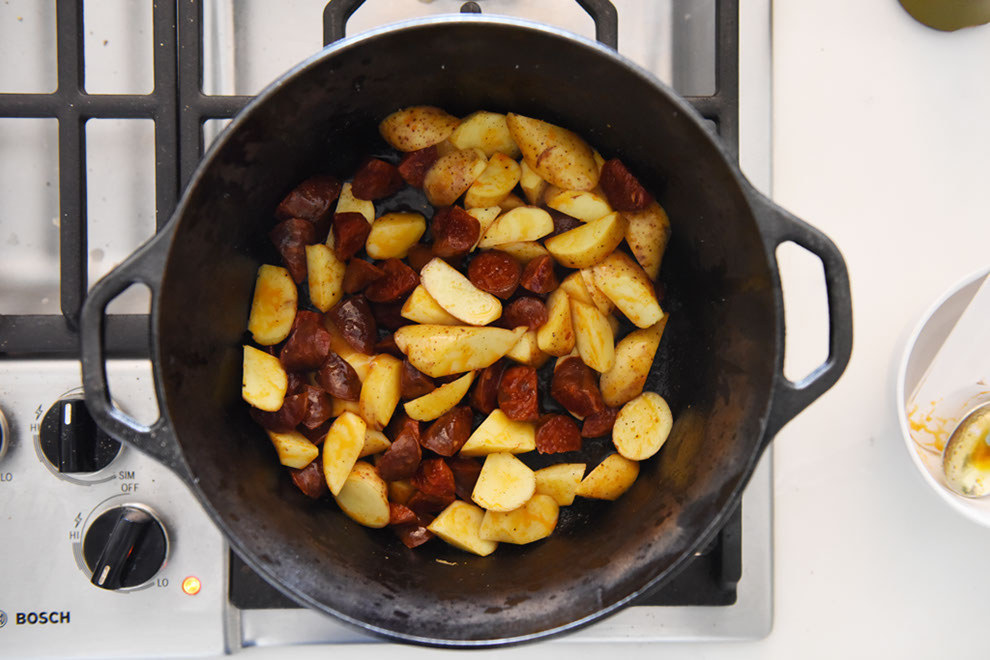 5.
Season with salt — sprinkle from high up.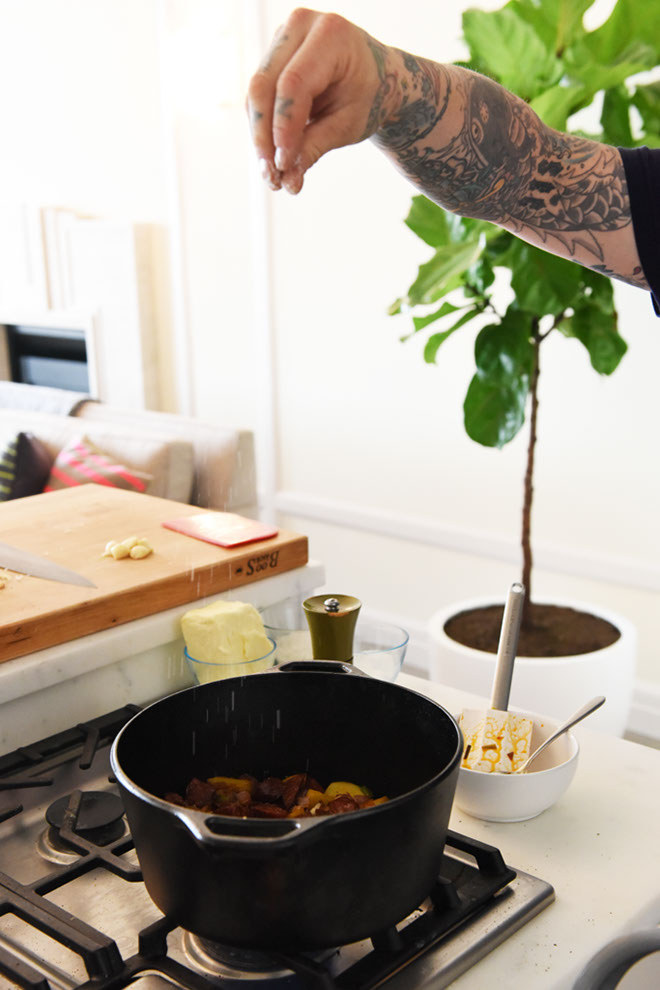 CHEF'S TIPS:
1. "Sprinkle salt from high so it evenly distributes. Whereas if you just put a little it sticks to one piece no matter how much you stir it."
2. "Most people put too much salt in the beginning and too much in the end of cooking. If you put a little bit throughout the entire process it's going to be so much better."
6.
Gather the sprigs of thyme in a bunch, then use a couple pieces of butcher's twine to tie the thyme together pretty tightly. Trim any extra twine.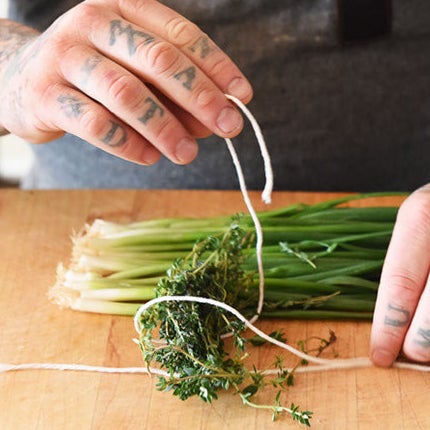 CHEF'S TIP:
When cooking with woody herbs like thyme or rosemary, it's often easiest to tie a whole bunch together with butcher's twine, then add the bunch to the pot rather than strip off leaves. Tied in a bundle, it's easy to remove the herbs all at once at the end.
7.
Trim the root off a bunch of scallions then slice the scallion whites into 1/4-inch pieces.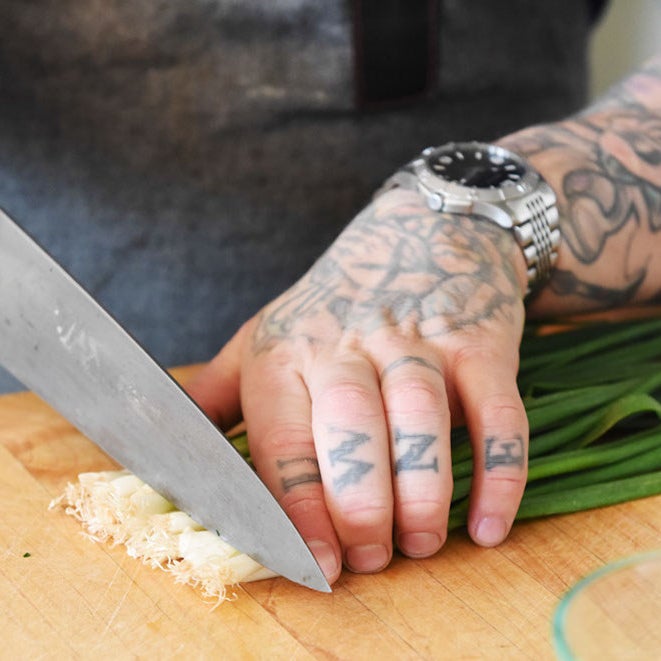 8.
Add the scallion whites to the pot.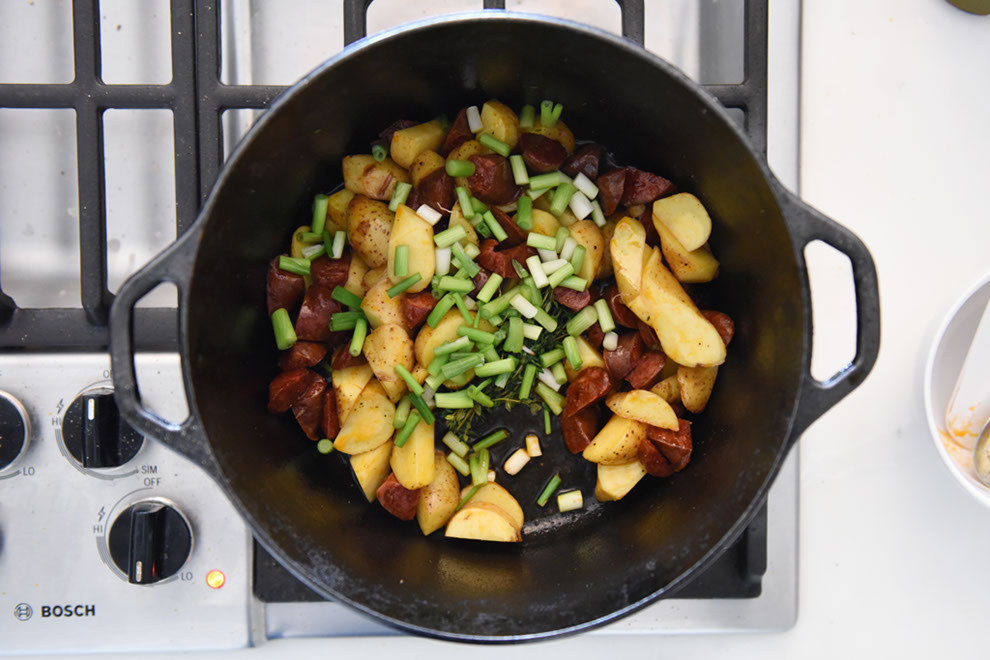 For all of these tasks, Bissonnette uses a bench scraper to transfer food to the pot....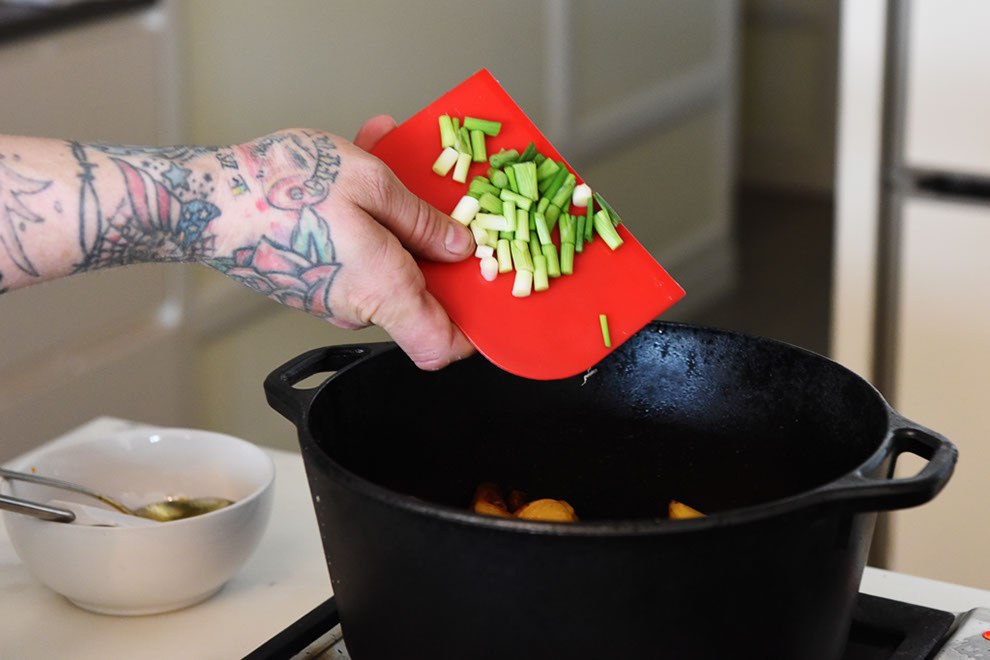 ... and clean up scraps headed for the trash.
9.
Thinly slice the scallion greens, then set them aside. You'll use them for garnish later on.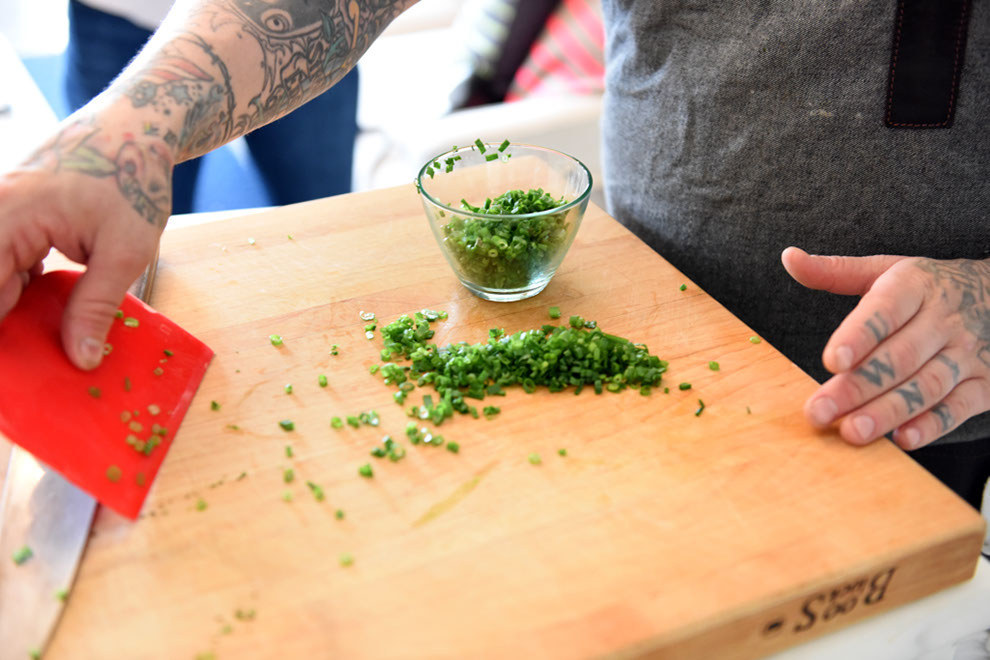 10.
Peel and dice the red onion.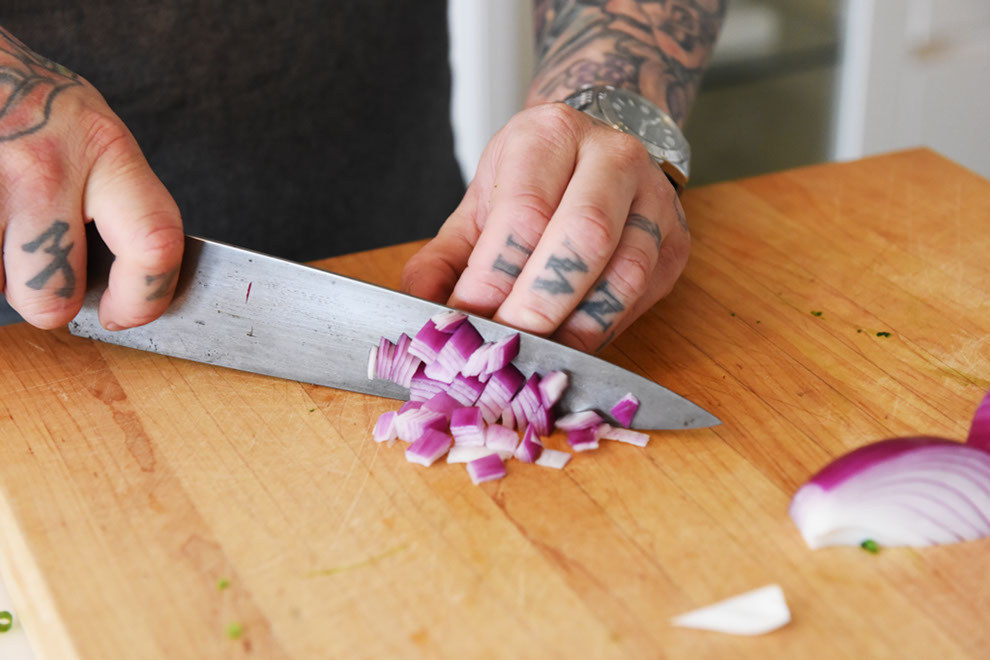 11.
Add the red onion to the pot. Every time you add a new ingredient, give everything a good stir.
12.
Peel and thinly slice the garlic.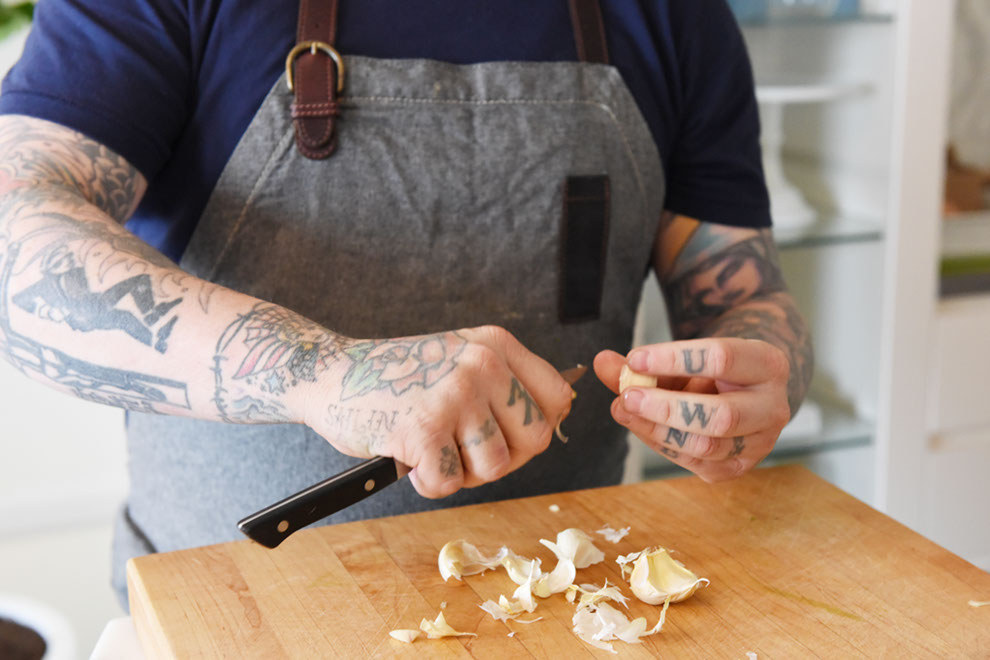 CHEF'S TIP: Always create a flat edge on the food you're slicing, then put the food on that flat edge before you slice.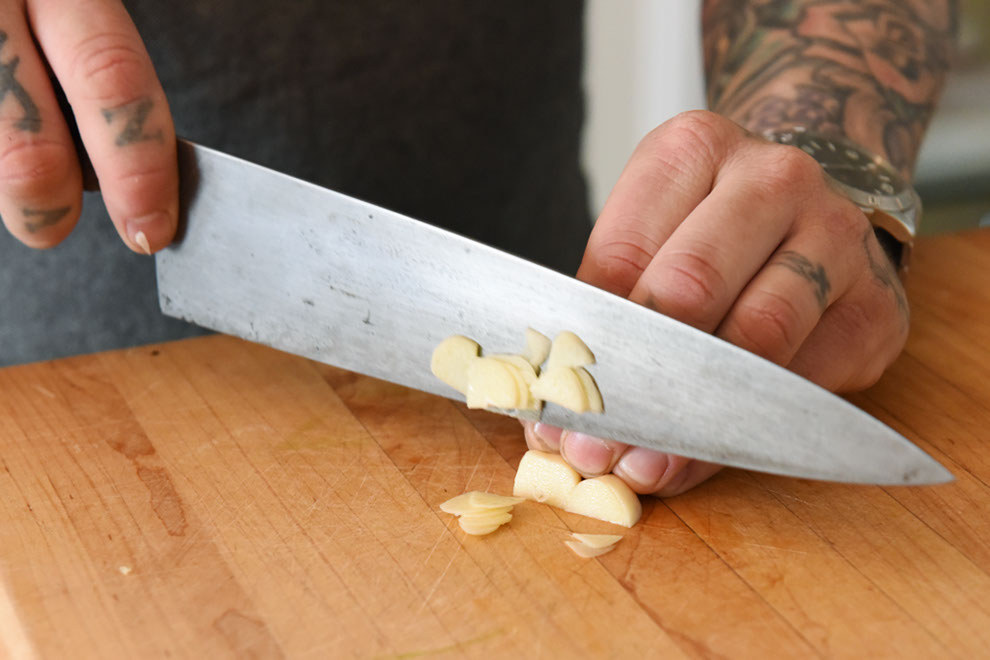 13.
Add the garlic to the pot. By now, the potatoes will have started to soften a little bit.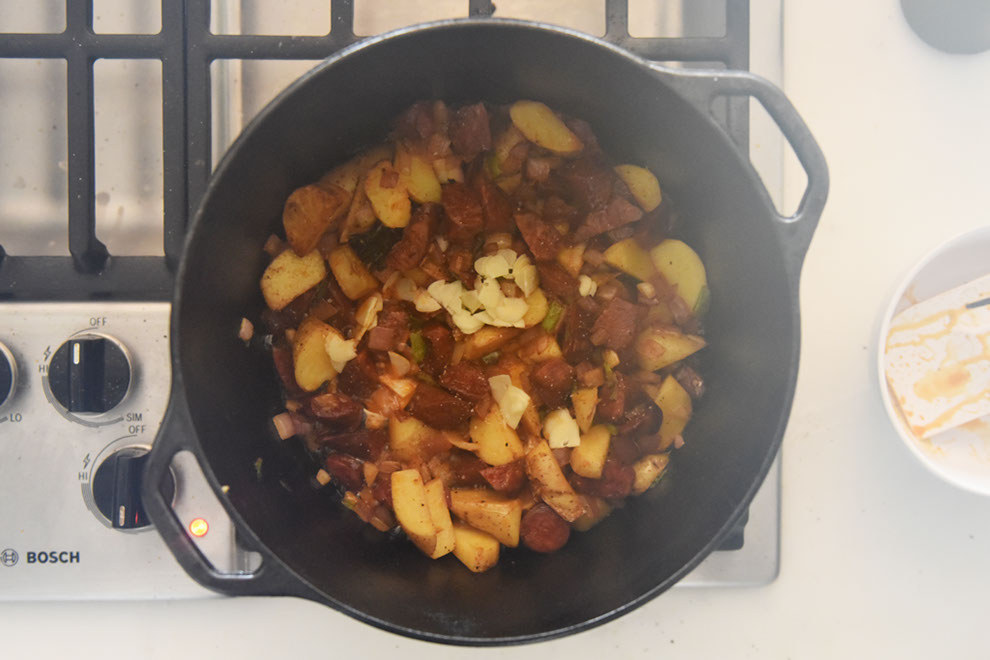 14.
Halve the squash, scrape out the seeds, and cut the squash lengthwise into strips about 1/2-inch thick.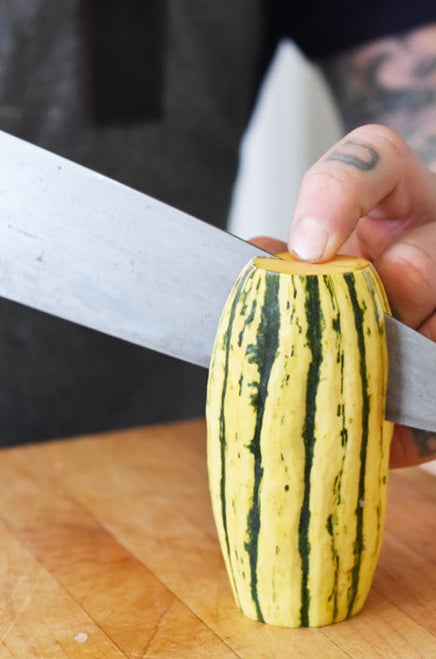 CHEF'S TIP: Don't try to cut a pile of vegetables that's too wide to fit comfortably in your hand, like this: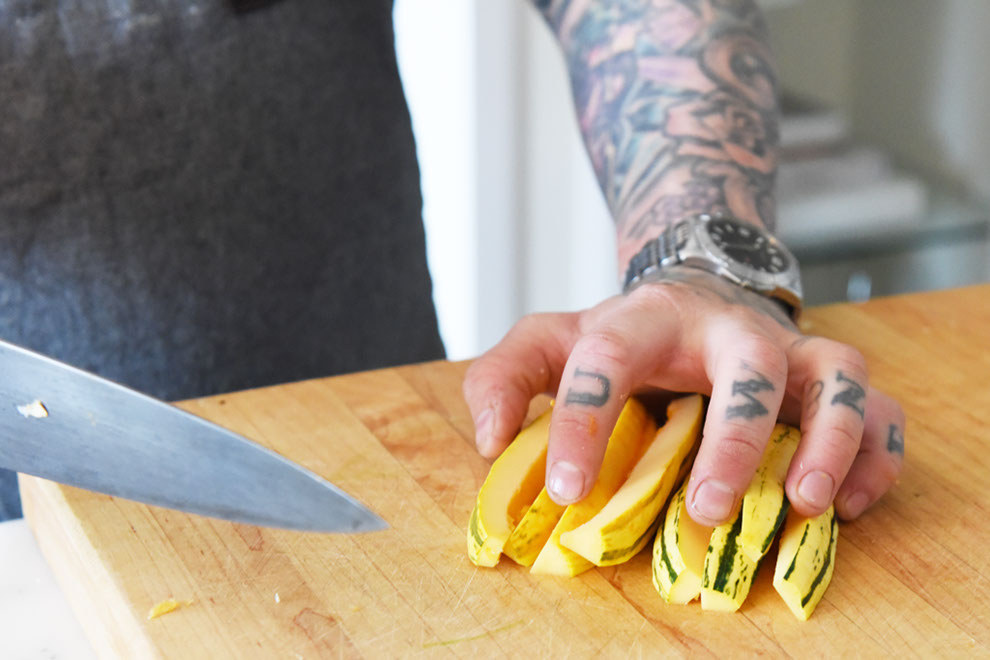 DO slice a pile of vegetables just wide enough to fit comfortably between your thumb and ring finger as you hold it together.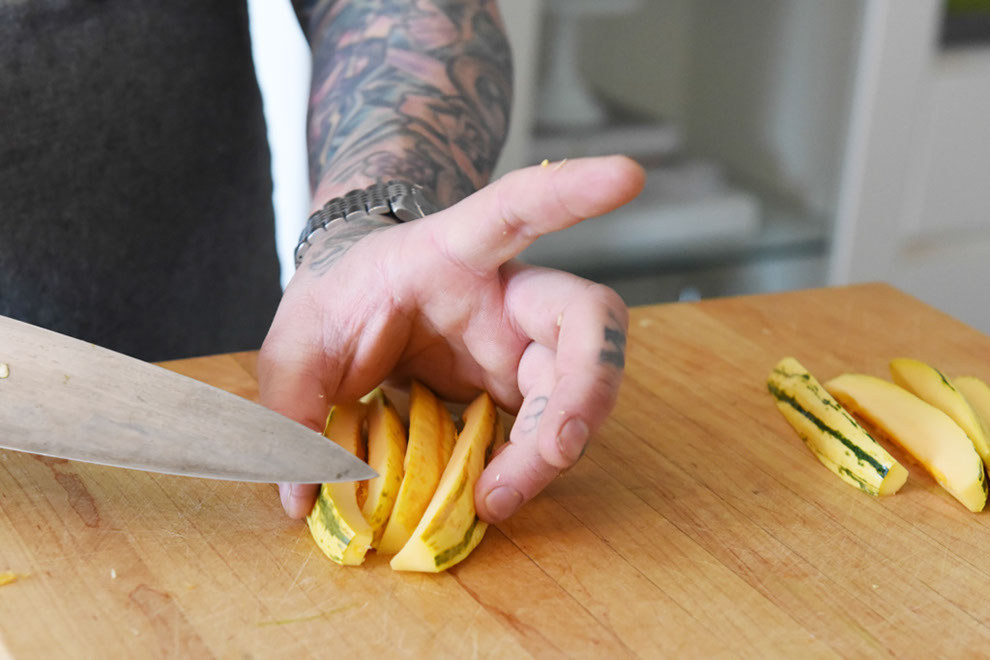 15.
Cut the squash into rough 1/2-inch cubes.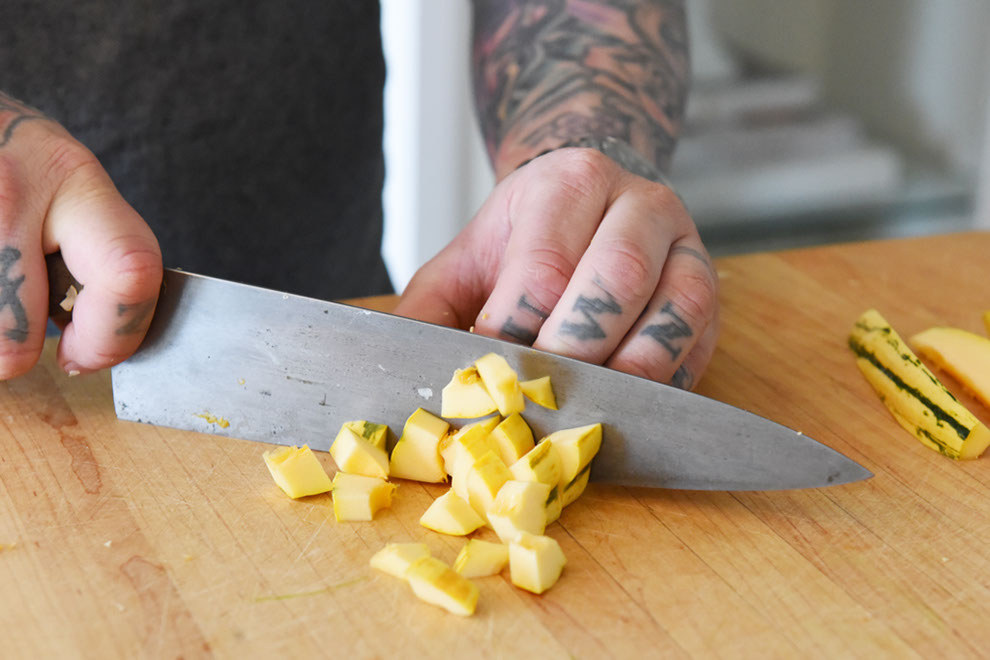 16.
Add the squash to the pot and season with salt and pepper.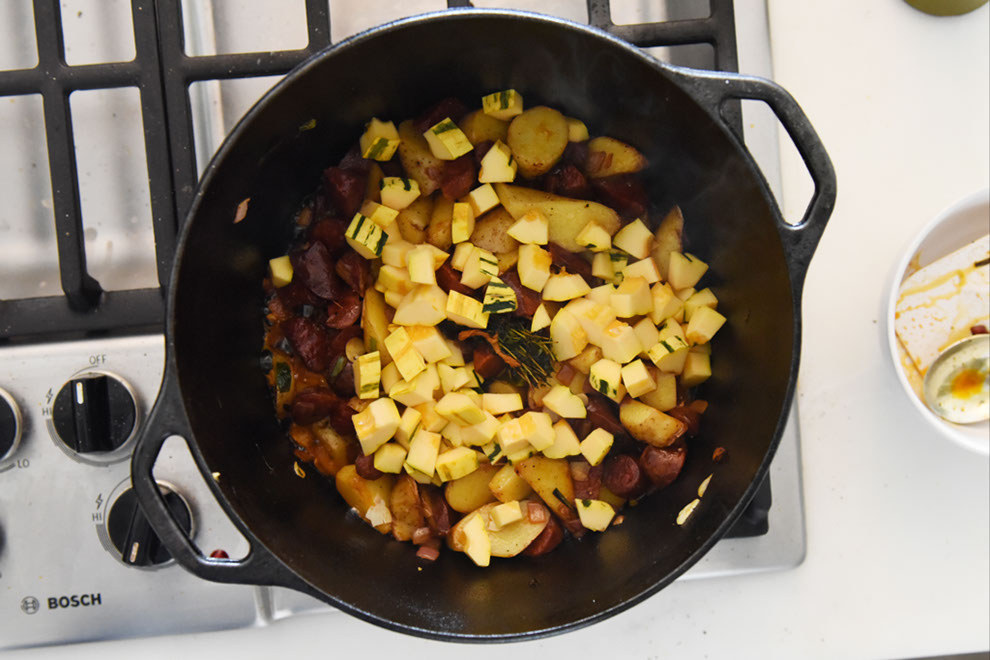 17.
Add 1/4 cup water to the pot right after you add the squash to create some steam, then cover the pot. Turn the heat down to low and let the hash cook, covered, while you make the pan con tomate.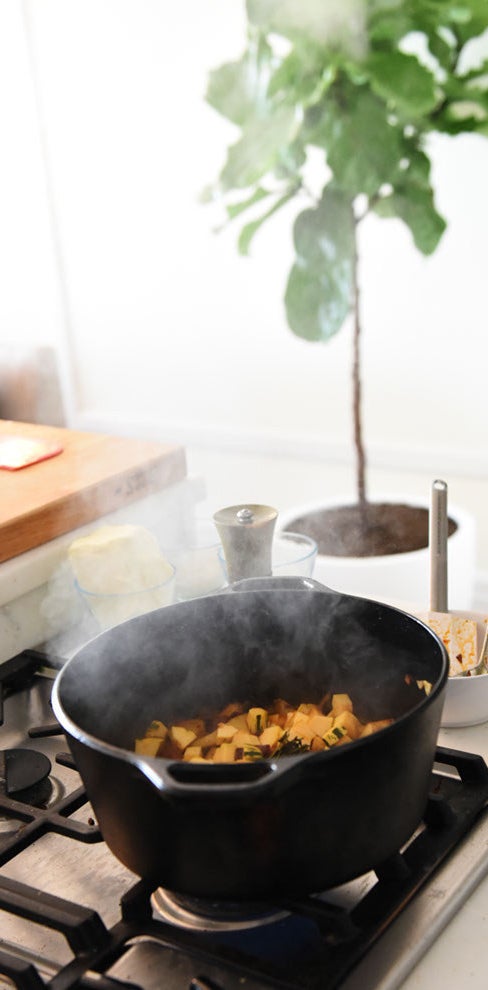 18.
Lay a loaf of bread flat on your cutting board, then cut it in half, lengthwise, slicing with your knife parallel to the cutting board.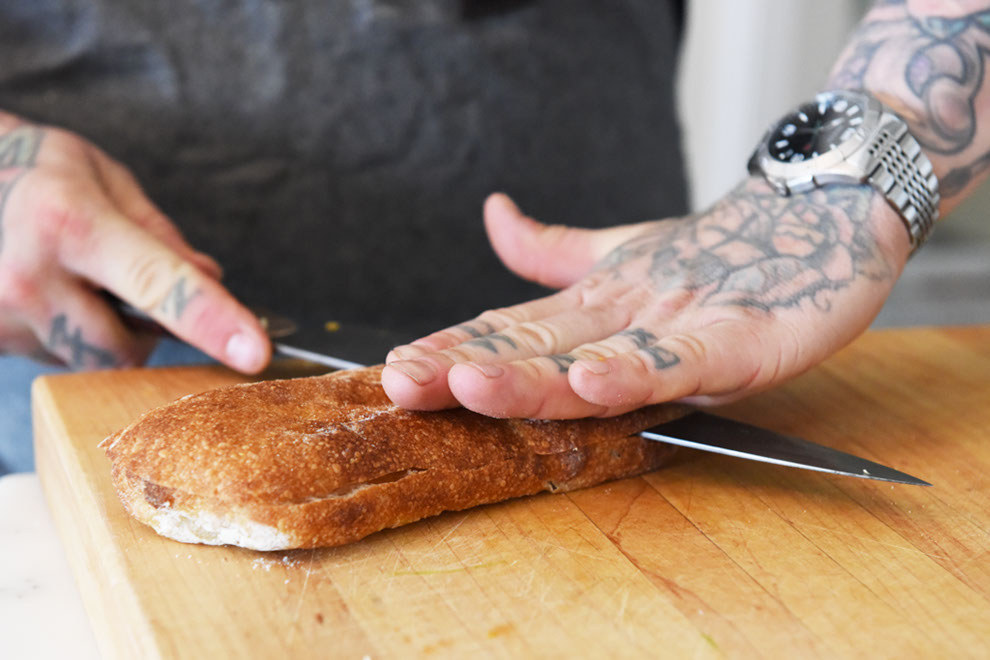 19.
Halve the other loaf, then cut all the halves cross-wise, so that you have eight square-ish pieces.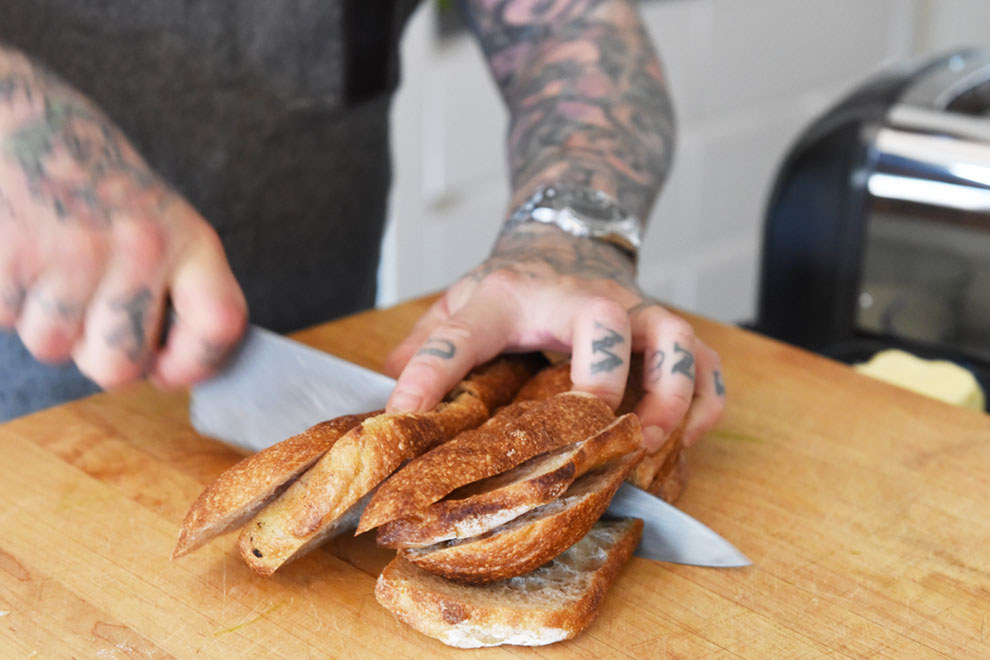 20.
Toast the bread with your toaster on the highest setting, working in batches.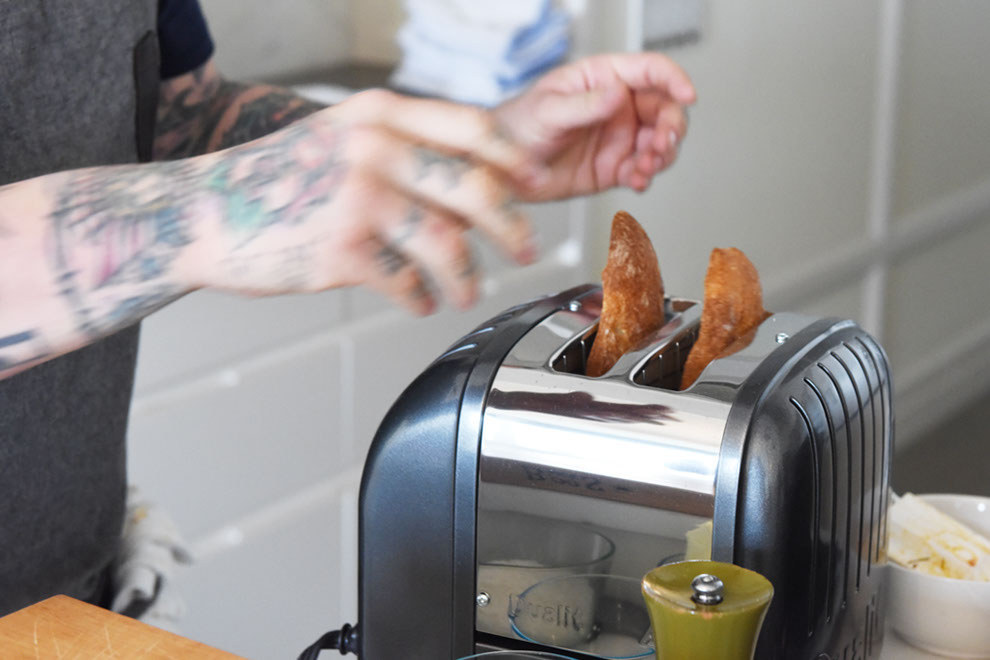 21.
Quarter the tomatoes, then cut off the layer of white pith but LEAVE THE JUICY PART AND THE SEEDS.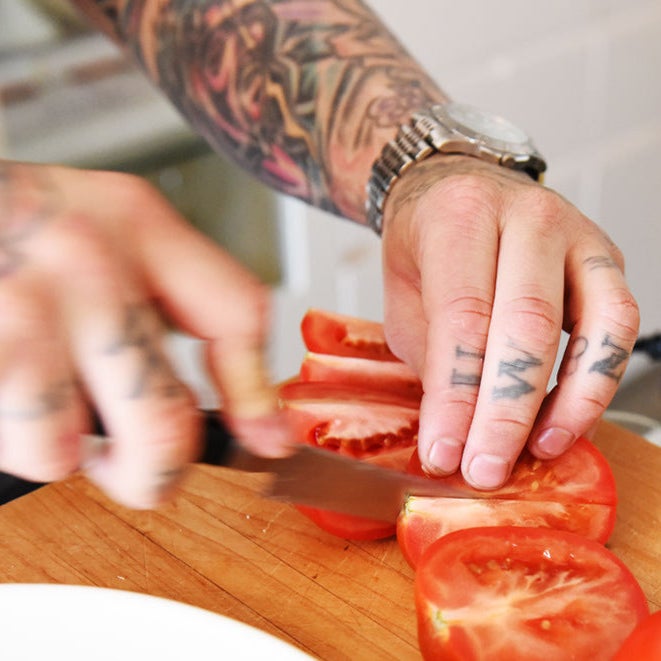 This way, when you smash the tomato onto the bread, there will be nothing standing between the bread and the seeds, aka nothing standing in the way of maximum deliciousness.
22.
Halve the garlic cloves.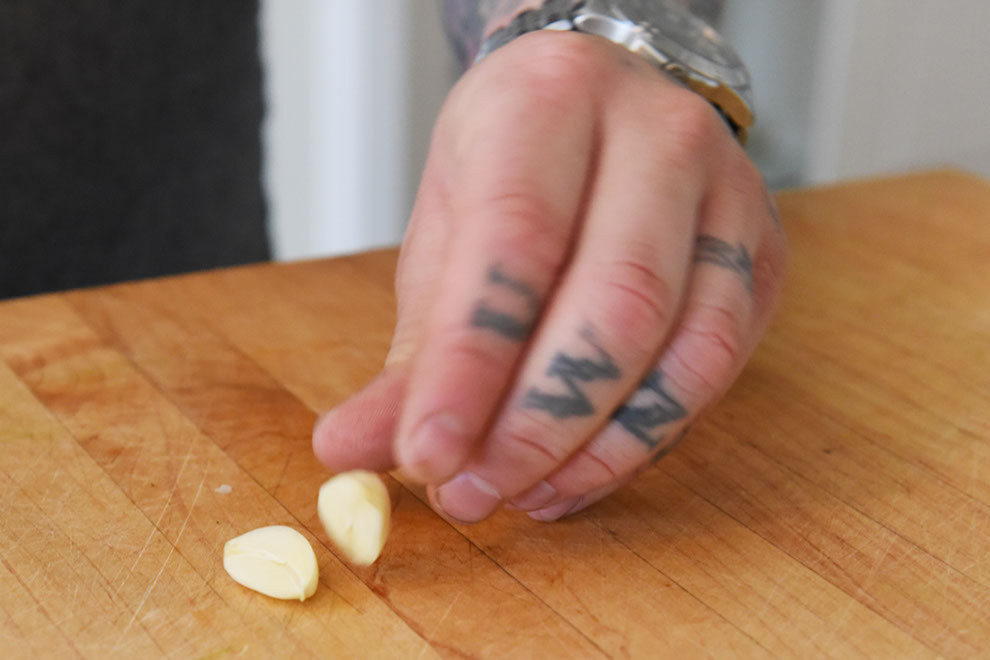 23.
Make sure your bread is very hot and crispy when it comes out of the toaster. If it's a little bit blackened, that's OK.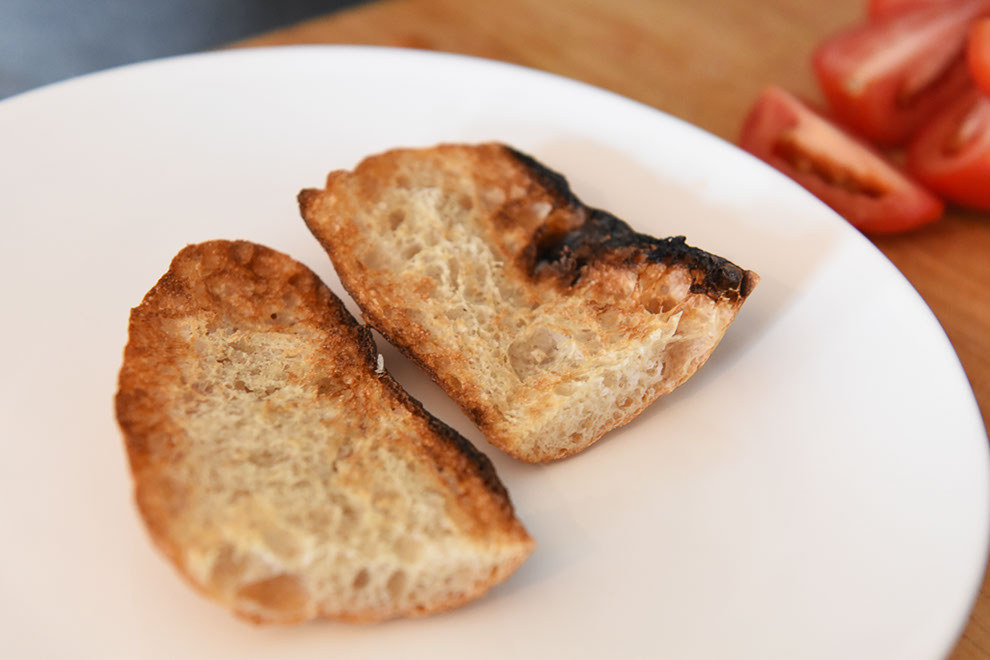 24.
As soon as the bread is out of the toaster, rub it aggressively with the cut garlic, then with tomato. You want to mash the tomato into the bread.
25.
Season with salt and pepper.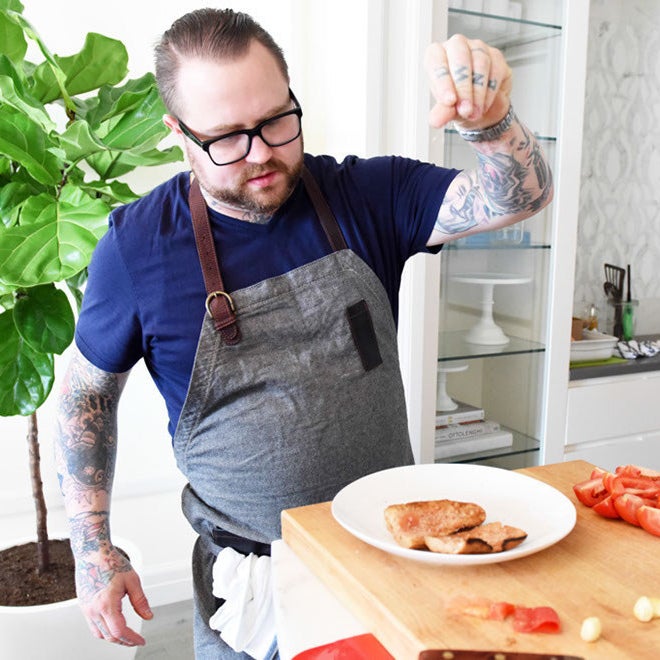 26.
Drizzle with olive oil to finish.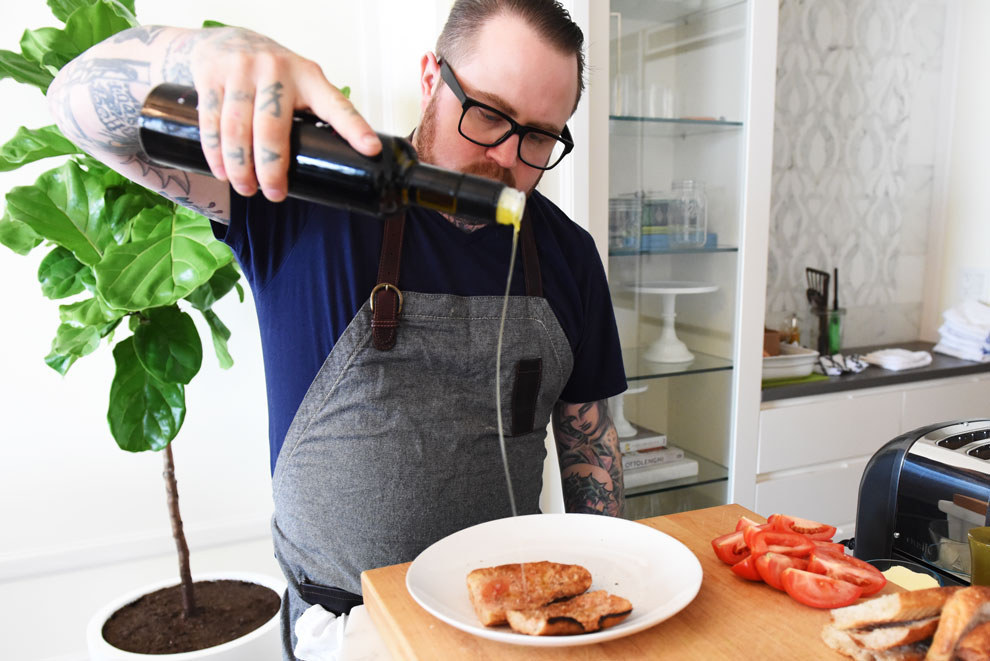 27.
Repeat the process with all eight pieces of bread. Set aside the pan con tomate until you're ready to plate.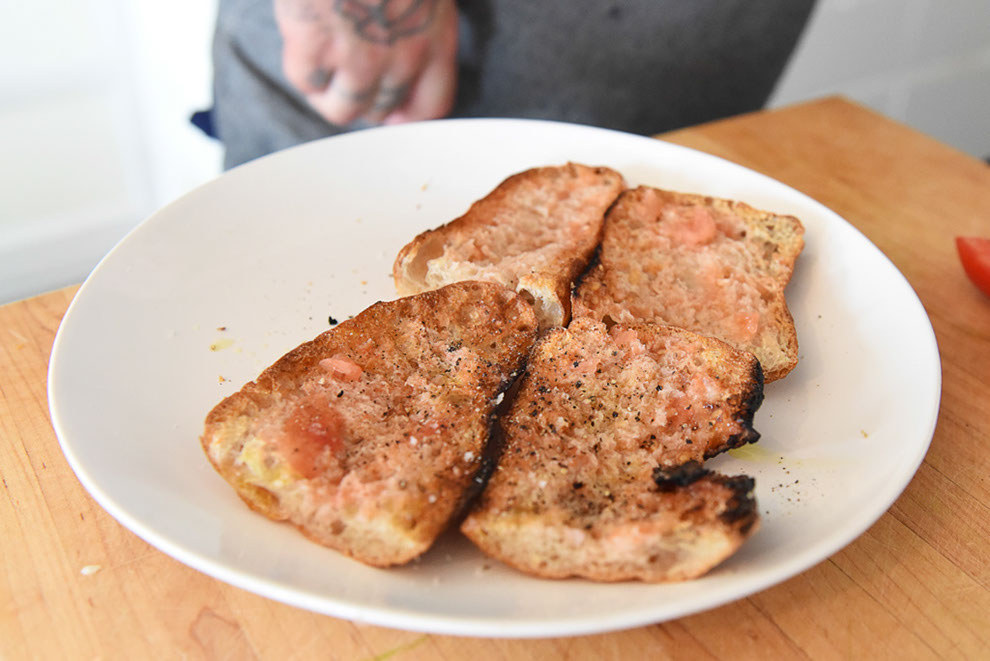 28.
While you're making the pan con tomate, don't forget about the hash. Every couple minutes, take the lid off and stir.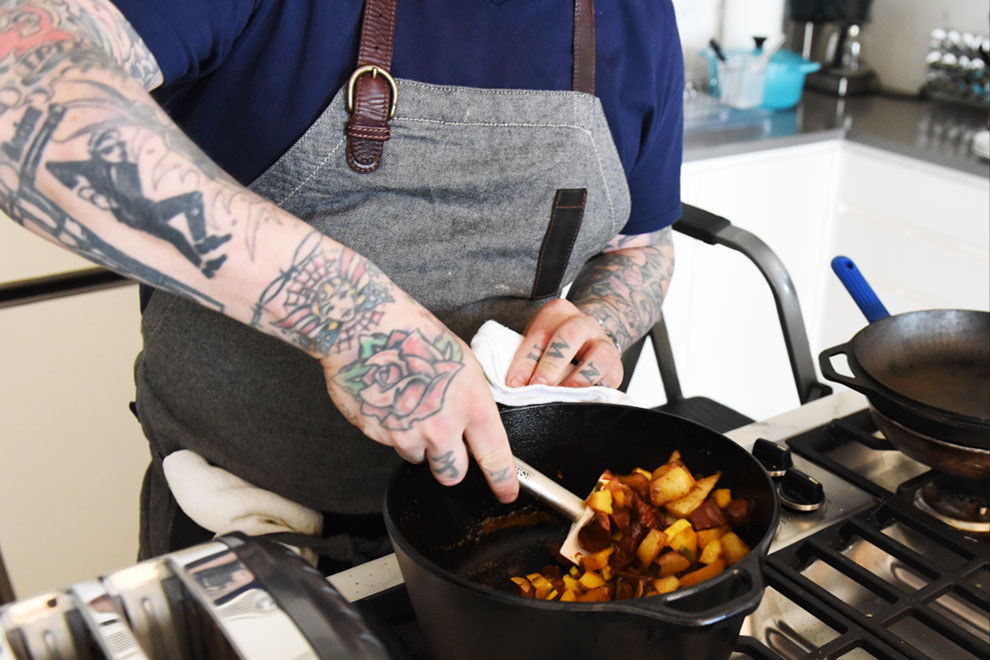 29.
Don't waste food! Save the crushed tomato scraps, then chop them up to add to your hash later.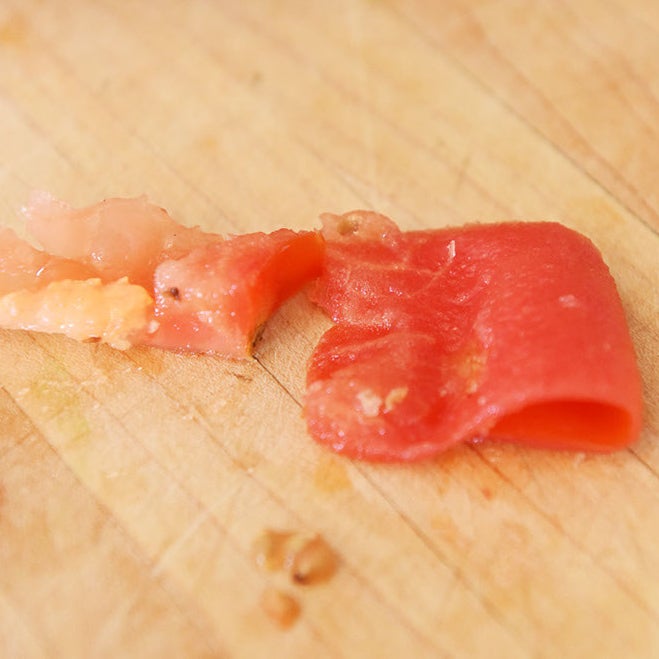 30.
To finish the hash, thinly slice the shishito peppers into rings.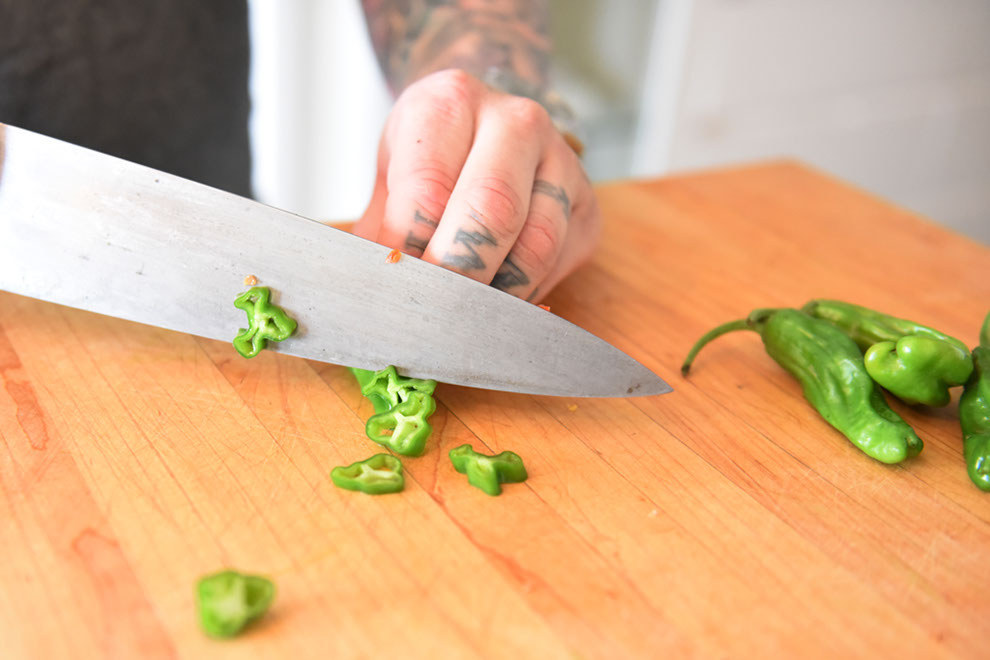 CHEF'S TIP: Always cook with a sharp knife.
A sharp knife will slice through the peppers without crushing them. If yours doesn't, sharpen it. A sharp knife is a cook's most valuable tool. Investing in a Japanese whetstone is a commitment, but it's worth it if you're willing to spend the time maintaining your own knife. Learn more about whetstone sharpening here. If that seems like too much, many specialty kitchen stores will sharpen your knife for about $10.
31.
Cut the radishes into bite-size pieces, again using the roll cut.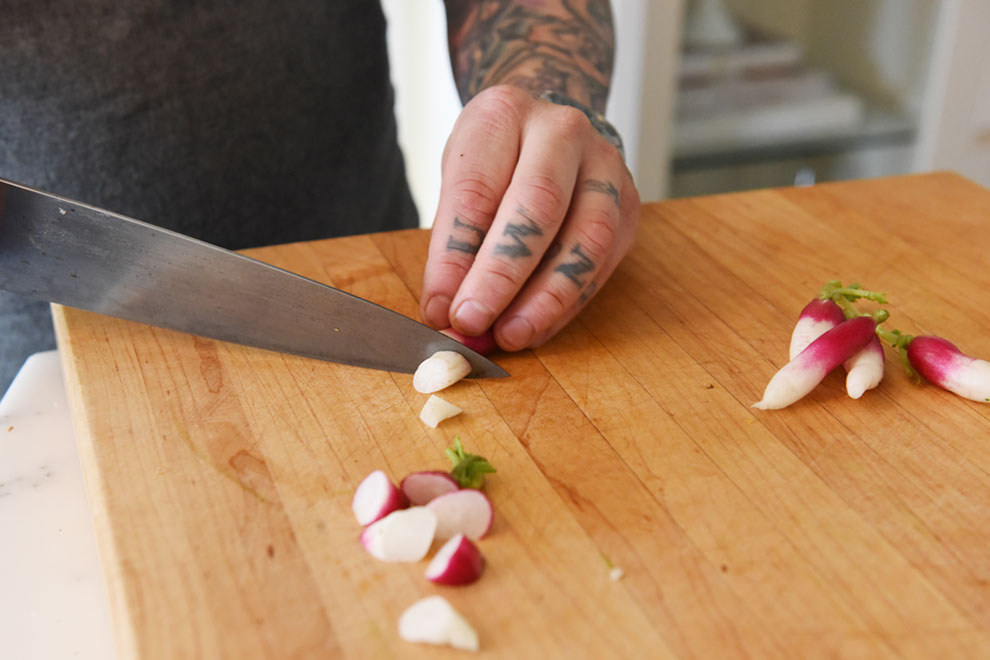 32.
Add the chopped tomato scraps, shishito peppers, radishes, and butter to the pot. ("Radishes and butter are better together," chef says.) Season and stir.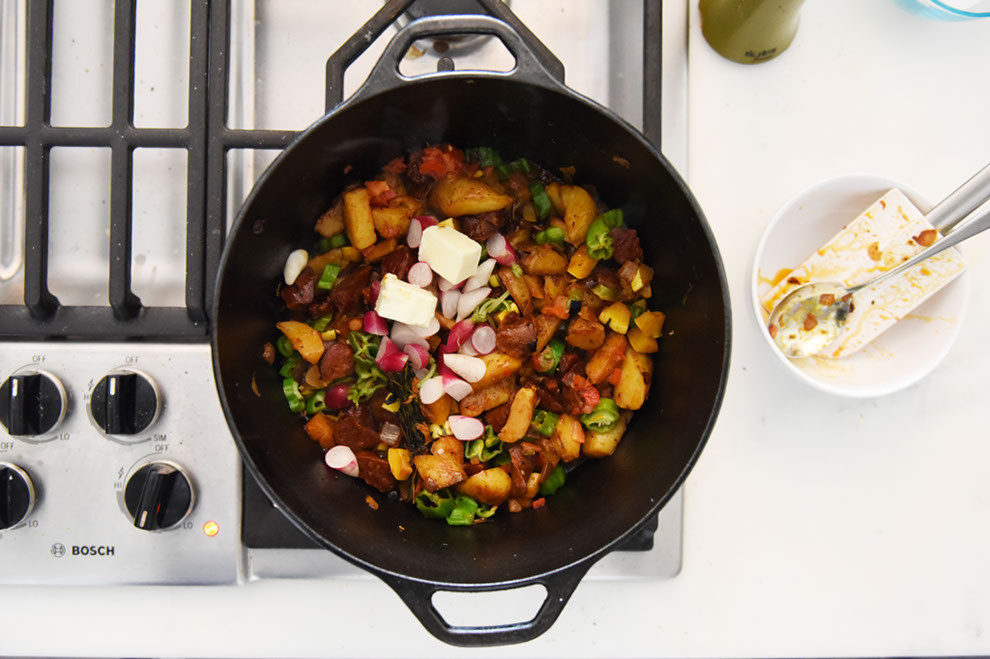 33.
CHEF'S TIP: It seems obvious, but don't forget to taste your food as you cook.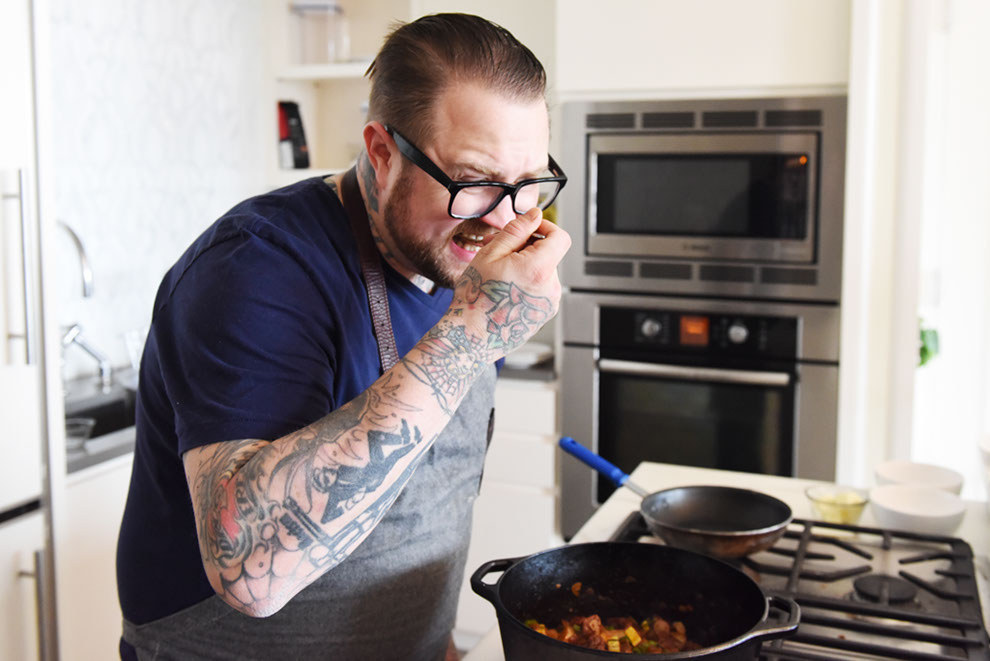 34.
Let the hash continue to cook, uncovered, over very low heat while you fry the eggs.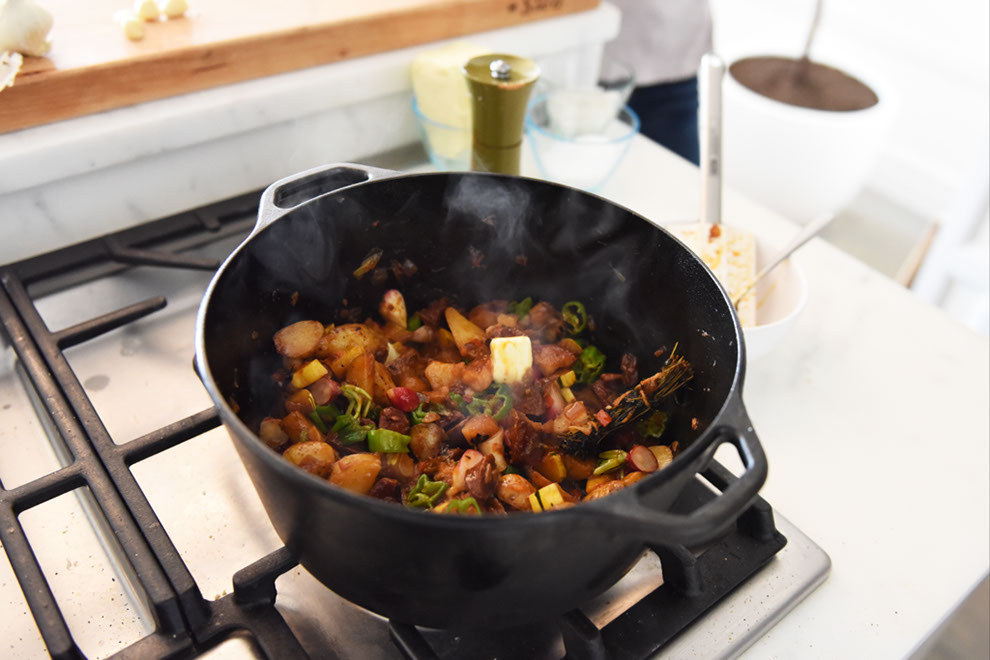 35.
Bissonnette has a specific egg-cracking technique that comes from Jaques Pépin, "who is God."
36.
Lightly crack your egg on a flat surface.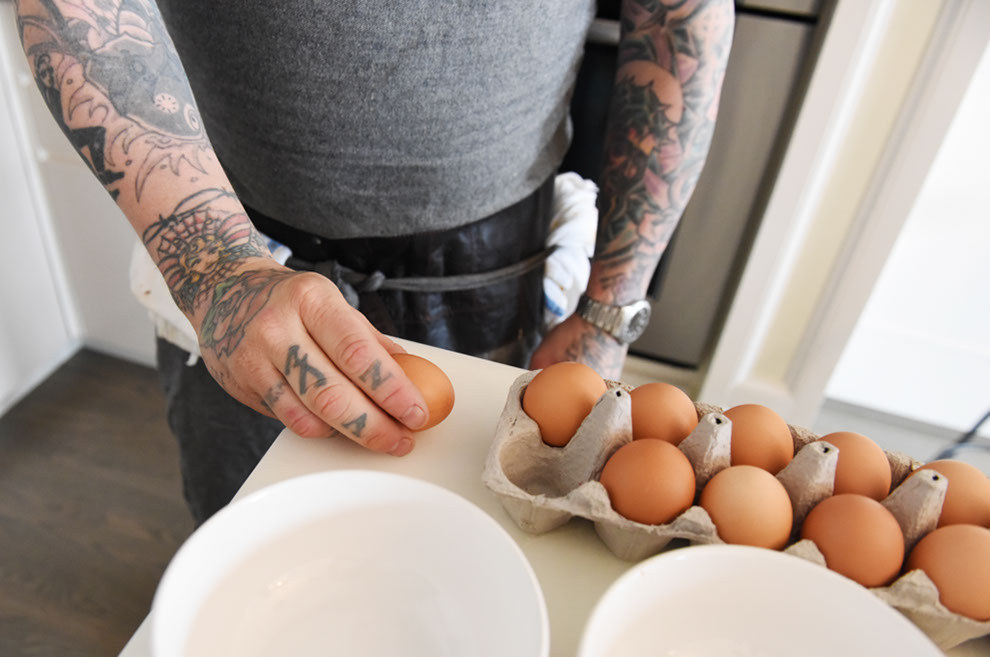 37.
There will be a little divot in the middle of the eggshell once you've cracked it.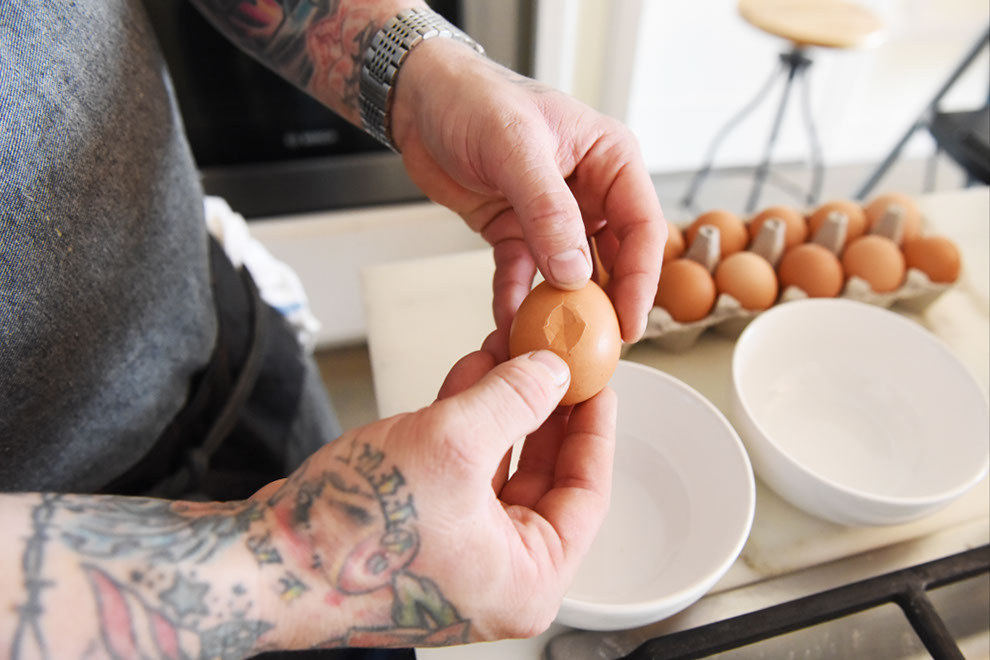 38.
Pull the two halves of shell apart gently using your thumbs in that divot, and the egg will crack cleanly in half.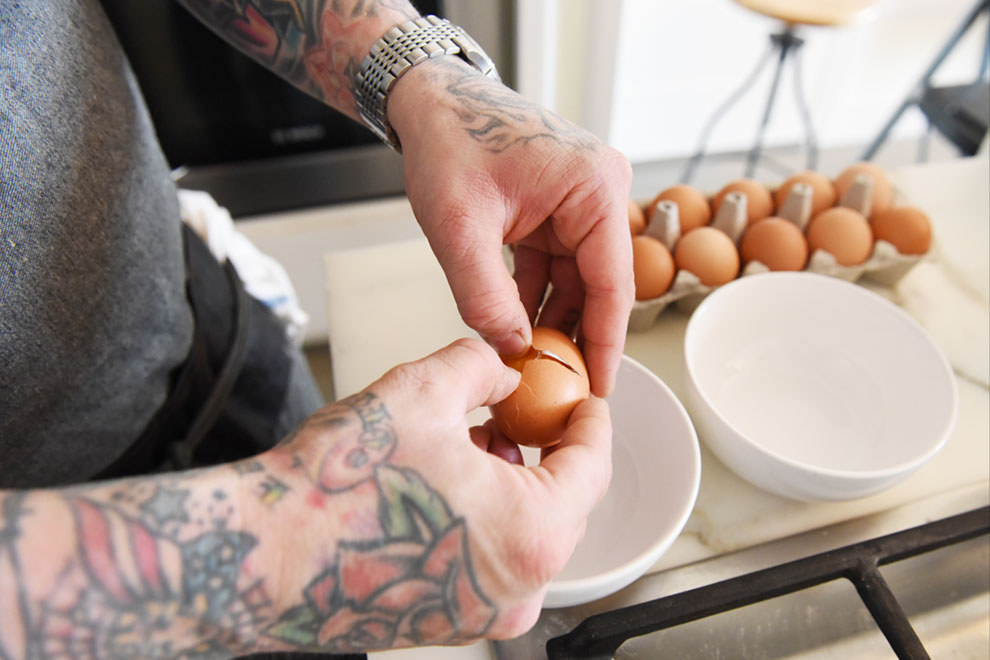 Crack them into a bowl two at a time because you'll fry two at a time.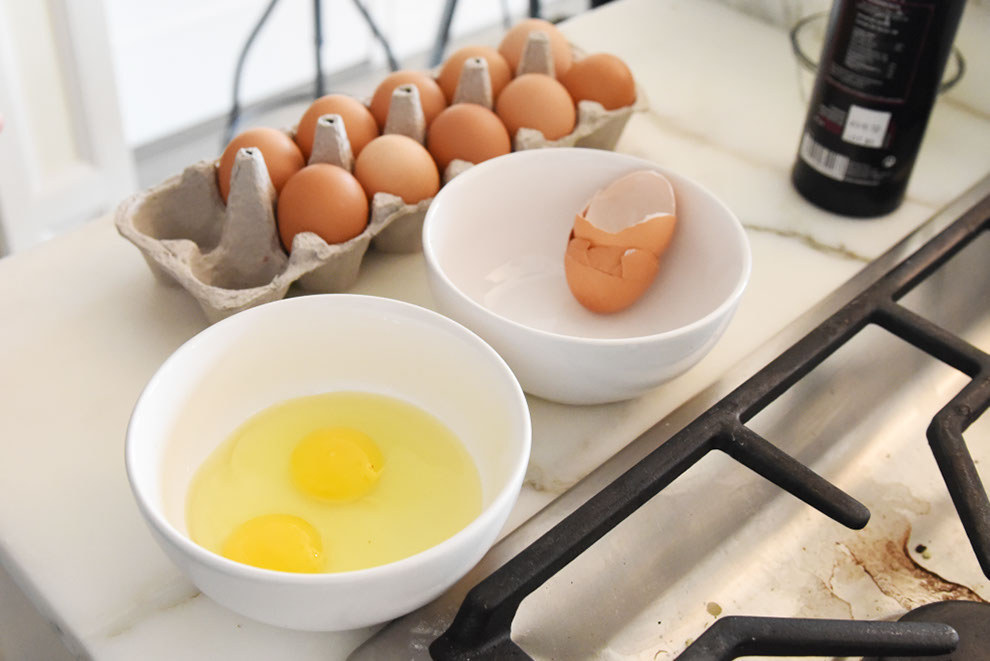 39.
Add a good amount of olive oil (3 tablespoons) and a pat of butter to a nonstick pan over low heat, then add half a bay leaf and half a clove of garlic right before the butter is completely melted.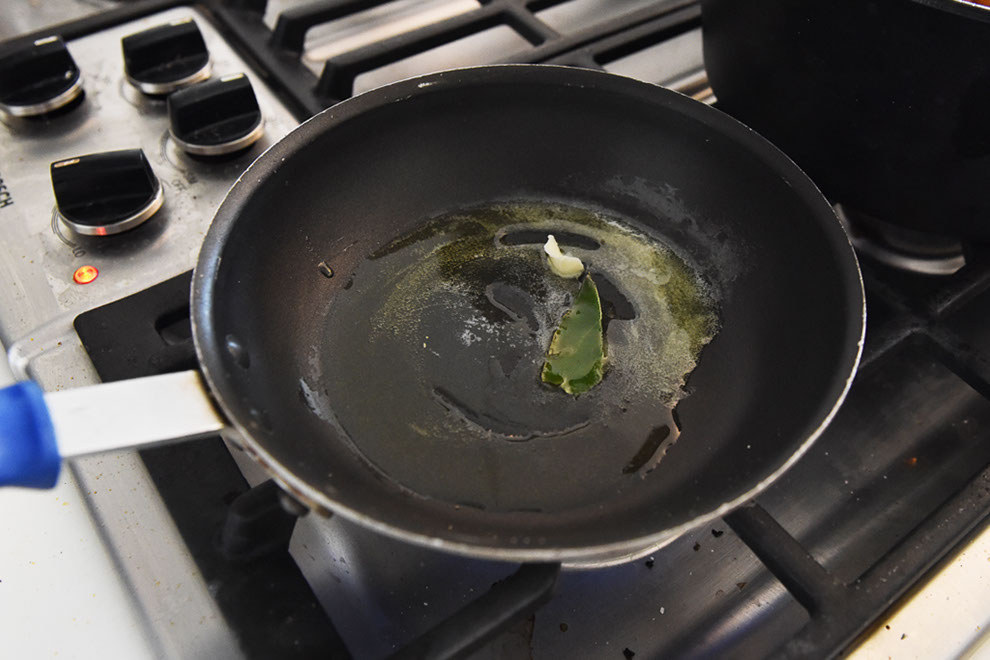 40.
Swirl the garlic around the skillet with a fork, just to make sure the flavor gets everywhere.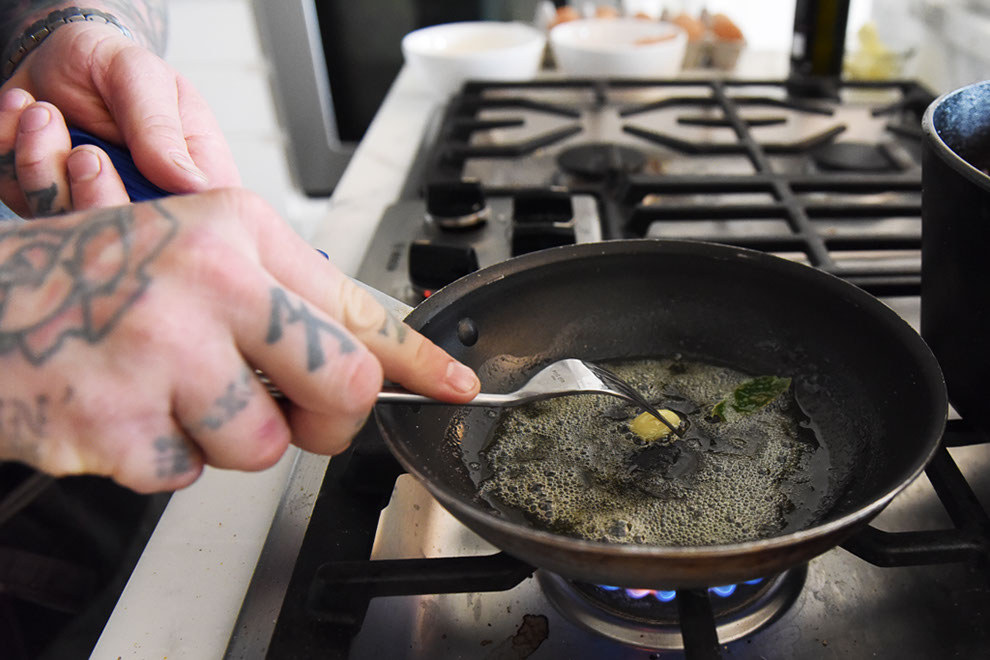 41.
Definitely, DEFINITELY remove the garlic and bay leaf before you add the eggs.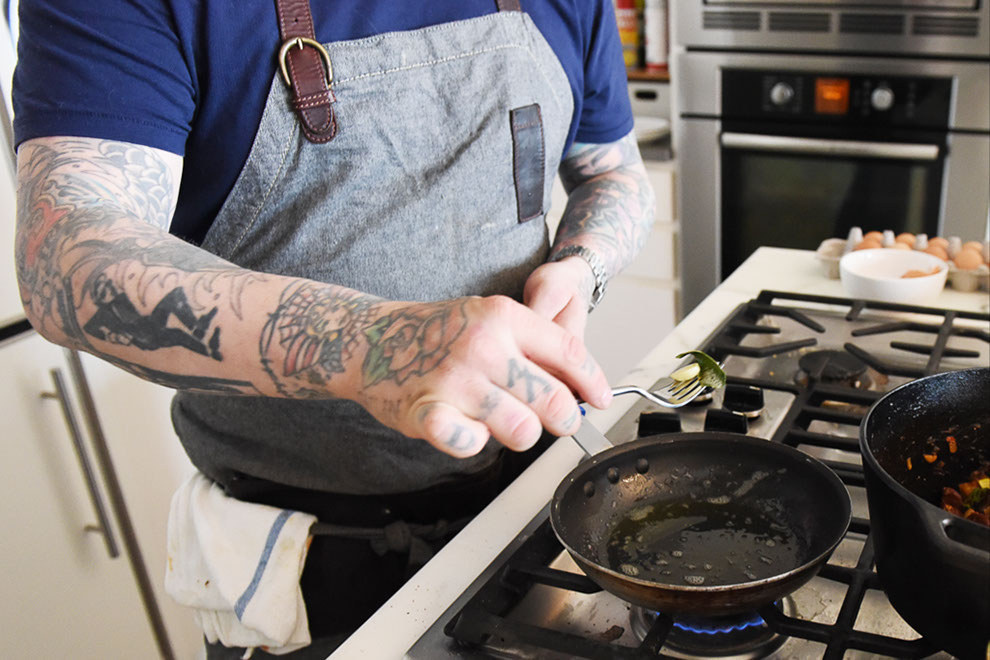 42.
Also, now is a good time to take that bunch of thyme out of the hash and throw it away.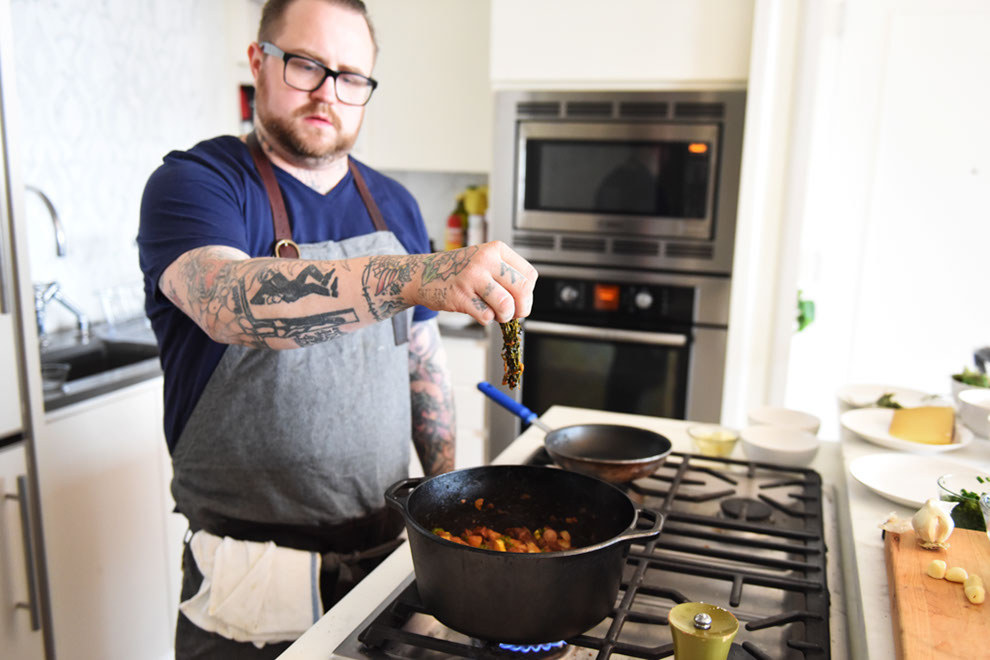 43.
Add the eggs to the skillet, making sure your heat is turned to low.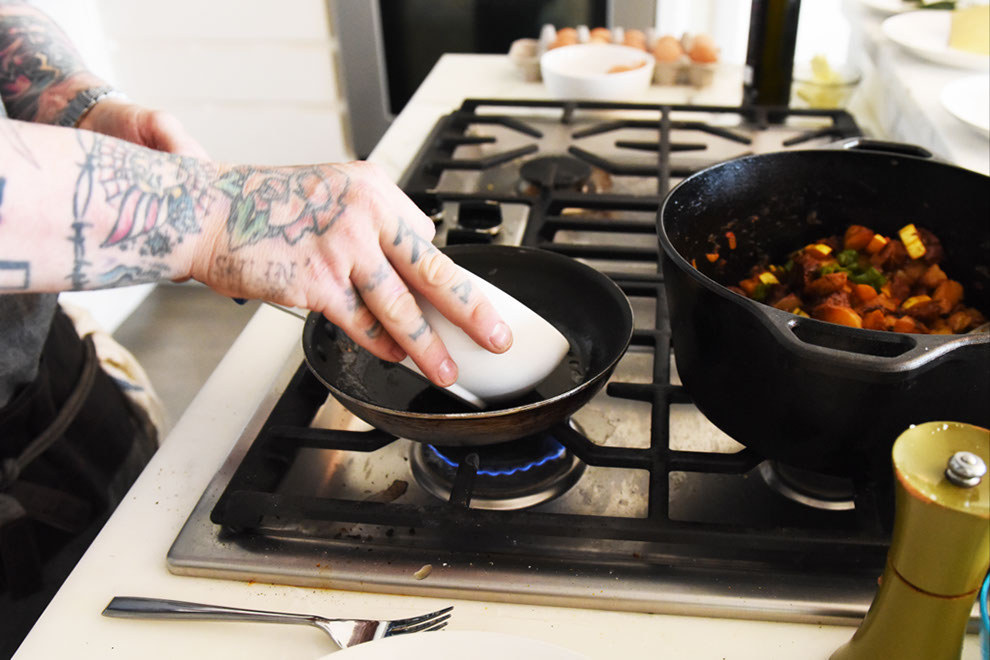 CHEF'S TIP: Hold the bowl low near the pan so that you can slide the eggs into the pan instead of dropping them — this means they won't break and also the oil won't splatter.
If your heat is low enough, your eggs shouldn't bubble when they hit the skillet. Also, the whites shouldn't turn opaque immediately.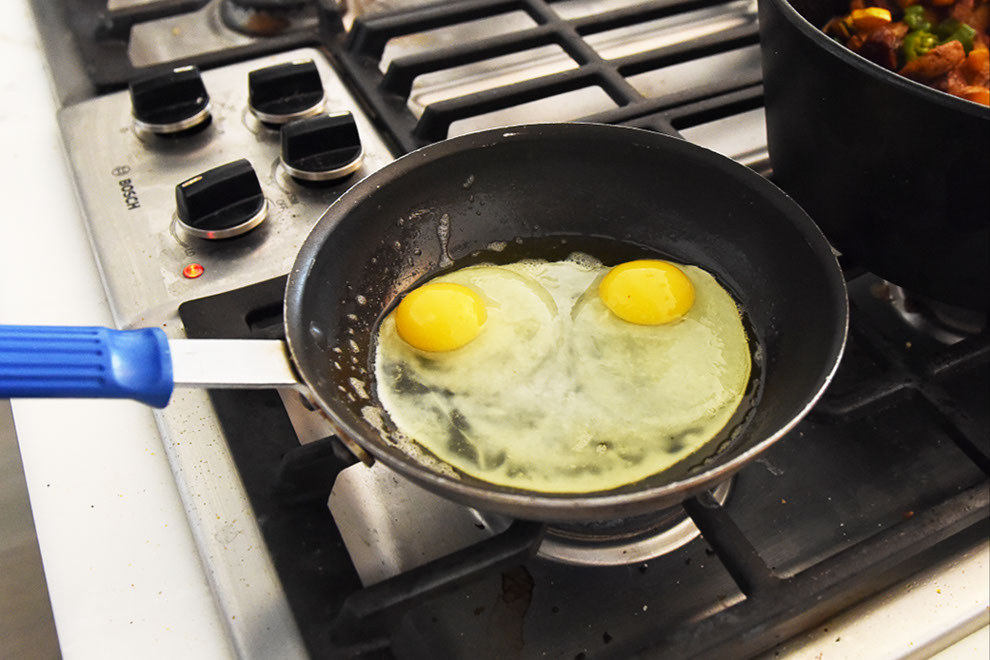 44.
Season with salt and pepper — again, season from up high so that the salt and pepper are evenly dispersed.
45.
To cook your eggs faster without discoloring the yolks: Add one spoonful of water to the side of the skillet, then cover the skillet for EXACTLY 20 SECONDS. Remove the lid.
46.
And/or baste your eggs: Tilt the skillet so that the oil and butter pools on one side, then spoon that hot fat gently onto the uncooked whites.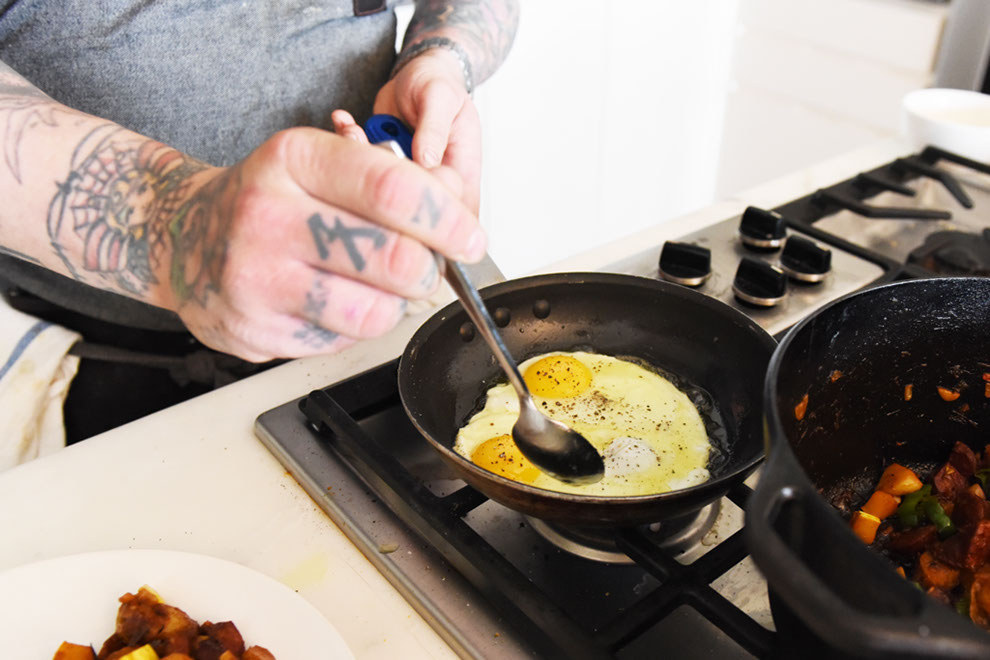 47.
While the eggs are cooking, divide the hash and pan con tomate evenly among four plates.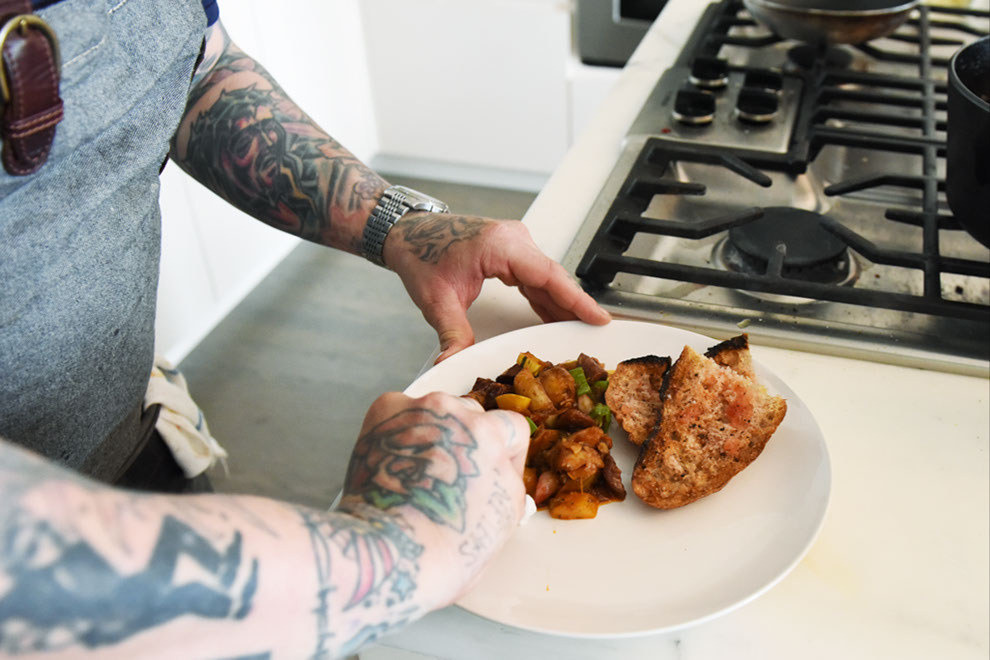 48.
To plate the eggs, tilt your skillet so that the lowered edge is exactly in the center of the plate. Lower the skillet to the plate, then gently slide your eggs on.
49.
PERFECT. Much easier than fussing with a spatula and risking eleventh-hour yolk breakage.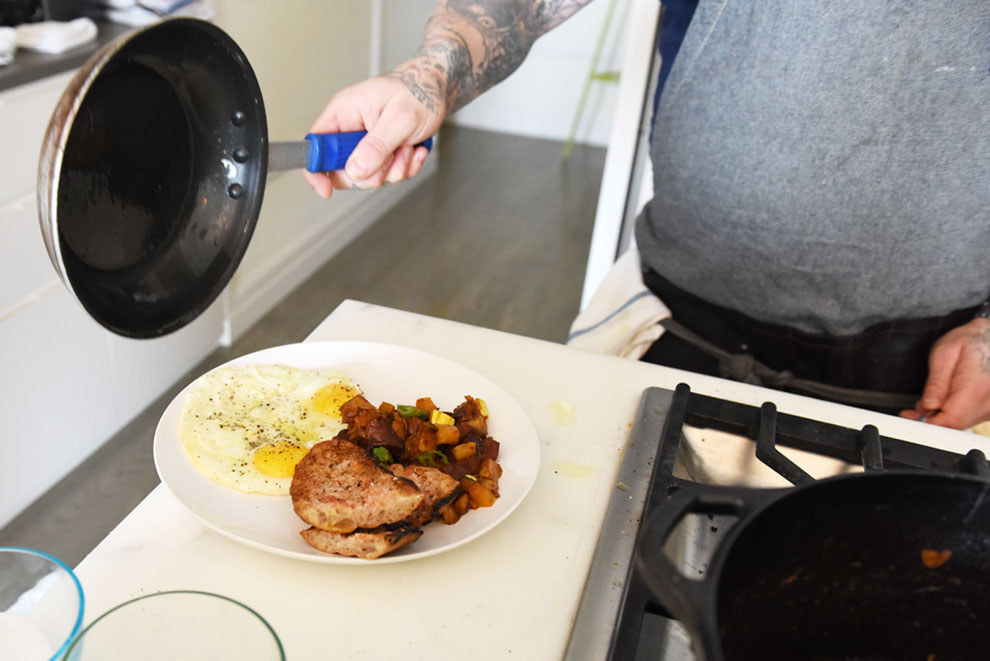 50.
Garnish the eggs with sliced scallion greens and the hash with sorrel leaves. (The sorrel leaves are super optional, since they're not available in most grocery stores.)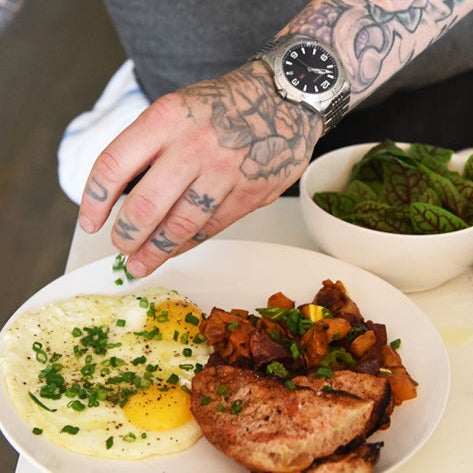 51.
And finally, cheese. Good food is better when showered with cheese.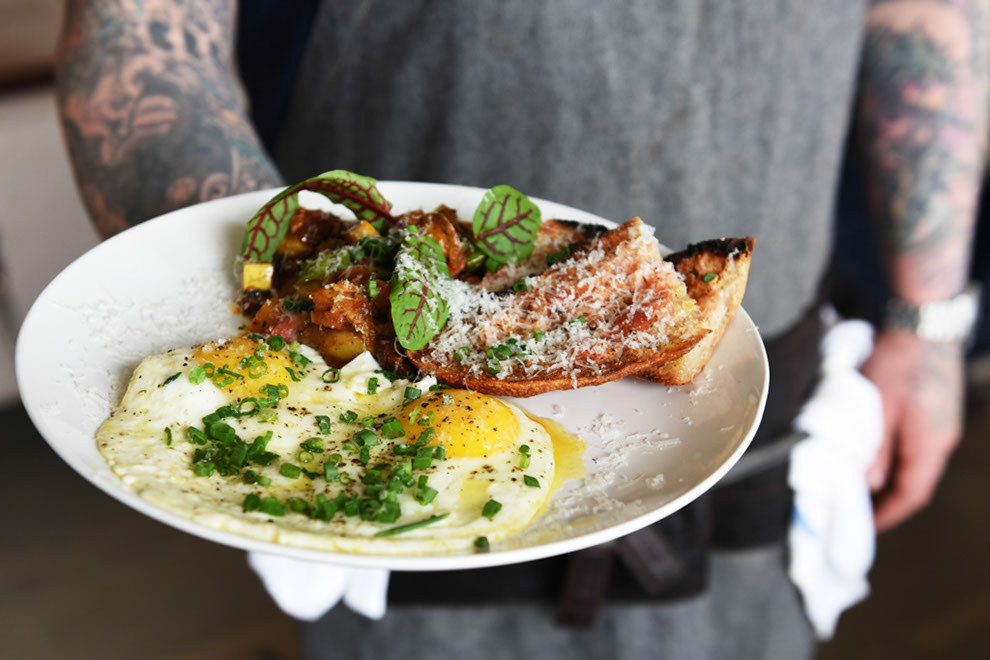 Chorizo and Vegetable Hash with Eggs & Pan Con Tomate
Recipe by Jamie Bissonnette
Serves 4
INGREDIENTS
For the hash:
2 tablespoons extra virgin olive oil (the best stuff you can find)
1 pound cured chorizo, roll cut in bite-sized pieces
1/2 pound fingerling potatoes, roll cut in bite-sized pieces
10 sprigs thyme, tied in a bundle with butcher's twine
1 bunch scallions, whites thinly chopped and greens chopped into 1-inch pieces, divided
1 medium red onion, diced into rough 1/4-inch pieces
6 cloves garlic, peeled and thinly sliced
1 small delicata squash, diced in 1/2-inch pieces (no need to peel)
6 shishito peppers, thinly sliced into rings
6 small radishes, roll cut in bite-sized pieces
2 tablespoons unsalted butter
kosher salt and freshly ground pepper
1 ounce manchego cheese (you can substitute another hard, aged cheese)
optional: small bunch sorrel leaves (optional garnish)
For the pan con tomate:
2 small loaves ciabatta or other flat, crusty bread (each one should be sandwich-size)
2 cloves garlic, halved lengthwise
2 ripe tomatoes, quartered
sea salt and freshly ground pepper
4 tablespoons extra virgin olive oil, divided
For the sunny side-up eggs:
4 teaspoons butter, divided
1/2 cup extra virgin olive oil, divided
2 cloves garlic, halved lengthwise
2 fresh bay leaves, torn in half (optional)
8 large eggs (the fresher the better)
kosher salt and freshly ground pepper
PREPARATION
For the hash:
1. Heat olive oil in a medium dutch oven or pot (about a 3-quart volume) over medium heat. When the oil is hot but not sizzling, add cut chorizo. Cook slowly to render some fat but not to color or caramelization on the meat, about 2 minutes.
2. When the fat has started to render — when there is more oil in your pot than you started with and it's starting to turn the deep crimson color of the chorizo — add the cut fingerlings to the pot, season with salt and pepper, and stir. Add time bundle and cook, stirring occasionally, until the potatoes are just starting to soften on the outside, about 3 minutes.
3. Stir in scallion whites and diced red onion, season with salt and pepper, and stir. Cook, stirring occasionally, until the scallion whites and red onions are soft on the outside and starting to turn translucent, about 3 minutes.
4. Add garlic, stir, and cook for one minute. Add squash and 1/4 cup of water, season with salt and pepper, stir, and cover with a lid. Turn the heat down to low and cook, taking the lid off to stir the pot every couple of minutes, until the potatoes and the squash are soft and cooked all the way through, about 6 minutes. Meanwhile, prepare your pan con tomate.
5. When potatoes and squash are fork tender, uncover the pot and add the chopped tomato scraps from the pan con tomate, sliced shishito peppers, cut radishes, and butter. Stir and then let cook, uncovered, over low heat, while you cook your eggs, for no longer than 5 minutes. Divide the mixture evenly between four plates, with two pieces of pan con tomate on each plate.
For the pan con tomate:
1. Slice bread in half as if for a sandwich then cut in half again, crosswise this time, so that you have 4 roughly square-shaped pieces of bread.
2. Working in batches, toast the bread in a toaster. Rub the cut side of the toasted bread with a halved clove of garlic use each halved clove for 2 piece of bread) then mash the cut-side of a quartered tomato into the cut-side of the bread and rub the tomato vigorously onto the bread, pressing it in and crushing the tomato. Use one tomato quarter per piece of bread and reserve the tomato scraps. Sprinkle the pieces of bread with sea salt and freshly ground black pepper, then drizzle each piece with about 1/2 tablespoon of olive oil (to taste, really). Repeat with the remaining pieces of bread, then divide the 8 pieces of bread among 4 plates.
3. Roughly chop the tomato scraps, then add them to the hash as it's cooking. It's OK if the hash is done cooking when you add the tomatoes.
For the eggs:
1. Crack two eggs into a bowl. Heat one teaspoon butter and 2 tablespoons olive oil in a nonstick skillet over medium-low heat. Before the butter is entirely melted, add half a clove of garlic and half a bay leaf to the skillet, and swirl the garlic around with a fork for about 10 seconds. When the butter is melted, remove the bay leaf and garlic from the pan, turn the heat to low, and gently pour in two eggs. Season eggs with salt and pepper, to taste. Use a small spoon to spoon that fat onto any parts of the egg white that aren't cooking fast enough (this is called basting). Bast 3-4 times, then let the eggs continue to cook over low heat until the whites are cooked through.
2. Slide the cooked eggs onto one of the four plates with the hash and pan con tomate. Repeat with the remaining six eggs, in three batches.
3. To serve, garnish each plate with thinly sliced scallion greens, sorrel leaves and freshly grated manchego cheese.
This recipe would be even more awesome if you made the chorizo yourself, and The New Charcuterie Cookbook will teach you how to do that.