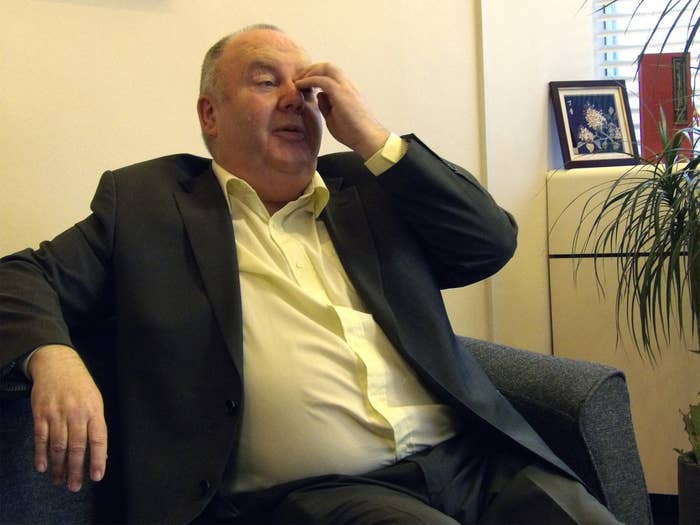 Bill Crawford will be wearing a new suit come election night, just as he has for every previous count as head of elections at Sunderland city council. He hasn't quite decided what kind it'll be, but the shoes have been bought, and he's wearing them in as he pads around the city's Civic Centre, a brutal brick monstrosity that doesn't look like it's seen much care for 40 years or more.
Between 1975 and 1992, Crawford oversaw a team of staff who would count the city's results, and announce them in the early morning of the day after polling day. But then in the early 1990s, the city's returning officer asked Crawford a simple question: "Why don't we try and declare on the same day as the vote?"
"1992 was the year Sunderland became a city," Crawford tells BuzzFeed News. "It was the year the football team were in the final of the FA Cup, and we got university status. So the election was the conclusion to it all, and it was just a question of keeping up the momentum."
At the time, the constituency of Torbay was famed for being the first to declare, usually at about 11:45pm on the day of the polls.
"The difference between getting dayside of midnight and declaring first was only about 10 or 15 minutes," explains Crawford. "We changed from, 'Let's declare on the day of the poll,' to, 'Actually, if we just knocked another five or 10 minutes off, we could be first.'"
They were. In 1992 Sunderland was the first area to declare a general election result, and has been ever since. Bill Crawford wore his new suit with pride that night, and even though this will be his final election – he's handing the role as head of elections to Lindsay Dixon, to whom he's passing on all the tricks of the trade – he'll be there on 7 May, hoping that his well-oiled machine works its magic and it's Sunderland David Dimbleby calls on first once again.
Above all, Crawford will be hoping to do better than he did in 2010.
Although a Sunderland constituency announced first (and second, and third) five years ago, the day doesn't hold entirely happy memories. Crawford had been aiming to beat the previous fastest declaration time – set by Sunderland, predictably – of 42 minutes. Instead, his team only finished counting the 38,021 votes cast in Houghton and Sunderland South a disappointing 52 minutes after polling stations closed across the country, followed by Washington and Sunderland West (37,334 ballots) 33 minutes later, then Sunderland Central (42,463 votes cast) 16 minutes after that.
Never mind that the fourth-placed constituency, Antrim North, didn't declare for another 20 minutes. Crawford thought he could – should – would beat his record, and he didn't.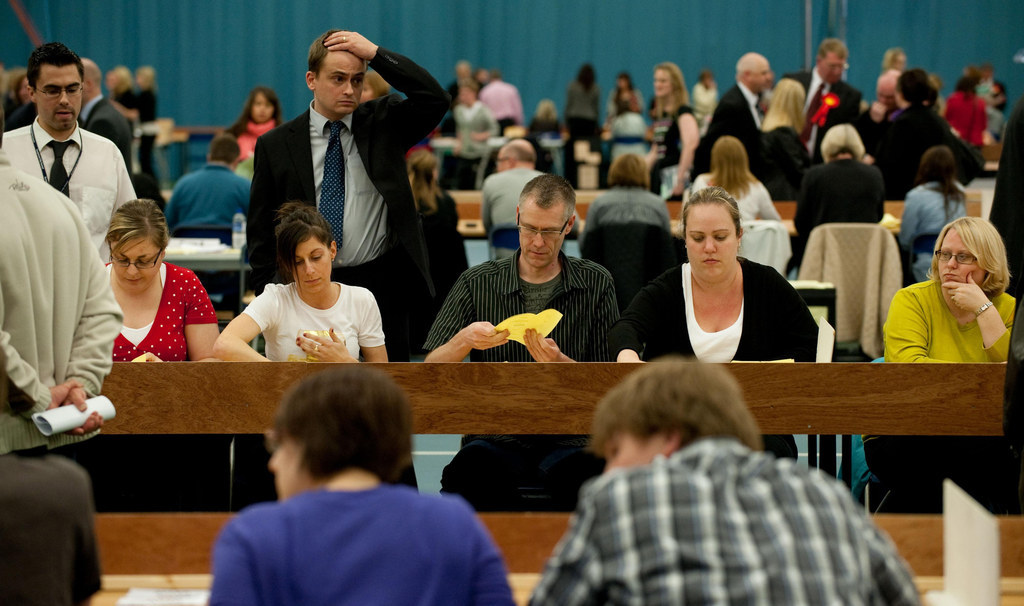 Sitting in the office of Sunderland council's chief executive (and returning officer), Dave Smith, Crawford recalls his immediate thoughts when he realised the record had slipped through his hands. "What we started to do was to think: 'Where can we get those minutes back?'"
The target time this year, he says, "has got to be nearer 40 minutes than 50. 42 is the fastest we've ever done, and certainly that is well within our goals."
The race to declare election results first is perhaps the most bizarre of all niches in the already odd world of electoral organisation. Though no one wants an election count that runs on for days, only a smattering of election officers feel the need to try to race through the count to announce their results first. There's no prize for the winner, beyond personal and civic pride, and a brief TV slot blathering at David Dimbleby to help fill in the long, slow hours of dead air between polls closing and the mass of constituencies announcing their results.
So why do it? "What could be more important in a democracy than people putting themselves through the wringer of standing for election, and people turning up to vote?" says Smith, who'll announce the results of the votes in Sunderland's three constituencies. "If people are going to do that, what they should see and experience from us is a professional outfit that wants to return an accurate count as quickly and accurately as possible.
"You've got a choice. You can say, 'We're going to take our time, and people will need to take breaks,' or you can say, 'No, we're not going to do that. We're going to put our hand to the wheel and push on and do it quickly, so everyone does their best and we can finish relatively quickly.'"
There's also a practical element. Sunderland's ballot counters are sourced largely from local banks. For such staff, trained in rifling through piles of banknotes, ballot papers are a cinch. But, says Crawford, "they've got their own job to do on the Friday, so the quicker we can get them to turn up, do the job they've got to do, then go back home, the easier it is for them to get back to work the next day."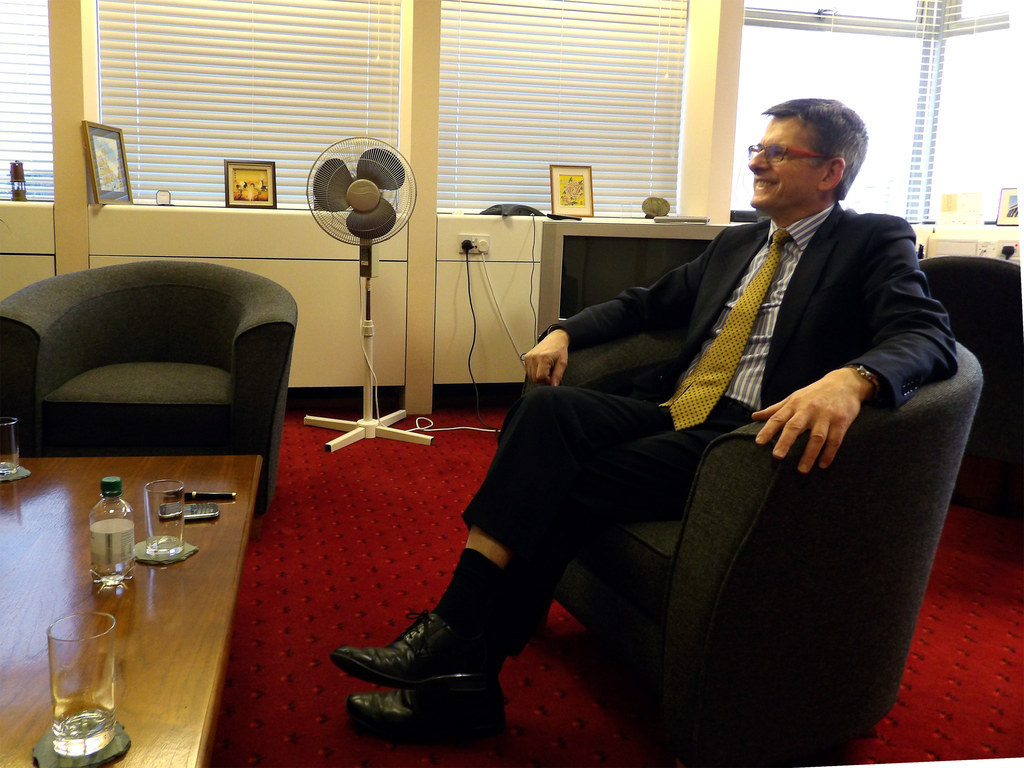 The number of people involved in Sunderland's election count, and the granularity of the planning that goes into the process, is astonishing.
"It's like a military operation," says Smith (pictured above). "Every second and minute is accounted for in terms of the moment the polling station closes to the moment we count the piece of paper and put the results out."
All told, the number of council staff and volunteers will top 1,200. There were dress rehearsals for senior staff in March; Crawford has enlisted two schools, St. Aidan's Catholic Academy and St Anthony's Girls Academy, to run the boxes from the doors of the tennis centre where the count takes place to the counting stations on the sports hall floor. He's made several visits to both schools to train sixth-formers about what they'll encounter on the night, including how best to run with a full ballot box when the media's cameras are trained on you.
"Ballot boxes are a huge, cumbersome thing," he says. "We kit them out in gloves and then supply them with T-shirts on the night, and we just practice running, passing the box from person to person, so they get a feel of what it's going to be like on the night. We put bits of paper in the box to weigh it down and give them a feel of what it's going to be like."
The council also endlessly tweaks its processes to try and shave seconds off the times. They've even made the ballot papers thinner. "If you feel the difference between 100gsm and 80gsm paper, it's physically different," says Crawford, explaining that the change came after feedback from ballot counters. "If you try and count with 100gsm paper, as opposed to 80gsm, it's huge. The 80gsm paper is more flexible and therefore easier to count."
Each ballot box in Sunderland comes equipped with a barcode that's scanned as the box leaves the polling station and enters the counting hall. "We've got data for the last 10 years on the time each box has come in from each polling station, so you can go back over the years and say, 'The box came in three minutes later this time: Why?'" says Crawford. "It might be that there was a particular stretch of road had traffic lights on. You work out if they're going to be there for the next election: If so, let's reroute them."
But, Smith is keen to point out, "We absolutely don't do any of the things that are claimed. We've been accused of all sorts: We must change the traffic lights, have control over them. We mustn't count the ballots, we must weigh them in. I've even had somebody say that I declared the result before we counted.
"None of it is remotely true. We don't break any laws – we play by the regulations and rules and the law. Because frankly, if we don't, I'll be up in court."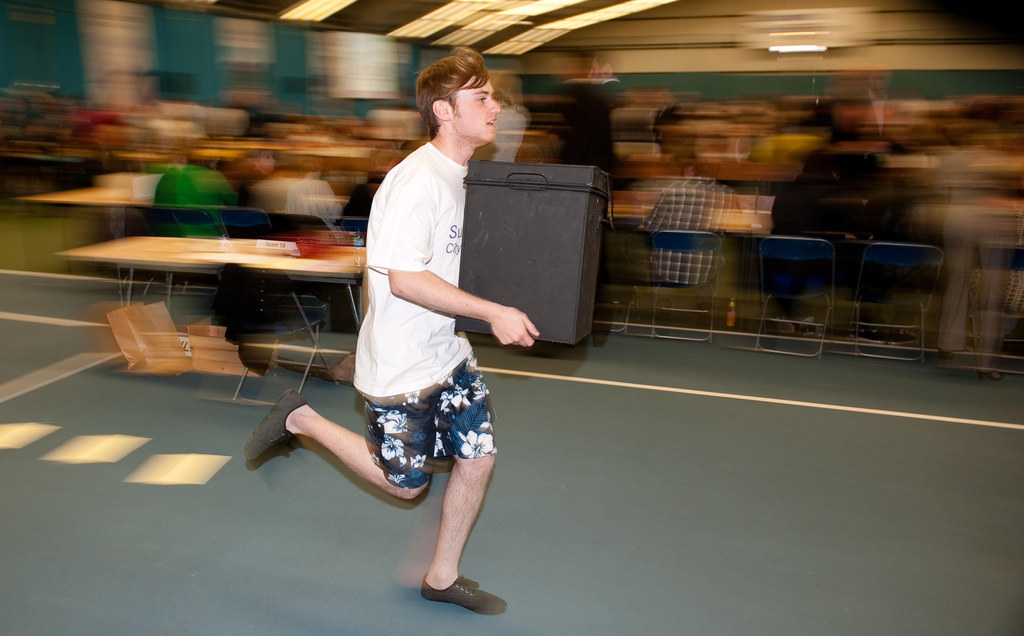 If all goes well, and Sunderland manages to declare its first result at around 10:40pm, it'll be another record for Bill Crawford, and a good way to retire.
"I think we're pretty close to plateauing at that," he says quietly. "Forty minutes from the sound of the gun to Dave declaring... It's going some."
He picks up the volume and the pace of his speech: "If you've got to gear yourself up for anything, you're in the wrong job. You've got all the press there, the press are trying to get hold of Dave, and when the room fills up you can suddenly turn around and the room is full. You've got schoolkids coming in, togged up in their T-shirts, and you know we're ready to rock 'n' roll.
"At the point of 10, we've got a polling station two minutes away, so we'll get a box in within two, two and a half minutes, and you know at that point they're going to stream in. Within 15 or 17 minutes we'll have every single box in."
Of course, although Crawford has honed the election count to what he believes is the summit of its art, the realities of demography mean that the actual outcome is rarely in dispute. Since 1974, with one exception (Sunderland Central in 2010), Labour has never got less than 50% of the vote in any of the city's constituencies.
Still, that doesn't take anything away from the drive and gumption of Sunderland's election staff. Certainly, election night would be a lot more boring without those T-shirted teenagers racing across our screens and the endless parsing of the city's results in the hours that follow.
Near the end of our conversation, I ask Smith and Crawford which they'd prefer: to get their first result out more quickly than ever before, or to keep the gold, silver, and bronze medal spots from the last general election.
There's a moment's pause as the chief executive and returning officer looks over at his long-time head of elections and gives a wry smile. "I'd rather have both," Smith says.