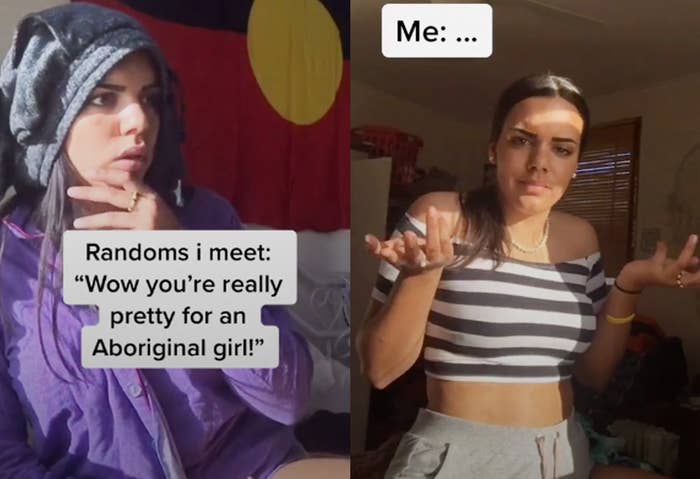 Eshia Anderson was scrolling through TikTok's suggested sound clips in early August when she came across a familiar song — and an idea for a video.
"I heard the sound of the Australian national anthem when I was flicking through," said Anderson, a 20-year-old Indigenous woman from South Australia. "I was going to skip it right away, but then it brought back a memory of how it was like in primary school."
That memory, Anderson said, was of being sent to the school principal's office after refusing to stand for the anthem. She decided to recreate the scene and post it on the short video platform.
"I laughed so hard and then I was like 'I'm going to make a video on it for jokes', and to see if any other Aboriginal people went through the same thing," Anderson said.
Anderson is one of many Indigenous people using TikTok to share their experiences of race and racism in Australia. Their videos employ the trademark features of the app — music, basic text overlays, a single person playing multiple roles — to challenge racial stereotypes, share stories of discrimination, and talk about what being Aboriginal means to them.
Lillyandra Laurie, 17, says she makes TikTok videos to convey how she's treated as the only Indigenous student at her school.
"I've put up with so much racism, it's absolutely ridiculous," Laurie said. "But I just turn my pain into pride and strength, and I've decided to make my TikToks about my Aboriginality to hopefully direct other Indigenous kids because they have to always remember that they are strong, black and deadly."
Her videos chronicle situations she has encountered as a young Indigenous woman living in regional Australia, such as having to answer questions about her ethnicity and navigating racial dating preferences.

Michelle Laurie, 15, makes videos about racism she has experienced at school.

"I like to convey messages through humour, and it is important for people to know about my culture," Laurie said.

Macquarie University's Head of Indigenous Studies professor Bronwyn Carlson said she's not surprised Indigenous users have taken to TikTok.

"We know that Indigenous peoples have always been early adopters of technologies," she said. "And as new platforms are created Indigenous people and particularly youth take advantage of a new forum to express things that are of importance — something mainstream media often ignores or reports on in problematic ways."
Some are even using the platform to reframe historical events from an Indigenous perspective.
Kaiden McNamara, an 18-year-old from Victoria, used another user's video of a group of jeering young men talking with British accents to create a fictionalised reaction video about the Indigenous response to the colonisation of Australia by Europeans in 1788.
"I'm Aboriginal and I was just bored one day," McNamara said. "And I thought 'what kind of TikTok would blow up?' And it went crazy with views, likes, comments and shares."

Anderson has mostly received positive feedback on her videos, but there has also been some abuse.
"Some commented 'yes', that they are going through this too," Anderson said. "Then there's comments saying 'low key that one kid everyone hated because we didn't stand for the song'. But sorry, that song means nothing to me. Why should I stand for that? I ignored those comments because it's actually something that goes on in primary schools."
Laurie hopes sharing her videos will encourage other young Indigenous Australians to join the platform and be proud of their identities.
"I've just found that TikTok would be the perfect social media platform to start creating some Aboriginal pride and support on, and the response I got has been mind-blowing," Laurie said.