A British family have somehow made themselves public enemy number one in New Zealand, after journeying to the North Island of the country and almost immediately making headlines. And not for good reasons.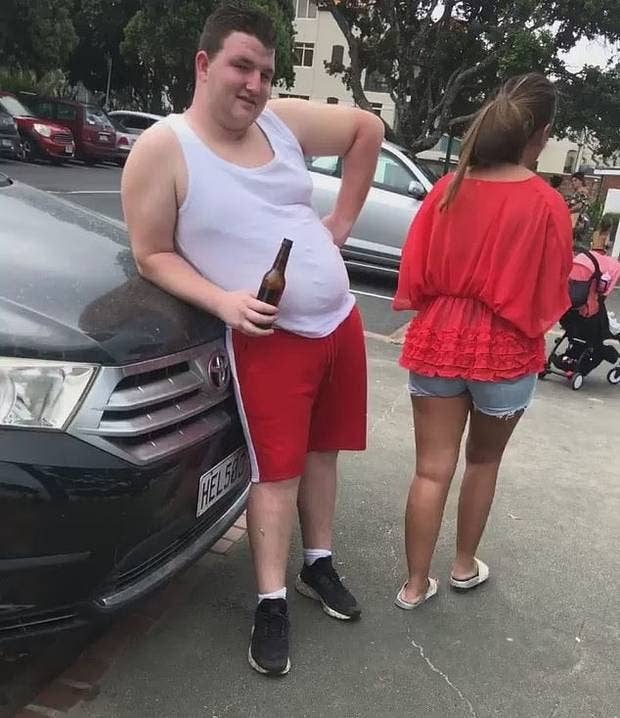 Just about every major news outlet in New Zealand covered the story of how the group had apparently managed to trash beaches, appear in court, ruin flights, steal food and drink, harass locals, and be called pigs by the mayor of Auckland.
Speaking with local radio station bFM last week, Auckland mayor Phil Goff labelled them "assholes", "trash", and "leeches".
Goff later told the New Zealand Herald the tourists were "worse than pigs".
The group has since threatened to sue the mayor for his remarks.

There is little way of verifying whether the British family are responsible for all the accusations levelled at them. What we do know is this: A group of British people travelling together were handed deportation notices by police on Jan. 15 after an incident at a Burger King.
It was the culmination of days of reports from New Zealand press about the family's alleged antics. The individuals served by immigration officials have 28 days to either appeal the order or leave the country.

A man and his son from the family could have been the catalyst for all of this.
It began, as many things do now, with a viral video. A New Zealand woman confronted a tourist about the mess they had left on a beach, before a young boy wearing a Bunnings hardware store hat approached her, shouting, "I'll knock your brains out!"
Krista Curnow, who uploaded videos of the boy and rubbish she said the family had left on Takapuna Beach, said one of the men from the group tried to run her down with his car before attempting to steal her phone.
"This family packed up and left all their rubbish on the reserve – approximately 12 of them all drinking Coronas & Bundaberg with two babies and a young boy – all the adults appearing to be intoxicated," Curnow wrote on Facebook.
"We approached the family to ask them if they can please not leave without picking up their rubbish, their response was basically if we have a problem then we can pick it up and that that's what the council is for.
"I approached the family to ask again if they could not disrespect our country while visiting and pick up their rubbish. They turned violent and even grandma and the child got involved saying they wanted to punch my head in."
The video has been viewed over 800,000 times and kicked off the drama that would follow the travelling family for a week.
As it turned out, Curnow wasn't the only person to apparently encounter the family.
Staff from two restaurants in Northcote, Mr India and The Backyard Bar & Restaurant, accused the group of ordering hundreds of dollars' worth of food before complaining they had found hair in it and refusing to pay.
The manager of The Backyard Bar & Restaurant, Roger Van Kempen, accused the group of ordering food on Jan. 3 before putting ants in it and refusing to pay.
A coffee shop also lodged a complaint with police about a group who refused to pay for chocolate cake they had ordered. New Zealand media have been quick to assume that the cake scammers were from the same family responsible for the other incidents.
Soon, other Kiwis began sharing their stories, dating back to December last year.

But this is where things get a bit sticky.
One of the women from the travelling group, Tina Maria Cash, faced court in Hamilton after being accused of stealing energy drinks, rope, and sunglasses from a petrol station. The court heard there were two alleged incidents, one each on Dec. 31 and Jan. 4. Cash pleaded guilty to two counts of theft and was ordered to pay a $55 fine.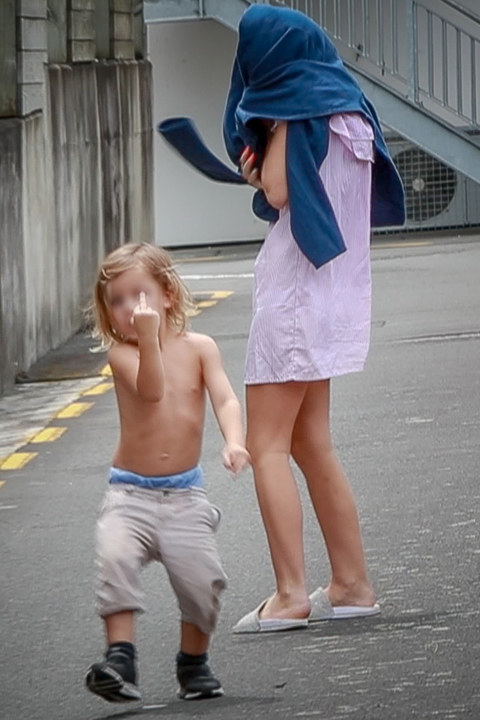 Outside the court, a young boy was seen flipping off and yelling at media waiting outside the courthouse.

The court also heard that Cash and the group had arrived in New Zealand on Dec. 29.

This date all but rules out another alleged story about the family – with accusations that the group flew on a Cathay Pacific flight on January 11 to Auckland, harassing other passengers and leaving soiled clothing in their hand luggage.
There are also accusations that the tourists were responsible for stealing a Christmas tree from a petrol station on Dec. 7, weeks before they had supposedly arrived in the country.
In an interview with the New Zealand Herald, the man at the centre of the group – who said his name was John Johnson – told a different story, claiming his grandfather was the 10th richest man in England and that they were the real victims in all of this.
Johnson said he was just "a fat kid from England on holiday" who was now being forced to go home early because "the New Zealand people are treating my family like shit".
"We're here to see the Hobbits," he said. "I've been looking at the Hobbits my whole life, since I'm born, that was originally what our plans was but it's all been fucked up now. I feel very unwelcome here. I feel like an alien invader, I don't feel happy and I'm far from Irish.

"All [my son] did was speak up for himself and everybody's got every right to speak for themselves. It was absolutely ridiculous what happened ... we are a respectable family."