Iran's President Hassan Rouhani won re-election to a second four-year term amid high turnout as voters endorsed his alliance with the country's reformists and his attempt to moderate the country's domestic and foreign policies.

He was announced the winner by Iranian state television early Saturday, following Friday's vote. Final tallies had Rouhani ahead with 23.5 million of the 41.2 million votes counted (57% of the vote). Rouhani's opponent hardline cleric Ebrahim Raissi got 15.7 million votes (38%).
Rouhani thanked Iranians in a tweet that featured a photograph of colorfully dressed young, middle-class, and elderly voters smiling after casting their ballots. "Honorable Iranian nation, you are the winners of the election," he wrote. "I humbly bow to you. I will remain faithful to my vow to you."
In a speech broadcast on state television Rouhani said the election delivered "a clear message" to the world.
"Today, the world is well aware that the Iranian nation has chosen the path of interaction with the world, a path which is distant from extremism and violence," he said. "Our nation seeks to live in peace and friendship with the world. However, it is not ready to accept any disrespect or threat. This is our nation's most important message, and our nation expects the message to be appropriately heard by all states, neighboring countries, and, particularly, world powers."
During the campaign, Rouhani, a longtime political insider who has fashioned himself as a moderate and centrist, vowed to continue trying to improve the country's economy and repair relations with world powers damaged by the country's belligerent rhetoric and nuclear ambitions. But he and his surrogates also borrowed the slogans and rhetoric from critics of the regime.

Rouhani's victory over Raissi signals a clear mandate for liberalizing Iran's repressive domestic politics and perhaps curtailing foreign policy adventures that have included organizing and dispatching Shiite militias to Syria. But in the short term, it will likely mean an increase in repression as hardcore conservatives in control of most security institutions and the judiciary attempt to snuff out calls for change. It may also prompt hardliners to challenge the US and its allies in the region to blunt any attempt at rapprochement.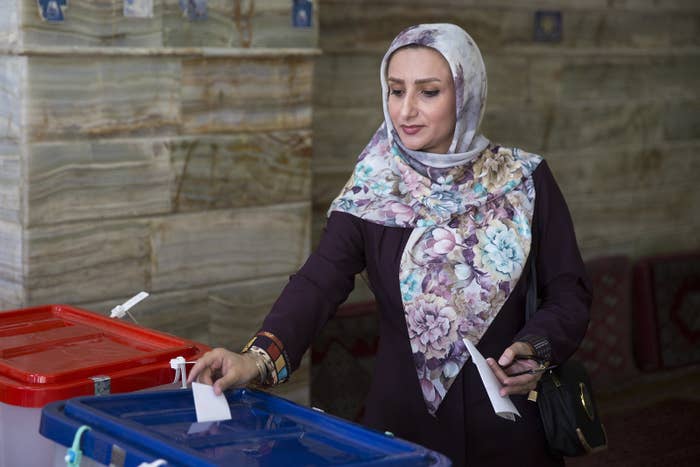 Regardless of the hardliners' response, the vote will also underscore the moderate and liberal shift among Iran's youth and middle class, which came out in droves to vote — despite knowing that ultimate power in the country rests in the hands of Supreme Leader Ali Khamenei and his allies.

Throughout the day, independent observers described unprecedented lines at voting stations across the capital, Tehran, especially in middle-class districts strongly in support of Rouhani. Many were drawn to ballot boxes by the endorsement of prominent liberal celebrities and politicians, including the reformist ex-president Mohammad Khatami, who tried to moderate Iran's harsh repression of women and minorities and alleviate its international isolation during his 1997 to 2005 reign.
As Khatami voted in northern Tehran, voters at the polling station began cheering and chanting his name. "Khatami, we love you," they chanted. "Long live Khatami, long live Rouhani."
Raisi's supporters rallied for him at Tehran's Friday prayers, a stronghold of hardliners and diehard loyalists of Khamenei. "Hezbollah's Raisi, approved by our leader," they chanted in a calls broadcast by state media, a slogan likely to turn off middle-class, women, and young voters increasingly yearning for greater freedoms and opportunities.
Many came to vote wearing bright-green headscarves, wristbands, and even toenail polish that denoted support for the failed 2009 presidential campaign of Mir-Hossein Mousavi, whose loss amid fraud allegations triggered months of violent unrest.
There were similar scenes at voting stations abroad, including in North America, Europe, and across the Middle East and Asia where Iranians have migrated.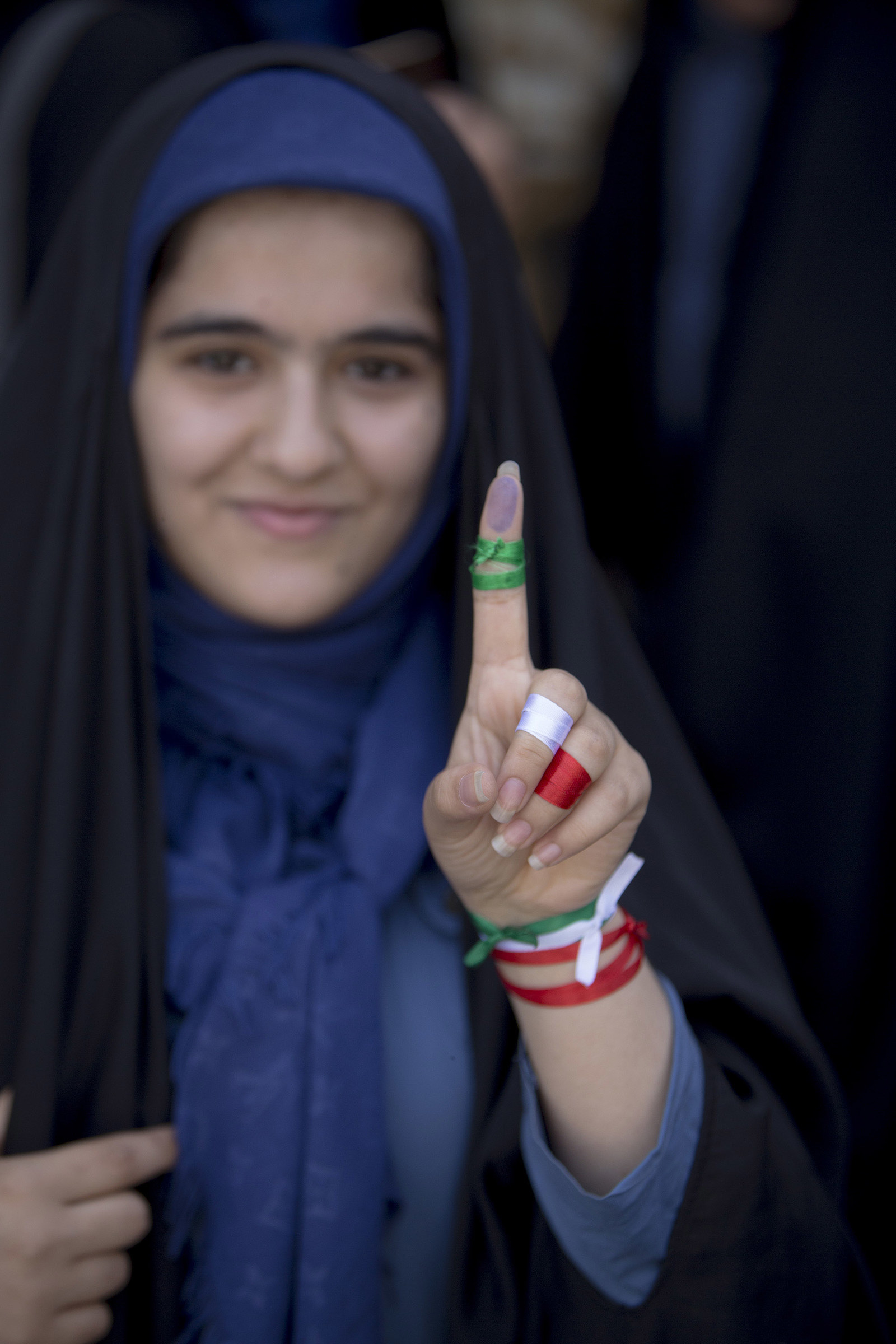 "I'm voting to have an effect on the future of our country," said Borhan, a 31-year-old real estate developer who divides his time between the Turkish commercial capital of Istanbul and Iran. He was among hundreds thronging the Iranian consulate in Istanbul, waiting in line up to 90 minutes to vote.

"It's true that true that the supreme leader is sitting up there and has a lot of power, but the president also is a factor," he said. "For those of us who live abroad, Iran putting a good face on for the rest of the world and having positive foreign relations is a benefit."
Calls by some abroad for a boycott appear to have gone unheeded. Iranians still recall how hardliners took control of the presidency, parliament, and municipal governments amid widespread voter apathy over the last dozen years. Many voters said they trusted the Rouhani government to oversee the counting of the ballots. Despite draconian vetting rules for the candidates that bar all but steadfast loyalists to the regime from running for office, voters said it was important to support the regime's moderate and reformist factions as they confront hardliners like Raisi.
"We were always looking for big changes and looking for someone to bring about big changes," said Javad, a 54-year-old Iranian physician who lives in Istanbul. "Now we see that even little changes are sometimes enough."