23-Year-Old Student Dies of Suffocation During Skrillex Concert in Delhi
The police have stated that the woman might have died of cardiac arrest due the claustrophobic conditions.
Skrillex was recently in India, and performed around the country, including in Mumbai, Bangalore, and Delhi.
At the DJ's last concert in Delhi-NCR, a 23-year-old female student died of suffocation.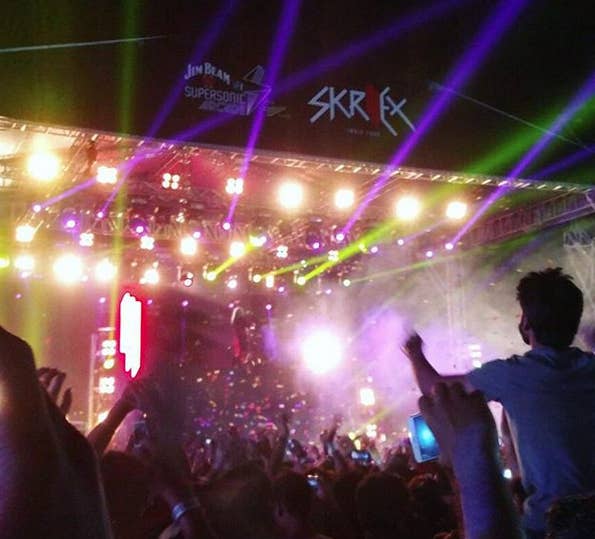 Aanchal Arora, a student at the Institute of Apparel Management, had started feeling breathless during the concert which took place at HUDA Grounds in Sector 29.
She was immediately rushed to a private hospital nearby, but reportedly died before reaching the hospital.
NDTV reported Arora's friend Aashima also fainted at the concert and is still in critical condition in the intensive care unit.
Police told NDTV that Arora might have died of a cardiac arrest due to the claustrophobic conditions at the concert, but said they are still awaiting a post-mortem report.
Hindustan Times reported that Arora's death may have been the result of overcrowding at the venue, according to the Assistant Commissioner of Police (DLF) Ramesh Pal. "While seeking an [notice of complaint] for the event, the organisers had said they expected a crowd of about 5,000 but nearly 10,000 people turned up for the concert. The venue was congested," Pal told HT.
"Arora had no disease or illness. She was last seen dancing. We have asked the team to get CCTV and video recording from the venue to ensure that there was no foul play," Pal said. "The body was handed over to the family on Monday after a post-mortem examination. The family has refused to pursue the case."
Event-planning company Scoop Brand Holdings also released a statement criticising media companies that have erroneously identified it as the company behind the concert planning.
BuzzFeed India contacted the organisers, Clockwork Events, but they were unavailable for comment.
Follow BuzzFeed India on Facebook: