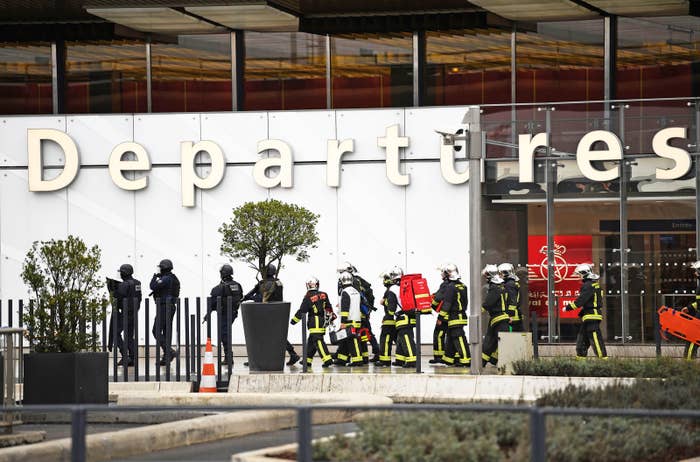 A man was shot and killed after grabbing a soldier's gun at Orly airport in Paris on Saturday, officials said.
Ziyed Ben Belgacem, 39, was killed after he entered the airport and assaulted three Air Force soldiers who were patrolling, according to French Defense Minister Jean-Yves Le Drian. His identity was also confirmed by an official who spoke to the Associated Press.
Belgacem wrestled a soldier to the ground in an attempt to take her rifle, Le Drian said. The two other soldiers opened fire to protect her and the public.
Following the attack, an autopsy revealed Belgacem had an alcohol level of 0.93g per litre of blood, the BBC reported, which is twice the legal limit for driving in France.
France's interior ministry said Belgacem was also behind the earlier shooting of a police officer during a traffic stop north of Paris. He had fired birdshot at officers who had stopped him, wounding one in the face, the Associated Press reported. He then fled and stole a woman's car after threatening her with a weapon. That car was found near Orly. The police officer who was shot is being treated in hospital.
A witness speaking on BFM television said: "The soldiers took aim at the man, who in turn pointed the gun he had seized at the two soldiers."
Belgacem was known to police and intelligence officials, the ministry confirmed. The Paris prosecutors' office announced its anti-terrorism section had taken over the investigation.
During the incident, the airport was evacuated and passengers were stopped from disembarking newly landed planes. No one else was hurt.
By about 1:30 p.m. local time on Saturday, flights had begun to gradually resume in some parts of the airport, the AP reported.
Orly is Paris's second-biggest airport behind Charles de Gaulle.
Saturday's shooting came after a similar incident last month at the Louvre Museum when police said an Egyptian man used a machete to attack soldiers guarding the site and was shot and wounded.